There are a lot of great things to do in Milwaukee. Their natural history museum, Harley-Davidson museum, and countless breweries are bound to keep locals entertained.
However, in our opinion, no city is complete without a respectable assortment of laser tag centers. We've compiled the best laser tag establishments in and around Milwaukee.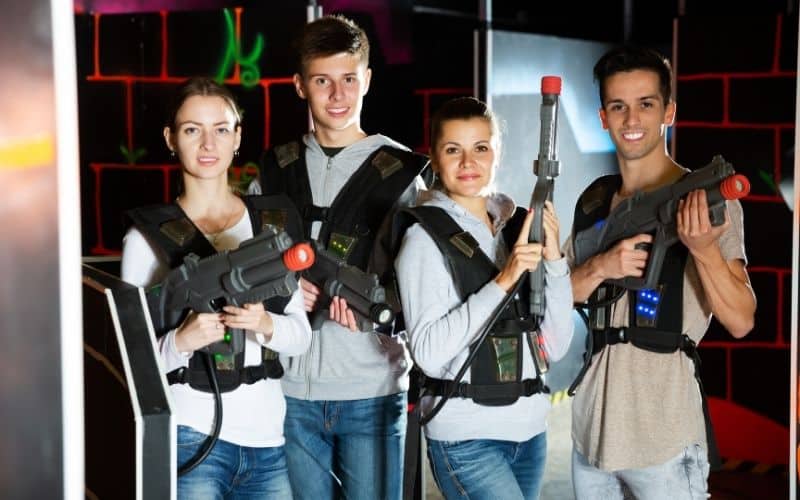 The beauty of laser tag is how diverse it is and we were pleasantly surprised by the variety of centers in the area. Locals can enjoy a classic glow-in-the-dark indoor laser tag arena or head over to a unique tactical laser tag experience.
Whether you're a parent looking to spend some quality time with your children or simply an adult or teenager looking to have fun with your friends, Milwaukee has got you covered for all your laser tag needs!
1/ Bounce Milwaukee
Address: 2801 S 5th Ct, Milwaukee, WI 53207
Phone Number: 414-312-4357
Bounce Milwaukee has been closed down for a few months to keep families and staff safe from the COVID-19 pandemic, but they plan to open their doors in September so now's a better time than ever to make plans to visit!
This establishment offers the very first Zone 360 Degree Helios Laser Tag. This new technology lets players play like never before.
Players can tag each other through the ceiling, floor, and even around a corner through a mirror. The days of accidentally tagging yourself or missing a shot even though you aim right at a player are over!
The arena is two stories and filled with color, light, and props. The space is futuristic, and the plants and hanging vines suggest it's either in the middle of a jungle or hasn't been looked after in a while.
We love the nooks and crannies the tall panels make and the multi-colored beams that shoot over the arena. The design is well-thought-out, modern, and simple enough to let people focus on what's important — winning the game!
We also appreciate their positive and welcome approach to laser tag. There are no age restrictions to play and Bounce Milwaukee wants players' experience to be focused on cooperation and teamwork.
If you're feeling competitive, they have a scoreboard that keeps track of rankings.
Customers had a great time at Bounce Milwaukee. The activities were entertaining and nothing was overpriced. The food and bar were also a hit with customers!
2/ Incredi-Roll Skate & Family Fun Center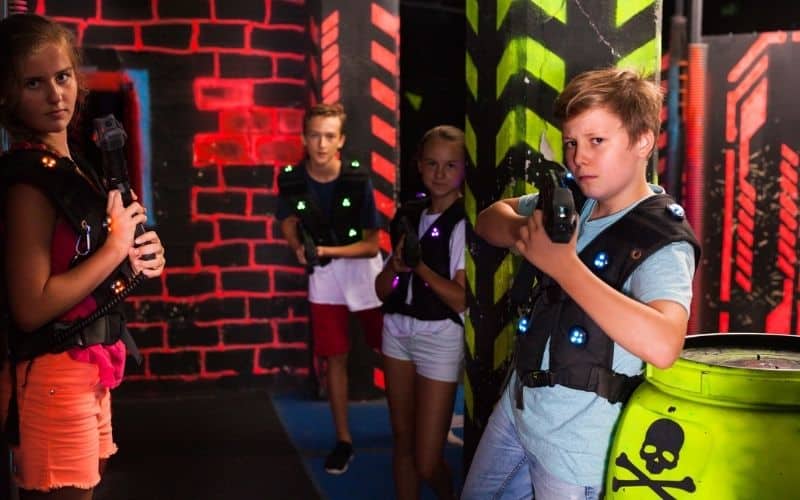 Address: 10928 W Oklahoma Ave, West Allis, WI 53227
Phone Number: 414-545-8445
We love an establishment that appreciates a good pun, and we really love it when they offer laser tag! While Incredi-Roll Skate & Family Fun Center is primarily a skating rink, they also offer several other attractions for guests to enjoy during their time there.
Their laser tag arena is modest but large enough to accommodate a handful of excited children looking to burn some energy off. We love the colors and passageways they've incorporated into the space to keep things interesting. There's no reason birthday party guests wouldn't enjoy playing in the arena!
Incredi-Roll also offers an arcade and bounce house. Overall, the entertainment center is welcoming, family-oriented, and looks like a great place to spend a relaxed Saturday evening.
Customers had a blast at this entertainment center. The staff cares about COVID regulations and customers agreed the food was delicious. They even have all you can eat and drink pizza and soda available!
Parents appreciated how much fun their kids had and how reasonably priced things were. It's a great place to relax, hangout, and have some fun, too! What more could you want?
3/ Battle House Tactical Laser Tag
Address: W229N1400 Westwood Dr STE C, Waukesha, WI 53186
Phone Number: 262-258-9003
We get excited every time we hear the word 'tactical' pop up when talking about laser tag. Tactical laser tag is thrilling, intellectually challenging, and gives players the chance to show off their skills.
Battle House Tactical Laser Tag's arena is incredible. It's 12,000 square feet and built as an indoor urban combat arena. We are sincerely impressed by the amount of detail and the scale of the space and would give anything to get to play in it ourselves!
The two-story arena features passageways, buildings, a helicopter, and several obstacles. The tops of buildings are full of barrels and doorways and completed with awnings that give players protection when exiting a structure.
They did a great job with adding props, too. The number of boxes, vehicles, walls, and other details transport players into the abandoned urban space. You could pretend you're Jason Bourne running away from the skilled agents chasing after him in a foreign city!
The phasers are also incredibly realistic. Players have a wide range of weapon options to choose from including a shotgun, an AK-74, and an MP5 Stinger. All weapons are available on a first come, first served basis so make sure to arrive early enough to have the first pick!
There are also several missions to choose from and ice-cold beers to enjoy in their lounge after the game.
Unsurprisingly, customers enjoyed this unique tactical laser tag experience. The array of weapons to choose from and the accommodating staff made several visitors' experiences memorable and positive.
The referees are diligent about players following the rules, so it's great for parents concerned about their children being able to play safely.
4/ MotorMania Roadhouse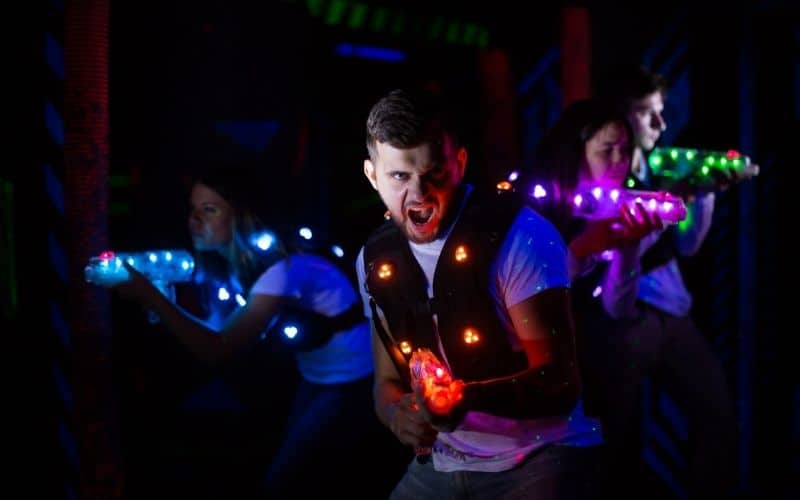 Address: 251 S 27th St, Greenfield, WI 53221
Phone Number: 414-817-8888
Do you like awesome cars? What about an exhilarating laser tag game? MotorMania Roadhouse is a short drive away from Milwaukee in Greenfield, Wisconsin.
MotorMania Roadhouse hosts car shows that draw in automobile enthusiasts around the country, but they're also committed to providing customers with exciting laser tag.
Their arena is 4500 square feet and can accommodate up to 30 players at once. That's plenty of room for a group of friends and like-minded laser taggers.
The space is exactly what you want from a traditional indoor laser tag arena. It's dimly lit, has plenty of glowing colorful lights that add dimension to the walls, and there are plenty of hallways to go down and panels to hide behind.
Players are fitted with vests adorned with sensors and gently glowing phasers to make them feel like a soldier in a science-fiction action movie. This family-friendly space is bound to satisfy a group of parents, children, and even a couple of energetic grandparents!
Visitors can also try their hand at axe throwing, darts, pool, arcade games. They can even play jenga, cornhole, and table games for free.
Have an event come up? MotorMania Roadhouse hosts parties, too.
Customers loved their laser tag experience. One customer arrived when no other guests were lining up to play laser tag; instead of getting turned down, the staff played with them! How awesome is that?
We love to learn about establishments with friendly and accommodating staff and MotorMania fits the bill perfectly!
5/ Battle Company
Address: 9100 S Nicholson Rd, Oak Creek, WI 53154
Phone Number: 888-798-9616
Battle Company sells high-quality laser tag equipment, but they also specialize in events like birthday parties or corporate events. So, the next time you have a special occasion coming up, consider booking a laser tag party at Battle Company.
Since they sell tag equipment, players can expect to play with high-tech gear. Instead of the glow-in-the-dark phasers many indoor laser tag centers offer, Battle Company supplies realistic laser tag guns with unique features.
Battle Company knows everything there is to know about laser tag, which makes it the perfect location for laser tag enthusiasts.
Their Battle Royale Live incorporates technology into the game to make the experience more immersive and interesting. Players are given mobile phones with their custom mobile app on them to keep track of scores and where to accumulate points.
The entire experience lasts 75 minutes. That includes a 20-minute weapons briefing.
Players must be at least 12 years old to participate. This is relatively high for laser tag but makes sense considering the technology and skill required to enjoy this complex version of laser tag.
They also have laser tag for younger players.
Customers who've thrown parties at Battle Company enjoyed their experience. The staff was welcoming to guests and customers loved how large the outdoor arena was. One customer said they can't wait to return and play there again!
Ready, Set, Go!
Are you as impressed as we were with the choices available? Now comes the hard part — deciding which one to venture to first!
You could head on over to Bounce Milwaukee for a neon indoor experience that's bound to impress you and any accompanying children. Alternatively, you could challenge yourself and try out Battle House Tactical Laser Tag for the most transportive laser tag experience in the area.
Are you a Milwaukee local? Have you tried any of these laser tag centers? What did you think? Let us know in the comments!
Stay safe, have fun, and happy tagging!