Greenville is the place to be for entertainment. Their giant convention, arena, museum collections, and a plethora of playgrounds and parks mean that locals never have to endure a boring Saturday or slow Sunday.
We love a city that knows how to have fun, and Greenville is certainly one of them! But what's fun without a bit of laser tag? Well, we've compiled four of the best laser tag centers in and around Greenville.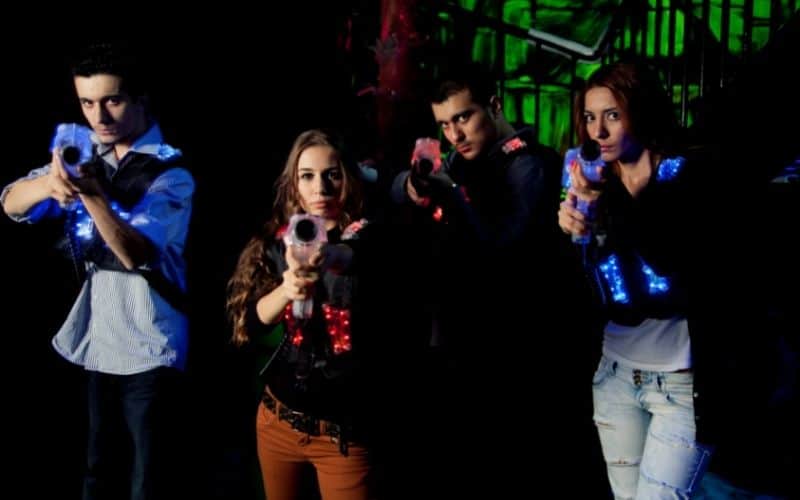 Whether you're looking to have fun with some friends or need a weekend plan for the kids, Greenville has all your laser tag-related needs covered. Most of these establishments are reasonably priced and fun for the whole family.
We've included a couple of options in Seneca because they were too good to leave out and maybe closer to people who live in between the two cities.
So, before you plan your child's next birthday party or send that text to the group chat asking what you all should do this weekend, check out these four fun-packed laser tag establishments!
1/ Spare Time
Address: 822 Congaree Rd, Greenville, SC 29607
Phone Number: 864-412-0299
Have some free time coming up? Well, head on over to Spare Time and make the most out of it! Their selection of games is sure to keep the whole family entertained for hours, and to make a good situation even better, their laser tag is fantastic!
Their giant high-tech arena is filled with colors, textures, and images to keep players guessing. Who knows what you'll see when you turn the next corner? Hopefully not an opponent!
The space looks like a cartoon drawing of a town. There's a tall grandfather clock pillar, stone and steel walls, and greenery hanging off several panels.
We know children would love playing in this sensory overload, but we're also sure that accompanying adults would have a blast, too. The arena is also filled with fog, energetic music, LED lighting, and special effects.
Each game lasts 15 minutes, which is the perfect amount of time, in our opinion. Any longer might begin to get a bit boring and any less would go by too quickly!
They also have a scoreboard so players can keep track of who's in the lead and by how much.
Looking for a deal? Spare Time has half-off Wednesdays where players can enjoy laser tag, bowling, and arcade games for 50 percent less for the entire day.
Customers had a phenomenal time with or without children. Spare Time serves delicious food, has a great selection of arcade games, and does a wonderful job maintaining and running their laser tag arena.
The best part of the reviews is that several visitors agreed laser tag was their favorite part of their visit. We love to hear that!
2/ Frankie's Fun Park
Address: 45 Park Woodruff Dr, Greenville, SC 29607
Phone Number: 864-627-9888
Don't worry, you don't need to be called Frankie to have a blast at Frankie's Fun Park. This amusement park is jam-packed with creative activities that set it apart from your regular run-of-the-mill entertainment center.
Their laser tag arena is well-designed and beautiful. This apocalypse-themed space has two levels and looks like an abandoned radioactive area. The background shows crumbling buildings in a low bright orange fog. Was there a chemical attack that destroyed society?
Discolored brick walls are covered in glowing greenery and the rusting steels suggest the players are the first ones to enter this space since the catastrophic event. There is plenty of room for imagination in this bizarre dystopian reality. Players are going to have a blast!
Children have to be at least 6 years old to participate.
Not a big fan of laser tag? Frankie's Fun Park also has mini golf, go-karting, bumper boats, batting cages, a virtual reality attraction called Hologate, a giant rotational roller coaster, an interactive 3D movie theatre, and hundreds of arcade games.
Every attraction has different height or age requirements, so check their website beforehand if you're planning on visiting the park with young children.
Customers had a blast at Frankie's Fun Park. It's affordable, fun for the whole family, and a large amount of attractions means visitors always have something new to try out!
3/ Sweet Retreat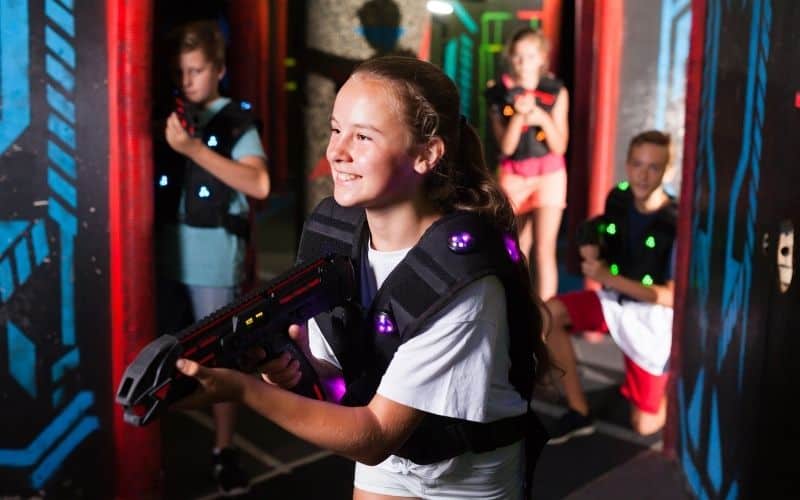 Address: 510 State Rd S-37-341, Walhalla, SC 29691
Phone Number: 864-885-0887
Anyone with a sweet tooth and a desire to play laser tag should drive out to Sweet Retreat. This family-friendly center is welcoming and has several attractions for all ages.
Customers can play mini golf, ride go-karts, try out arcade games, and, of course, play laser tag!
The laser tag arena is blacklight heaven. The walls are glowing and colorful messages written in glow-in-the-dark ink are scattered along the dark passageways. This is a great place for children looking to have a thrilling laser tag space.
The arena can accommodate up to 20 people at once and each game lasts 14 minutes. We could see a birthday party enjoying this experience and wanting to play several rounds during their visit.
Customers have mentioned how large the laser tag space is and how much they enjoyed playing in there. We love to hear when centers prioritize their laser tag arena!
You can't talk about Sweet Retreat without mentioning their ice cream. This delicious confection is cold, creamy, and exactly what you want after a hot afternoon in the sun. One visitor mentioned that it was good, and reminded her of her fond ice cream-related childhood memories.
The go-karts also look like a blast and we have no doubt families would enjoy speeding on the track in them!
4/ The Big E Gaffney
Address: 1100 Factory Shops Blvd, Gaffney, SC 29341
Phone Number: 864-489-1515
Not too far away in Gaffney lies The Big E Gaffney, a vibrant indoor and outdoor entertainment center that has gone all out to make their space one of the best ones in the area.
So, what do you get from an establishment that really cares about how much fun its customers have? You get an incredible glowing laser tag arena!
Their arena doesn't contain blacklight. Instead, the space is lit up by giant glowing neon lights that look like they would power a Star Trek spaceship. The variety of shapes, panels, and colors in the arena gives the space a modern science-fiction feeling that is completely different from the maximalist arenas other centers offer.
Players can pretend they are commanders in chief at a top-secret military base in the middle of the galaxy who have to hunt down intruding alien forces.
The Big E Gaffney also has bumper cars to ride in, a giant ropes course to make your way to the top on, a large bowling alley, a multi-story playground, mini golf, and several arcade games. The fun never stops here!
Customers enjoyed playing laser tag at this entertainment center. They agreed that both children and adults could enjoy the experience. The staff is friendly and welcoming, which is super important for an establishment geared towards children.
Time to Start Tagging!
Now that you know about four fun laser tag centers in and around Greenville, it's time to start tagging! The only question is, which one will you try out first?
Will you head over to Spare Time and try out their high-tech laser tag arena and exciting bowling alley? Or will you go to The Big E Gaffney and let your children spend the day trying out all of the entertaining attractions available?
Have you been to any of these laser tag centers? How was their arena? Would you go again? Let us know in the comments below!
Have fun, stay safe, and happy tagging!