If you're planning for your kid's birthday party or a team-building session, laser tag is a great way to have fun with some friendly competition.
But there's always that nagging question: is laser tag safe as a game, especially for children?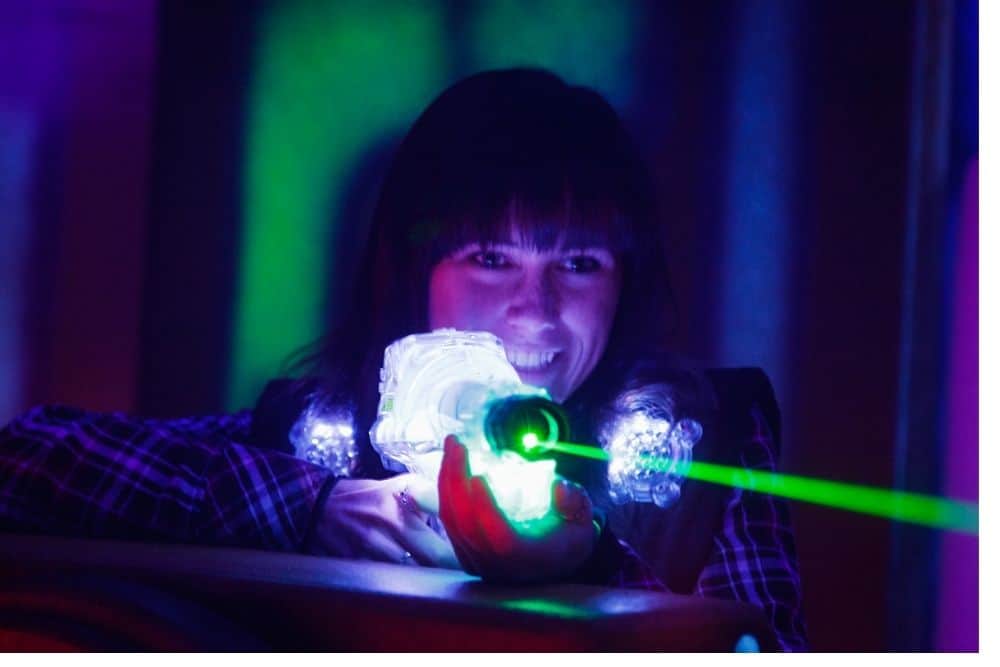 In this article, we'll answer your burning questions about laser tag:
How laser tag works and if it uses real lasers.
If laser tag is violent.
If laser tag hurts or damages the eyes.
If you're reading this article with a skeptical perspective, here's what you should know right away: Laser tag guns don't use real lasers! Instead, they use infrared beams that are perfectly safe for the eyes and skin.
However, most laser tag players might get hurt once they're caught in the spirit of the game and charge head-on! With that in mind, we'll also get into some safety precautions for the game and laser tag guns.
Let's begin!
How does a laser tag gun work?
Laser tag emits concentrated beams of highly directional infrared light. It works similarly to a flashlight, but the light that shoots out is more defined and intense.
Take a look at the inner workings of a laser tag gun:
What is inside a laser tag gun?
The traditional laser tag gun contains an infrared emitter and transmitter.
While laser tag models will differ, most will also contain:
LCD display
Rumble feedback
Power connector
Responsive controls
You need to know about the two main properties of infrared laser guns to understand how the laser tag gun works:
Wavelength: Infrared receivers are sensitive to wavelengths. This means that your laser tag gun can only emit infrared light after detecting a specific wavelength.
Most emitters and receivers can work with a wavelength of 940 nm.
Beamwidth: This property refers to how far the infrared beam will spread out. To control the spread of infrared light, lenses are added to focus the beam.
Most infrared receivers contain a bandpass filter of around 38 kHz.
Do laser guns use real lasers?
No, laser tag guns don't use real lasers!
Instead, they use infrared light that emits a concentrated beam.
Is infrared light safe?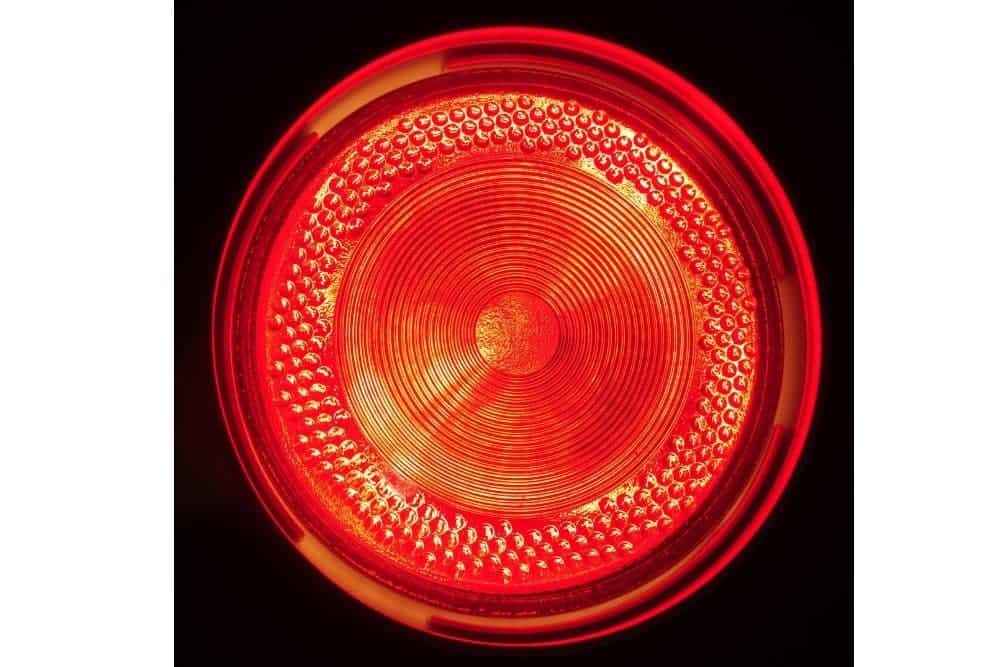 Yes, laser tag guns are safe!
Infrared light isn't likely to cause any form of bodily harm or damage. This is because infrared light is low frequency and low energy.
It uses the same technology as what you might find on a TV remote control.
Reasons for using Infrared light
To give you some peace of mind, let's get into the nitty-gritty of why infrared light technology is the best choice for laser tag guns.
Real lasers are dangerous.
Most real lasers, even the most low-powered lasers classified under Class I, can cause eye damage.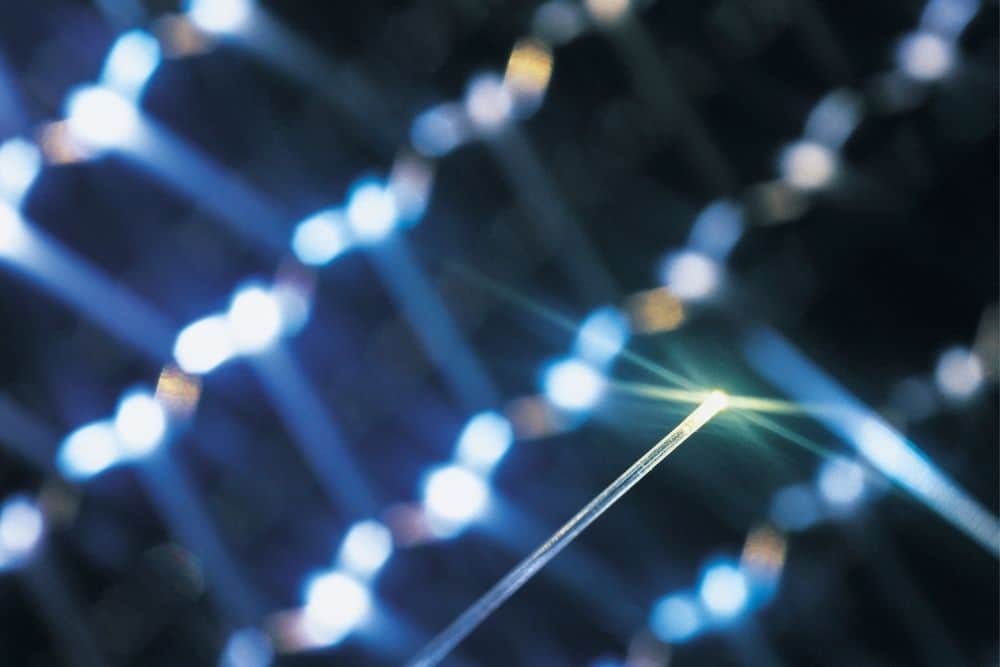 The human eye has an automatic blink to protect from bright lights. However, real lasers travel fast! Its beam can hit the eye even before you can respond with the blink reflex. After prolonged exposure to the eyes, real lasers will definitely cause damage.
To protect players from any sort of eye strain or damage, infrared light is the best option.
Real Lasers are distracting.
Infrared beams can't be seen, while real lasers are incredibly bright. Especially in a dark arena, it can be exceptionally disorienting. This can lead to a series of unsafe situations for all players.
Infrared light is highly programmable.
The best thing about infrared beams? It can easily be programmed to identify player activity!
Laser tag players wear a vest that contains sensors in "hit zones," usually the chest, arms, and back.
LED infrared light can be programmed to disable a player after a hit. Amazingly, more advanced laser tag games also assign unique infrared light beams to players using tone frequency and digital code encoding. The resulting individual infrared light serves as player identification.
The sensors in the laser tag vest can detect the player who did the damage, their team, and how much damage was caused.
Laser Tag Safety: How to have a fun and safe laser tag game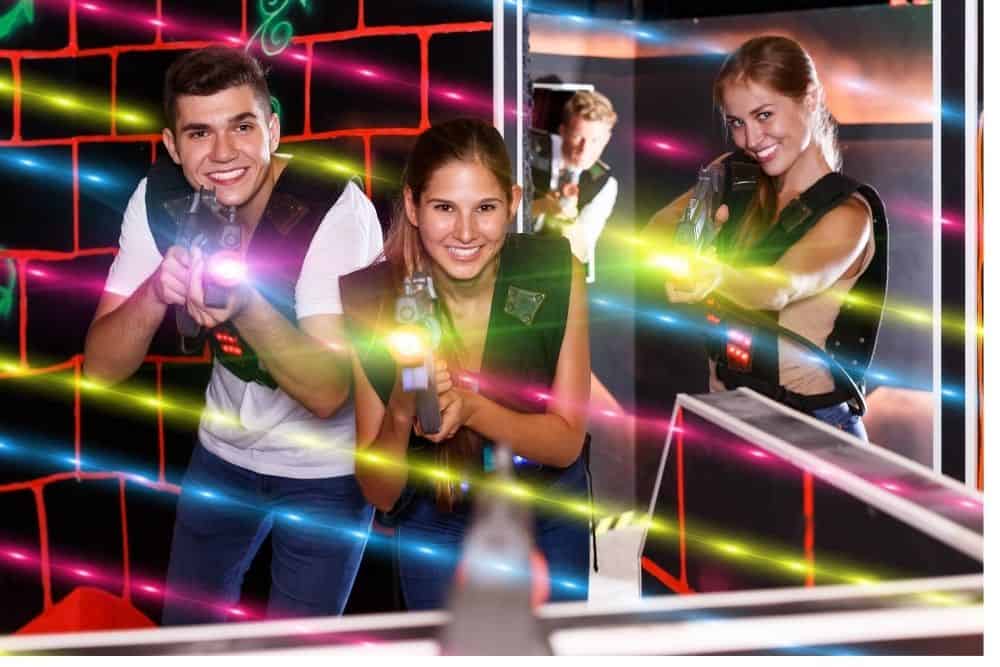 Laser tag games are safe! They're usually played in indoor laser tag arenas that experts supervise at all times.
Let's address the most troubling laser tag safety concerns and how you can have an enjoyable and safe game!
Does laser tag damage the eyes?
There have been many researches conducted over the years to find if infrared light damages the eyes.
It was found that infrared light does not damage the eyes or cause any changes in vision.
Note: However, do continue to practice caution even if you're only using infrared laser guns! Pinning a player down and unceasingly shining any form of bright light into an unblinking eye for extended periods is sure to cause some form of damage.
Is laser tag violent or dangerous?
The only troubling aspect that can make laser tag dangerous is the potential for injuries.
What you should remember about laser tag is that it's an incredibly strenuous activity! Especially if you're particularly competitive, the game can get pretty intense and physically demanding.
More concerning than infrared light damage is that players can get hurt by tripping or falling. It's likely to happen if you run carelessly and choose not to mind the rules.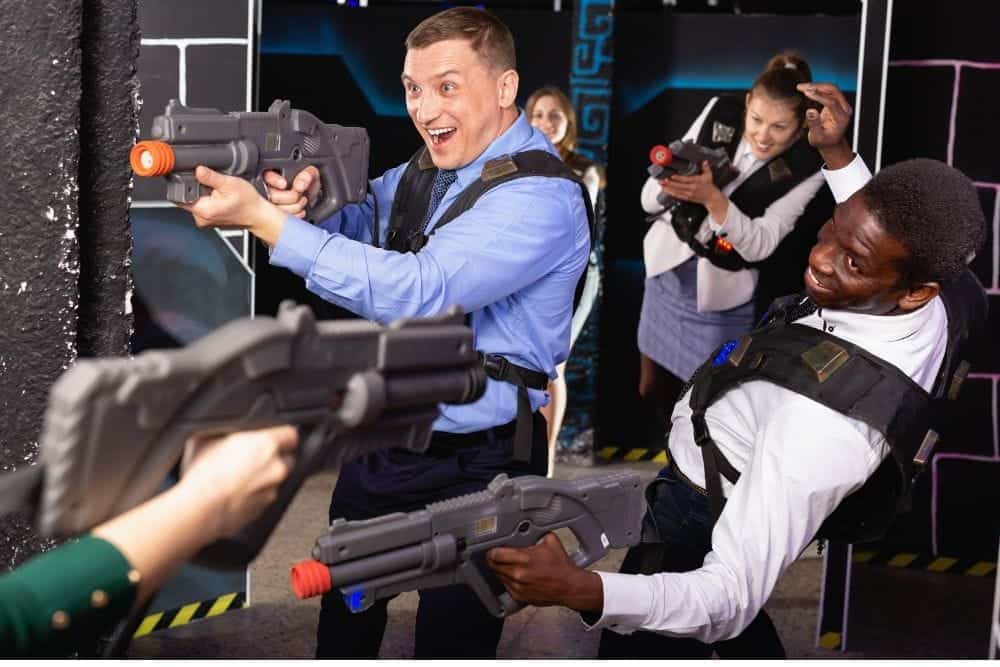 Your fun game can end up in bruises and sprained ankles!
In that case, we recommend that you always check out the laser tag arena before booking a game. Make sure that they have highly trained marshalls to monitor the game. They should also have a competent first aid team on the premises. You can always check their website or read customer reviews.
Conclusion
We hope that you're feeling more at ease about booking that laser tag game!
Modern laser tag guns are 100% safe! Instead of using real lasers, they use infrared beams that are completely safe for the eyes.
The more concerning aspect of laser tag is that you're likely to get injured due to the game's intense and physically demanding nature.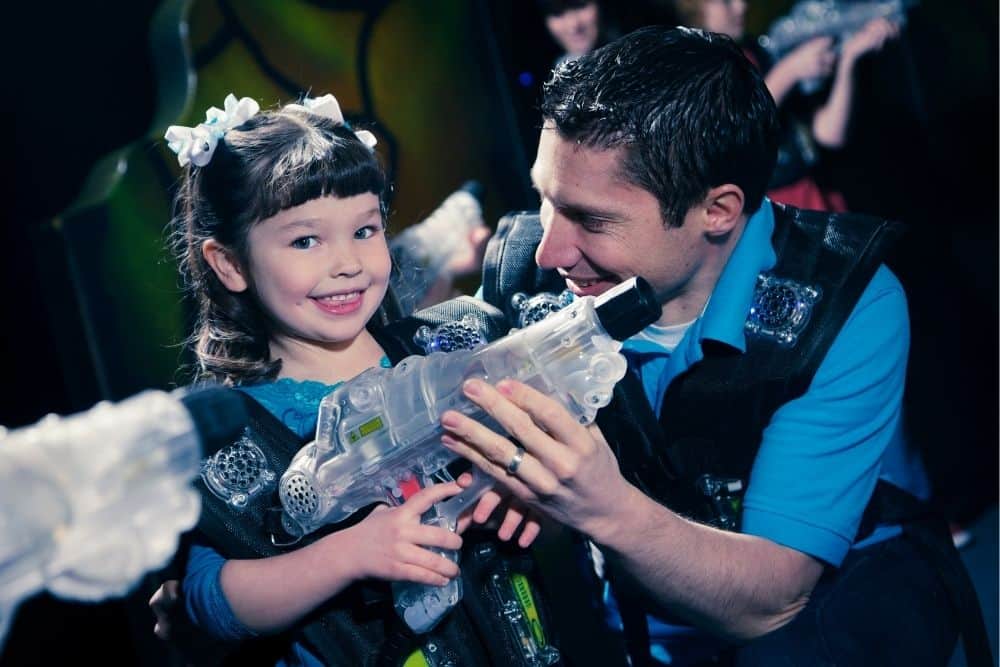 In that case, we'd like to remind you to book a laser tag game only with reputable arenas with highly trained staff. When booking a laser tag game for the kids, make sure that they're supervised at all times!
With these safety concerns out of the way, you're all ready to get geared up.
Good luck, and have a great game!