Incredible Pizza is a great venue with lots of fun rides and great games—and you'll be glad to know that one of them is laser tag. Read on for a review of some of Incredible Pizza's attractions and some of the alternatives it offers to laser tag as well.
How is Incredible Pizza's Laser Tag?
Incredible Pizza's laser tag attraction is space-themed and mimics a mission to space. The laser tag arena has two levels of mazes and obstacles and offers a great atmosphere that uses a fog machine, black light, and upbeat music to deliver a great experience.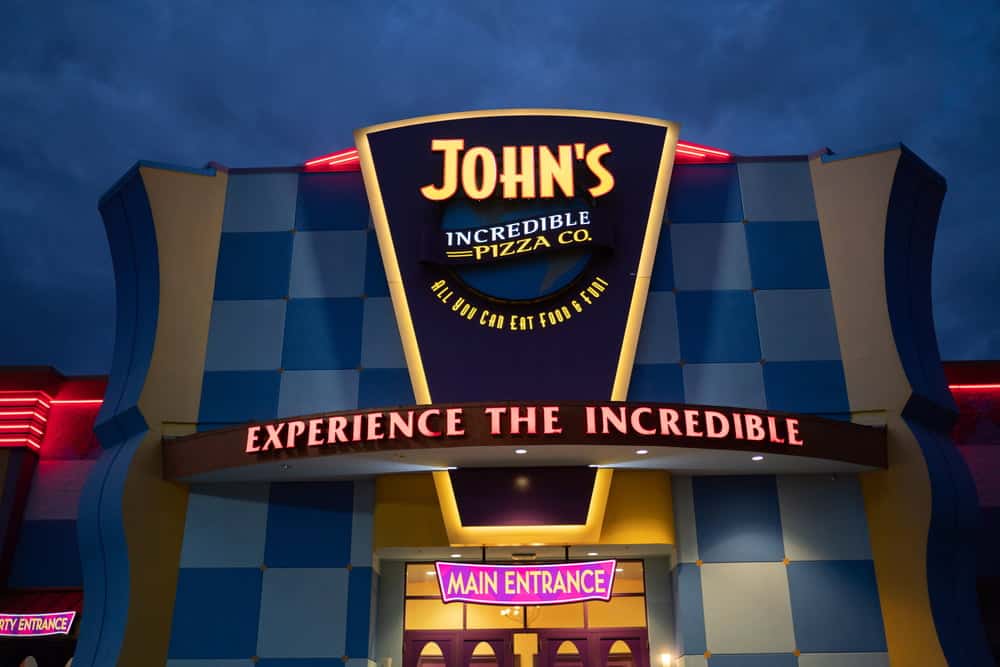 The laser guns, or phasers, have colorful muzzle flashes when shot and also have sound effects similar to those in Star Wars and Star Trek. The space theme of the laser tag arena will transport you into your favorite sci-fi movies as you battle it out with your friends!
However, the light effects on the phasers are only for show—they actually shoot radio signals instead of light—so you won't need to worry about lasers damaging your childrens' eyes.
Visitors who haven't played laser tag will still be able to get in on the action as well. The rules of laser tag are easy to learn, and it can be played by children as young as 5 years old.
Games are 15 minutes long, and Incredible Pizza has staff helping out in the arena at all times. A referee will ensure everyone is cooperating and playing safely, and will be available to answer any questions players might have.
Laser tag is an exciting game that will get you moving in no time, and it is surely our top pick from Incredible Pizza's range of great attractions.
What are Some Other Attractions at Incredible Pizza?
Laser tag isn't the only attraction Incredible Pizza has to offer—depending on your location, there's up to 14 of them. Here's a roundup of some of the most exciting attractions at Incredible Pizza:
Hologate
Hologate is an award-winning Virtual Reality (VR) attraction that will immerse users in their games. Up to four players can play together at once, and there are a variety of games to choose from.
The Hologate attraction comes with a library of games that will suit players of any age, and includes cooking games, shooting games, dancing games, and popular titles such as Angry Birds and World Of Tanks—remastered in VR.
With a variety of genres to choose from, you can have a virtual snowball fight with your friends, challenge them to a dance battle, or fight alongside them to battle robots, zombies, or aliens.
Glow-Karts
Incredible Pizza's Glow Karts are a fun take on classic go karting. The racecourse is adorned with glow in the dark barriers and decorations, and the fun music adds to the excitement.
Players will race each other, and whoever finishes the designated number of laps first will be deemed the winner. Children who are too young to ride or don't meet the height requirements can still take part in the action by riding along with a parent or sibling.
Bumper Cars
You might be trying to avoid crashing in Glow Karts, but playing bumper cars is another story! In bumper cars, players will be riding around in the play area trying to bump other players and avoid getting bumped themselves.
The bumper cars attraction is only offered in a single-seat version, so those who don't meet the height or age requirements won't be able to ride.
Route 66 Mini Golf
Route 66 Mini Golf is a 9 hole, US-themed, glow-in-the-dark mini golf course designed for fun and education. With 8 stops along the way, the course features fun facts and information on famous US locations and historic events that took place at them.
Mini Bowling
Incredible Pizza has a great mini bowling course, and is one of the few venues that has one. The 6 lanes are one tenth the size of an actual bowling alley, and function just like their full-sized counterparts.
Players check their scores on electronic scorecards displayed on screens above each lane, balls are returned to players automatically, and pins are replaced by a machine as well. You'll feel like you're at a normal bowling alley—except you'll be using lighter balls and won't have to put on any pesky bowling shoes!
Rope Course
Incredible Pizza's rope course is like a jungle gym, but bigger and better! There are many obstacles on the rope course that will test your balance and agility, such as swinging ropes, rope ladders, balance beams, monkey bars, tightropes, and more! Younger children or those who don't meet the height requirement can be accompanied by a responsible adult.
Kids' Play Land
Incredible Pizza's Kids' Play Land is a great place to let little ones roam about and try out all the fun rides while you grab a quick rest on the nearby benches. This attraction has many small rides for children to enjoy, including a train ride, a mini playground with slides, molded cars and bridges, and plenty of electronic kiddie rides.
Incredible Pizza Arcade
Incredible Pizza's arcade has tons of games—up to 150 of them depending on your location. Some of these games are for pure entertainment, while others award tickets that can be redeemed in the prize room. Prizes include Incredible Pizza merchandise, candy, stuffed animals, and even electronics!
Games range from Guitar Hero, Dance Dance Revolution, Skee Ball, and Forza Horizon to Whac-A-Mole, Sink It Shootout, Spin The Wheel, and more!
Rides
Incredible Pizza has a great collection of fun fairground rides right inside their venues. Some rides they offer include:
The Scrambler
The Scrambler is similar to a Tilt-A-Whirl, except the seats are suspended from moving arms. This ride can seat 8 people per arm, and is a great option for those who like to get a little dizzy on a fast-paced ride.
XD Theater
The XD Theater is a "4D simulation ride", meaning you'll be watching a simulation of a virtual roller coaster ride in 3D, with the added dimension of movement, supplied by moving seats.
There are many different simulations to choose from. Sci-fi fans may opt for the space-themed simulation, while horror fans might like the chilling haunted house ride—there's an exciting option for every rider.
La Bamba
La Bamba is similar to a Spinning Teacups amusement park ride, except there's only one large "teacup" that can seat up to 14 people. It's a lot of fun and is a great option if you're looking for a ride that can seat the whole family.
Conclusion
Laser tags, bumper cars, go karts, and an arcade? What else could you want in a family entertainment center? Incredible Pizza is truly an incredible venue with attractions that will suit the whole family—go experience the fun for yourself!