Picture this: someone's birthday is coming up and you need a relatively simple but super entertaining birthday party idea that works well with all ages. Well, a laser tag birthday party is your golden ticket to funtime!
Whether you're planning your thirtieth or your kid's tenth, laser tag-themed parties are a great way to bring people together and keep a party's energy positive and pumping.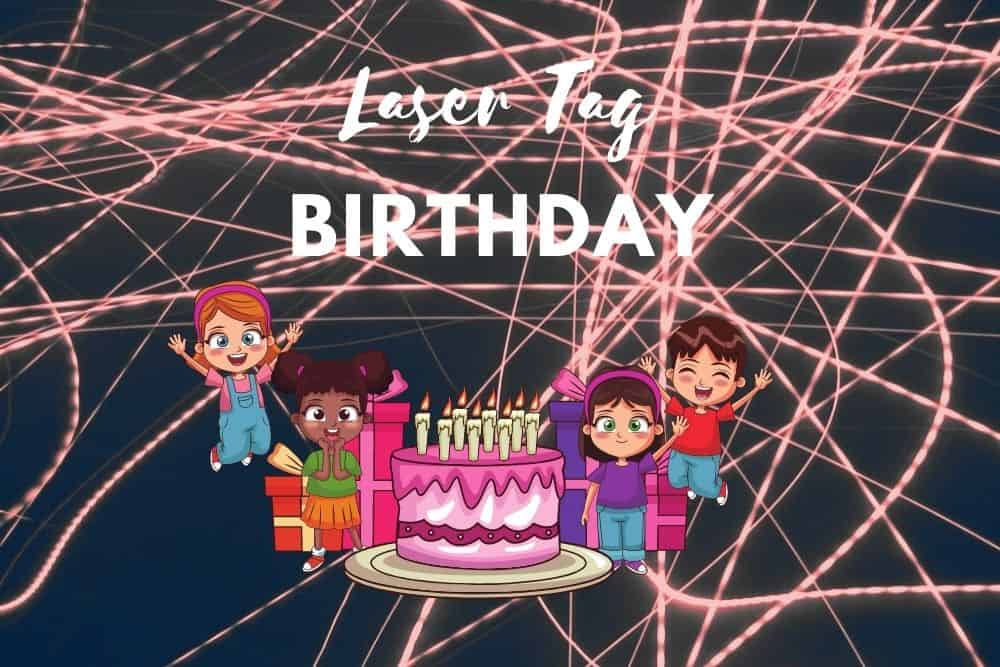 So how do you go about throwing a memorable laser tag birthday party? And what do you need to know about them before getting started?
Keep reading to find out!
What is a laser tag party?
A laser tag party can be quite a few things, but the biggest component is that guests can play rounds of laser tag while also enjoying the other party-related festivities. The combination of an already great party and a well-organized laser tag set up make for an awesome laser tag party.
It's a great way to get people moving if the dancefloor doesn't sound appealing. And who doesn't love a little bit of friendly competition?
You can throw a laser tag party in almost any weather. If you play laser tag at an establishment, it will almost always be indoors, so there's no need to be constantly checking the weather forecast for rainfall. You also don't need to worry about what time sunset is, which can be particularly annoying in winter when it can get dark by 5pm in some places.
Unlike paintball, laser tag isn't painful, so more guests will be willing to give it a go. After all, most people don't like getting shot with a paintball pellet, so this is a great alternative to that!
Adding the addition of a birthday party makes laser tag even more exciting. First off, the birthday person gets to be the star of the show — they could be the team captain or the VIP in a game of Capture the President.
A birthday also adds to the game's vibe. It's a celebration, and it brings laser tag's electric energy into the rest of the party, which is especially great if you've got guests who can't or don't want to participate in actually playing laser tag.
Equipment Needed

Let's talk about equipment. If you're playing laser tag at a venue, this is a non-issue. Any laser tag establishment will provide all of the necessary gear as part of the package.
However, if you're playing laser tag at home, you will need a few laser tag-related items to ensure that you and your guests get the complete laser tag party experience.
Here are a few equipments and extra options you might want or need for a good laser tag party:
Laser Tag Set, Kidpal Laser Tag Guns Set of 4 with Vest for Boys & Girls Age 8 9 10 11 12,...
AMAZING LASER TAG SETS- You may usually see kids chasing each other around the house and yard for hours tagging each other. Laser tag sets with gun and vest lazer tag game designed for up to boys age...
ENDLESS FUN FOR WHOLE FAMILY - Kids laser tag set is easy to figure out how to use. Things like team selection, shooting sound selections, optional led light for night play, reloading action make for...
MULTI-TEAM KIDS LASER TAG SET - There are four team colors: blue, red, white, green. You can play as for individual players or set the laser gun up to be teams. There are also four bullet type: pistol...
This set of four guns and vests is perfect for all ages. They have optional LED lights so you can play in the dark, and have customizable shooting and team delegation settings.
There are also four bullet types, pistol (one hit), shotgun (two hits), machine gun (two hits) or rocket launcher (3 hits). The guns and vests light up, vibrate, and make noise when you shoot or get shot — it's super immersive!
The guns are also very easy to grip, which is perfect for small kids with even smaller hands.
1. The Adventure Guys Lazer Tag Gun Set
This is a very special laser gun set. To start, the four guns come in a designer padded case to keep everything safe and contained when traveling from one laser tag party to another.
You can play in teams or individually, and there are four different weapons to choose from pistol, shotgun, machine gun, and rocket. The company makes a point of specifying that their product is "100% SAFE with a Child Safety Infrared Safety Emission below .9mW", so there's no need to worry if a little one points a laser in their eye.
Arguably the most special feature about this set is BITSYBOT. This small blue bug-looking robot acts like a moving target to practice on. When hit, it flips onto its back and wiggles its legs for a few seconds then continues scrambling around.
BITSYBOT is a great addition to any party because it keeps the fun going even when people don't want to play a full round of laser tag.
2. Nerf Bunkr Stadium Pack Inflatables
Inflatables are perfect for at-home parties. They are an affordable way to set up themed obstacles that keep a laser tag game dynamic!
This Nerf inflatable pack comes with nine inflatables to scatter around your yard. The range in their size and shape means that players never get to hunker down the same way twice when playing.
Nerf recommends adding water to the base of the inflatable to keep it from blowing away and moving around, so keep that in mind when setting them up!
3. NINOSTAR WAR Zone Inflatables
This pack of four inflatables will automatically transport your guests into an apocalyptic warzone! Made up of two barrels labeled "Radioactive" and "Biohazard", along with a sandball wall, and army crate, players will be able to duck, shoot, and jump to their victory!
The NINOSTAR WAR Zone would be perfect for indoor and outdoor parties. Each unit had a water pouch to fill up to keep the inflatable stabilized, so don't forget to use that!
Keep in mind that these inflatables are on the smaller side, so we would recommend using these for a kid's party since adults might have a harder time hiding behind them!
Picking the Venue
If you're lucky enough to live near any laser tag venues, here are a few things to consider before booking.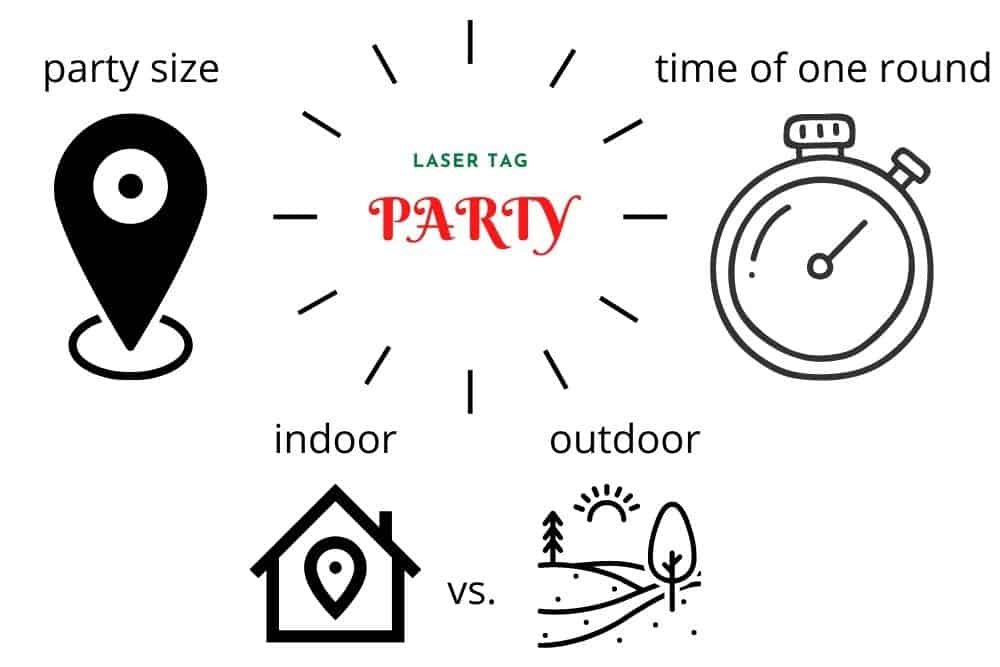 Party Size
Talk to the venue and ask them how many guests can play per round of laser tag. Some venues rent out a space by the hour, but others prefer to change per session.
How many rounds of laser tag do you want your guests to be able to play? And how many rounds are needed for every guest to be able to play an equal amount?
Ask the venue if they have deals or discounts, especially if the amount of laser tag sessions needed for your party is starting to add up!
How Long a Round Goes For?
An indoor laser tag session is usually 5 to 15 minutes. What time works best for your guests?
Although laser tag isn't the most physically demanding sport, it does require some running around. If you think that your guests would be more comfortable with shorter rounds, keep that in mind when looking for the right venue for your party.
Young kids will also probably do better with shorter rounds, as things might start to get chaotic if a round runs for too long. This doesn't mean that people are going to play less, it's more focused on splitting the laser tag fun into more manageable chunks.
Of course, if your party is mainly adults who are super passionate about playing tactical laser tag, the longer the better! Consider your audience and pick which option will end up being the most fun!
Indoor or Outdoor Laser tag?
Blacklight laser tag is awesome. You are transported to a sci-fi dimension full of neon lights and upbeat music.
On the other hand, laser tag played in daylight is more about team building and lets players have more one-on-one fun with each other.
Which one sounds like what your guests will enjoy?
Blacklight laser tag can be a little overwhelming. If you're throwing a party for very young children, or even adults with sensory problems, this might not be the best fit for you.
A great middle ground for these two options is a day-lit laser tag maze. The maze keeps the game dynamic but lacks the intensity that darkness adds.
If making this decision alone feels daunting, talk to everyone coming to your party and see what they think. We're sure they'll point you in the right direction!
Considering the Age Range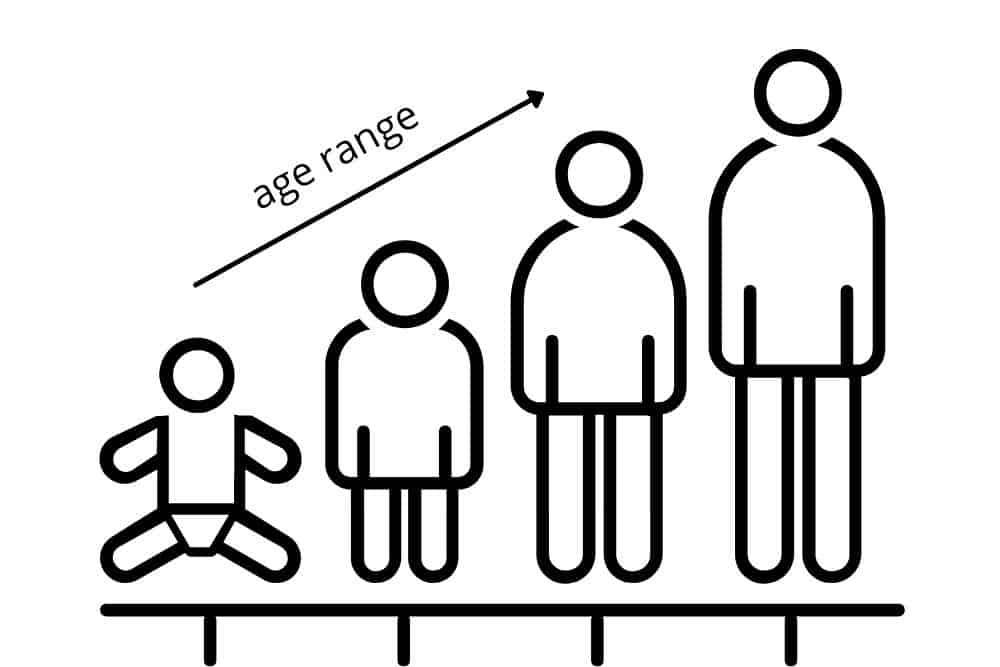 Anyone over seven years old can enjoy laser tag. If your kids are younger, they may or may not enjoy the intense social and competitive aspect of laser tag.
The key is to keep kids around the same age playing each round. That five-year difference between a seven-year-old and a twelve-year-old is pretty significant, and the communication between the two ages might make playing difficult.
'Big kids' are also very intimidating if you're young! Remember how cool you thought your older cousin or sibling was? You probably would've loved to play laser tag with them, but not being able to 'keep up' would've been upsetting.
We recommend taking note of all the ages coming to your party, unless, of course, it's just an adult party — no need to ask them how old they are! If you have kids from 7 to 13 coming, split them up in two age groups of 7-10 years old and 11-13 years old.
This way, everyone gets to enjoy a fair match without worrying about people winning because they are taller, older, or even just because they are able to understand the game and tactics better.
What Should People Wear?
When playing laser tag, you usually want to blend in with your surroundings. You probably won't last in a game very long if you stick out like a sore thumb.
Black is ideal if you're playing in the dark for obvious reasons. Tell your guests to come in dark clothing and to wear things they are comfortable running in.
If you're playing outside, the choice is theirs really! If guests want to come in full camo, that's great. Let them know what the arena looks like so anyone looking to take the games seriously can plan ahead.
Shoes are the most important part though. Closed-toed shoes that don't slip off easily are ideal. Think boots and sneakers.
You could even go all out and get team t-shirts that glow in the dark if you really wanted to make things special. Choosing a fun costume theme would always be an interesting way to mix things up!
Have fun with it and get creative!
Snacks and Decorations
It's all in the details when throwing a good party. Themed snacks and decorations, along with an awesome birthday cake will impress guests and is a fantastic way to have fun with the laser tag theme!
A bullseye is a popular image to use for laser tag-themed parties. It's simple to copy onto things and is immediately recognizable. You can have an edible printer (specific, we know), you could print off plenty of fun target pictures and stick them on all the cookies and cupcakes.
Glow-in-the-dark decorations are an easy way to jazz up a party space. Passing out glow sticks or fun glow-in-the-dark jewelry is another way to go, too.
When it comes to the cake, a dark base topped with plenty of bright colors is the best way to stick to the laser tag theme. You can go as big or small as you want, remember it's supposed to be a fun and celebratory centerpiece!
Have Fun!
This is a party, so at the end of the day, as long as everyone is having a good time and the birthday person feels appreciated, you've done your job!
A little bit of prep when it comes to who's going to play laser tag at what times will make hosting the actual party significantly less stressful. Talk to your venue, or if you're hosting the party at home, make sure you have the right equipment.
Let guests know ahead that heels and dresses probably won't be the best for laser tag, and keep people's ages in mind when sorting out teams.
As long as you do that small bit of preparation, you're going to have a fantastic party.
Have any fun laser tag anecdotes? We'd love to hear them!