Terre Haute, Indiana is a relatively small city filled with quite a few interesting things to do. You could stop by the art museum, go for a job in Deming park, learn about yesterday at the historical museum, and enjoy one too many glasses of wine at Sycamore winery.
However, is a town or city complete if it doesn't have laser tag facilities in or around it? We don't think so! That's why we've compiled the best laser tag centers in and around Terre Haute.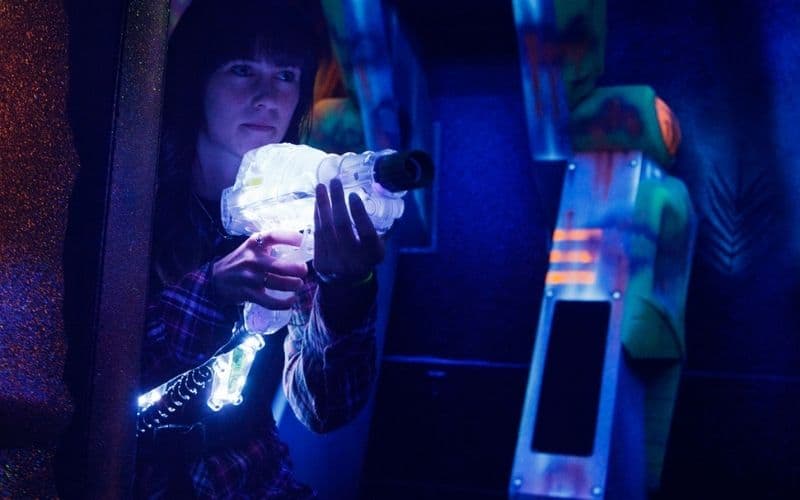 1/ Xtreme Lazer Tag

Address: 844 W Johnson Dr, Terre Haute, IN 47802
Phone Number: 812-238-8412
There's nothing quite like a bit of family-friendly fun in an establishment dedicated to keeping their customers entertained. Xtreme Lazer Tag is a large and exciting laser tag center perfect for children looking for a fun Saturday afternoon.
The outside of the establishment is rather unassuming; you would never guess it's home to a 7,000 square feet playing arena with an awesome laser tag space. The outer space-themed arena has planets and stars painted on its walls and a glowing carpet.
Xtreme Lazer Tag went all in when it came to using glow-in-the-dark props to help their space come to life, and it looks great. There's a bunker covered in luminescent fabric and a giant glowing sign that reads "Warning! Toxic Waste".
The blacklights hanging from the ceiling light up all the interesting obstacles. We know children would love playing in here. What's cooler than glowing planets and phasers?
Their phasers and vests are similar to those used in more indoor laser tag arenas.  The transparent phasers have a light in them that makes them look like a sci-fi movie prop, and the black vests are fitted with a few light-lined sensors.
There is also a great selection of arcade games to choose from. We always think it's a good idea to include an arcade in a laser tag center to keep guests occupied in between games, so this is perfect.
Parents who took their children here were satisfied with their visit. The attractions were fun and the staff cared about sanitation. Several customers agreed Xtreme Lazer Tag provides a good time for children of all ages and would recommend it to others.
2/ Laser Flash
Address: 617 3rd Ave SW, Carmel, IN 46032
Phone Number: 317-571-1677
Laser Flash is a modest drive away from Terre Haute, but we think it's well worth the drive. If you're looking to play in a giant laser tag arena then enjoy a few arcade games afterward, Laser Flash is for you.
Let's start with their arena. It is Indiana's largest laser tag playing arena at 7,000 square feet of pure laser tag entertainment. When you enter the arena, you're greeted with multiple passageways leading you deeper into the laser labyrinth.
The space is dimly lit, which works well against the glowing vests and phasers. We can imagine players sneakily scoping out the space, eager to turn a corner without getting tagged by a stalking opponent.
While some arenas are only good for younger children, Laser Flash's arena is entertaining enough for children, teens, and adults. We think it's a great place for groups of adults looking for a fun Friday night. Just be sure to call ahead if you plan on arriving after 9 pm.
If you're looking for a good deal, try out their budget-friendly monthly laser tag pass. The savings on it are incredible!
The arcade boasts several large games that almost look as fun as the laser tag does!
Customers were generally pleased with their time at Laser Flash. The laser tag was fun and the arcade, although not huge, kept them entertained. Laser tag is meant to be exhilarating and carefree and visitors seemed to get this experience from their time there!
3/ Tilt Studios Indianapolis
Address: 49 W Maryland St, Indianapolis, IN 46204
Phone Number: 317-226-9267
Tilt Studio's motto is "Fun at Full Blast", and we couldn't agree more! Located at the Circle Centre Mall in Indianapolis, this entertainment center has several attractions to choose from, including a race car simulation, virtual bowling, and the best one of all, Red Planet Laser Tag.
Their laser tag arena is filled with blacklight, painted walls that make the space look like the interior of a spaceship, and plenty of fun. The phasers are giant, made from transparent plastic, and light up brilliantly.
We can imagine large groups of children, teenagers, or entire families have a great time running around trying to tag each other. Children must be at least six years old to play independently and 5 years old to play with an adult. Any children four and under may not participate at all.
However, there are several arcade games to try at Tilt Studios, too! While young children may not be allowed to enter the actual laser tag arena, we're confident parents will be able to entertain them at the center in other ways.
Customers were reasonably satisfied with their time at Tilt Studios. One visitor mentioned how hard working the staff seemed and another customer said they had a blast with their family.
There are over 100 arcade games to choose from and many visitors enjoyed exploring all of them. They also have a vintage Star Wars game, which one customer was particularly excited about.
One thing to note is that games, especially arcade games, can be quite expensive. We recommend keeping tabs of how many tokens you're spending so you don't accidentally go over your fun weekend night budget.
Time to Get Tagging!
So, now that you know about all of the amazing laser tag centers in and around Terre Haute, it's time to get tagging. You just have to decide which one to visit first.
Will you give Xtreme Laser Tag a try and explore their giant playing arena? Or will you drive over to Laser Flash and experience their immersive laser tag arena?
Do you live around Terre Haute? Have you tried any of these centers? What did you think? Let us know in the comments!
Have fun, stay safe, and happy tagging!