We love laser tag. It's great for young children but also works really well for adults who aren't satisfied with sitting behind a video game controller all day. If you're looking to bring a game to life, laser tag is the way to go.
We also really like Kennewick. The nature is breathtaking, a giant mall, a few great museums, and mouth-watering food like juicy burgers.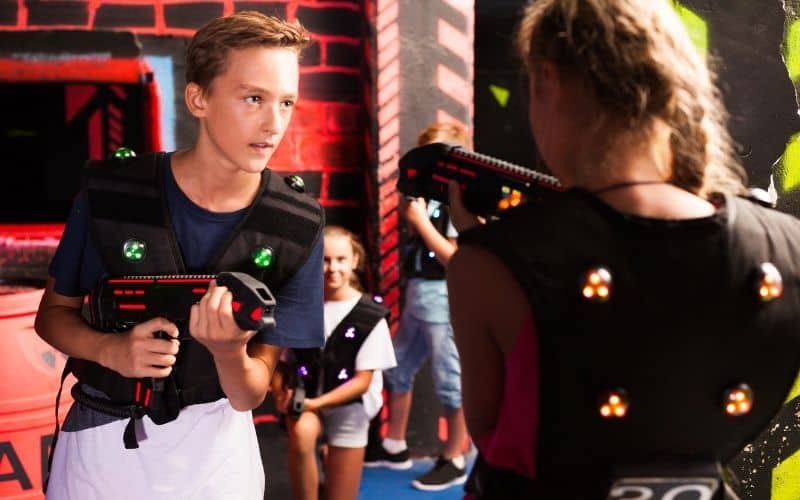 Kennewick is far from the laser tag capital of the world, but there are a few great laser tag spots nearby to ensure everyone has a fun-filled weekend and gets to learn about and appreciate the game.
We were pleased to find a tactical laser tag option, a mobile laser tag service, and a couple of indoor arenas that are perfect for rainy days where playing outdoors isn't an option.
1/ Bullseye
Address: 1341 George Washington Way Ste F, Richland, WA 99354
Phone Number: 509-820-3730
We love an establishment that offers two awesome attractions in the same place, and Bullseye in Richland, Washington, does just that. Visitors can play a few rounds of laser tag then practice their ax throwing at this fun family-friendly space.
Their laser tag arena is exhilarating and they've clearly put the work into making it an exciting space to play in. The arena has a structure in the middle of it labeled "Control Room" and is surrounded by giant inflatable obstacles and plenty of colorful lighting.
We appreciate that the room isn't set up as a maze and gives players the opportunities to explore the space and make their own rules. The arena looks great for kids, although they must be at least 8 years old to participate.
Their ax-throwing setup is also impressive. Visitors can throw axes on real wood panels painted with targets to help gauge their aim. You must be at least 16 years old to play without an accompanying adult.
Customers had a great time at Bullseye and enjoyed the two attractions immensely. The space is clean, the staff is helpful, and the equipment is well-maintained.
Several visitors agreed that the laser tag experience was a lot of fun, and certainly a good use of a weekend afternoon! We love to hear about people spending their time indulging in the art of laser tag, so this is awesome!
2/ Tactical Tag Elite Arena
Address: 315 W Yakima Ave, Yakima, WA 98902
Phone Number: 509-480-0499
An hour drive away in Yakima, Washington lies the tactical laser tag experience of dreams. If you're looking to get completely immersed in a laser tag battlefield, you have to drive over to Tactical Tag Elite Arena.
Their multi-story laser tag arena is made from wood and looks like a real-life video game set. There are plenty of stairs to climb, rooms to hide in, and windows to pop out of and takedown opponents from above.
We love how creative they are with the number of rooms, hallways, and levels integrated into the space. We can see children and adults having a blast and enjoying the unique experience.
After all, most indoor laser tag spaces are filled with colored lights and glowing walls. At Tactical Tag Elite Arena, players can focus on what matters, defeating the opposing team and working on their aim.
If you're serious about laser tag, they also have a league you can join. Tactical laser tag requires patience, skill, and teamwork, so see what you need to join their league if you think you have what it takes!
Unsurprisingly, customers' expectations were exceeded at the laser tag center. They appreciated the variety of realistic weapons to choose from and how vast the arena was.
The staff was also incredibly friendly, which is always great to hear. Tactical laser tag may require some explaining initially, so having kind professionals to walk you or your children through the game is essential.
3/ Nerd's Fun Center & Laser Tag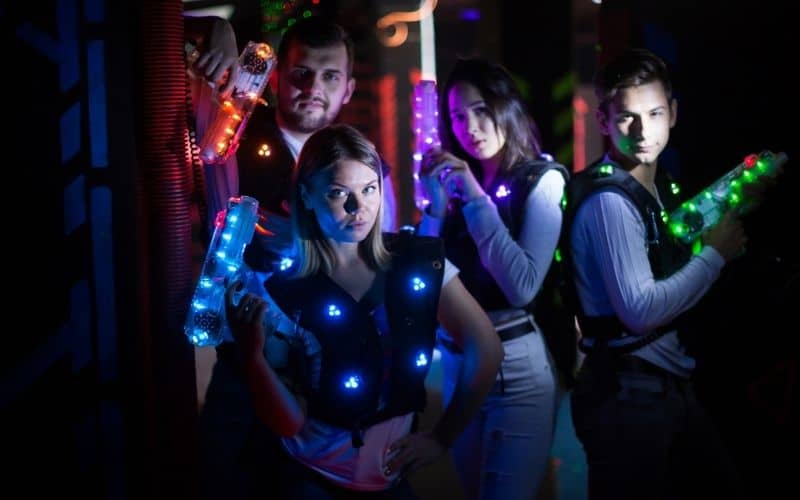 Address: 2312 S 1st St, Yakima, WA 98903
Phone Number: 509-961-8146
Are you a self-professed nerd? Do you love games, games, and more games? Well, you will love Nerd's Fun Center & Laser Tag in Yakima!
This thrilling entertainment center is sure to bring a smile to you or your child's face, especially if you're a fan of pop culture characters like the Joker, Pacman, and Iron Man! There are several arcade games to try out, but the real attraction is their laser tag arena.
The arena is very dimly lit and glowing shapes and columns bring the dark space to life. It's almost as if you're walking into a retro arcade game where bright characters are the only pops of color on an otherwise completely black video game screen.
We'd be surprised if anyone walked out of that arena after a round of laser tag not feeling completely transported. Our favorite part is when customers go to put on their vests and grab their phasers. Every piece of gear is hanging on what looks like a charging port. It's an exciting hint at the fun that's just around the corner!
Customers had a great time and loved that this local business brought lots of fun and laughter to the area. The laser tag was a highlight for several visitors of all ages. There were parents with children as young as five who had a blast playing.
The equipment is in great condition and the employees were incredibly helpful!
4/ Jumpin' Jellybeanz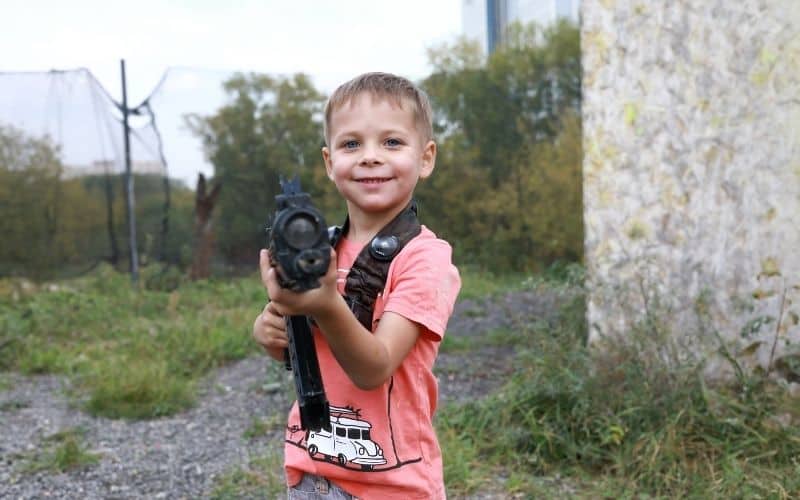 Address: 16560 US-12, Touchet, WA 99360
Phone Number: 509-200-4958
If you're looking for an easy party solution for young children, look no further than Jumpin' Jellybeanz in Touchet. They are now offering one party per day delivered straight to your home.
You can also book a party at their location.
Parents can book laser tag, arcade games, giant bounce houses, a photo booth, face painting, and more for their birthday party. However, they also cater to corporate events, festivals, and other parties.
We love including mobile laser tag options in our lists because they make playing the game accessible and safe, especially in COVID times! Kids deserve to have a blast when celebrating, and Jumpin' Jellybeanz provides just that.
Parents were pleased with their experience throwing a party with Jumpin' Jellybeanz. The staff was friendly and most importantly, the kids loved it.
Time to Get Tagging!
What do you think about the laser tag experience around Kennewick? Are you ready to get tagging now? Will you book a party with Jumpin' Jellybeanz first or go try out Tactical Tag Elite Arena for an intense laser tag experience that will make you fall in love with the game.
Are you a Kennewick local? Have you ever driven over to any of these establishments? What did you think? Let us know in the comments below!
Have fun, stay safe, and happy tagging!