Walk into a Dave and Busters, and you'll be greeted by colorful bright arcade games, lit up bowling lanes, and even a chance to play virtual reality. But what if you're a laser tag person?
You've come to the right place! Dave and Busters have an awesome laser tag set up that won't disappoint!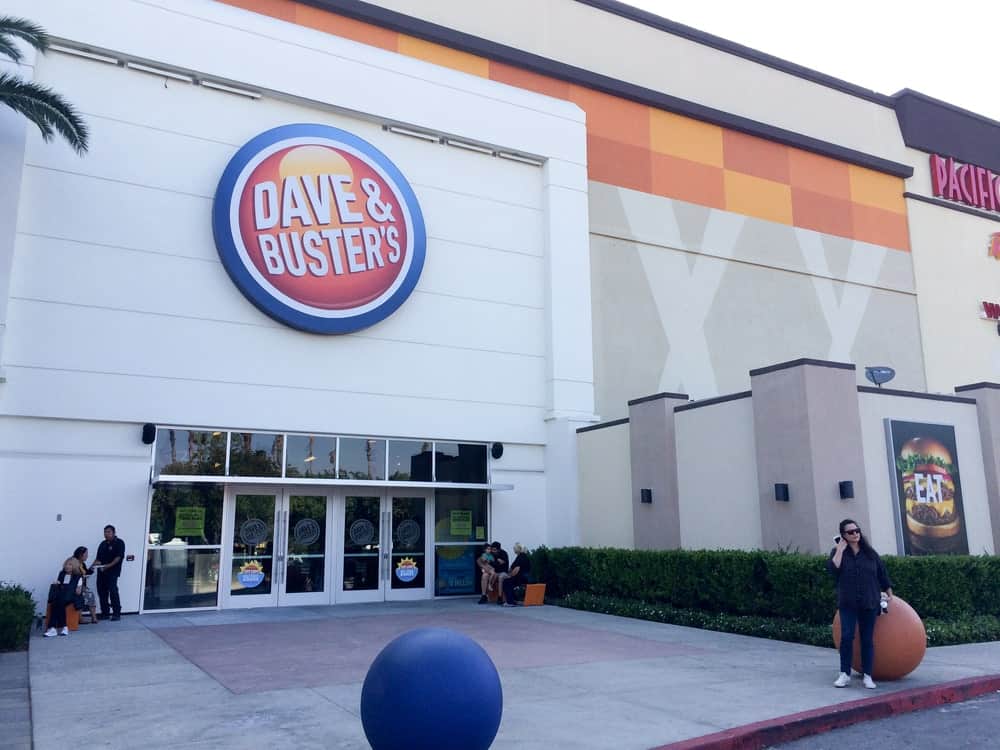 Visiting Dave and Busters is always a good time! You can practice your target skills with a laser tag team while enjoying plenty of other great discounts, unique games, and even unlimited video gameplay!
Keep reading so you can learn how to make your next Dave and Busters visit the best one yet!
What kind of games are at Dave and Busters?
The question isn't what kind of games do Dave and Busters have? You should really be asking what kind of games they don't have?
It is THE place to find your new favorite game! From the newest arcade game and your favorite classics, it feels like they literally have it all!
Laser Tag
The real star of the show is the laser tag. Decked out in bright blacklight, playing laser tag at a Dave and Busters is as much of a visual experience as it is a physical one.
What's great about Dave and Busters is that they set it all up for you. You get the rules, all the high-quality equipment, and plenty of fun background music to keep the mood up!
Like any great indoor laser tag, this game experience has a maze-like format, so you can really feel like a soldier in combat sneaking around trying to find the enemy!
Bowling & Billiards
Feeling competitive? Beat your friends and family in a few rounds of billiards or bowling. Their bowling is a self-described "over the top experience" with blacklight, a multi-media show, and the latest music videos.
Every Other Game You Can Imagine!
They also host a great selection of games in-store to play alone or with friends. Their classic arcade games like Pac Man and Coin Crash will keep you entertained for hours. But they also have more interactive games like Hungry Hungry, where you sit on giant colored hippos and catch the balls!
Their virtual reality setup is also fantastic. Transport yourself into the middle of a Star Wars plot or the Terminator VR game exclusively available at their locations!
Does Dave and Busters give you anything for your birthday?
Dave and Busters is the place to throw any party. They boast that no group is too big for them to handle, so you can go all out with them!
Have a birthday coming up soon? As the guest of honor, you will receive tickets or extra gameplay to enjoy during your time there.
They will also provide napkins, cutlery, plates, and other utensils needed to serve your birthday cake to your guests. Just remember, the cake must be store bought or else you won't be allowed to bring it onto the premises.
Bust out the birthday banner and rainbow tablecloths because you're also allowed to decorate as long as it doesn't involve any silly string, glitter, confetti, or candles that aren't for your cake! How fun is that?
What about other parties? 

Whether you're looking to throw a bash for a company, a youth social event, or just for a group of friends who need to relax after a few stressful months of work and home life, Dave and Busters have you covered on all fronts!
A great feature they offer is their team-building activities. Playfully named Arcade Relay Racer, Mission Impossible, Midway Showdown, and Dave's Epic Quest, each corporate team-building activity comes with a skill focus rating so you can pick which game fits what you're trying to get out of the activity.
Want to strengthen communication? The Midway Showdown, where teams of 3 to 6 compete in multi-player games, might be the one for you!
How about working on time management skills? The Arcade Relay Race, where teams compete in a series of games relay race style, will be a perfect fit!
Laser tag is an awesome team-building activity in our books! Work on your coordination, strategy, and leadership skills by pairing up and slowly bring the opposing team down by taking out the weakest players first and moving on defeating the more skilled opponents running around in the blacklight laser tag arena.
Does Dave and Busters have unlimited play?
Yes! Dave and Busters have an Unlimited Video Game Play option! This bonus only costs a few extra dollars, but keep in mind that this only applies to their non-redemption games.
A non-redemption game is one where you don't earn points, tickets, or prizes for playing them. Shooting, skiing, and car racing games are all examples of games you can enjoy with the Unlimited Video Game Play, so be sure to take advantage of it!
Half Off Wednesdays
Want to take advantage of even more great deals at Dave and Busters? Every Wednesday, you can play ALL of their games for half off from opening time to closing time.
Pop by after work or school for fun, affordable entertainment. Unfortunately, this deal does not include their virtual reality, photo booth, or laser tag (since that technically isn't a game).
However, it does mean you can go on Wednesdays for a few rounds of laser tag, then stick around for the discounted arcade games to complete your visit.
How do you get free Dave and Busters?
Trying to stay on a budget but still want to have some fun? There are a few ways to take advantage of Dave and Buster's offers.
Power Card
Power Cards give you 10% of how much you spend in-store back to you as gameplay! So if you spent $100 one night on games, food and drinks, you'll get $10 to use on games your next time around.
What a deal!
A power card works like a debit card. You recharge it at a Dave and Busters charging kiosk or even just on their app with money, which is then converted into tokens for you to use on their games.
You'll also get monthly email savings, so you can jump on any good deals the minute they become available!
Power Tap 
When you sign up for a Power Tap, you automatically get 25 free tokens!
A Dave and Busters Power Tap is a contactless, cash, and token-free way to play games. Much like a Power Card, you charge up your Power Tap with how much money you want to play with. No more fumbling around for loose change or tiny tokens!
Dave and Busters Rewards 
It doesn't get as easy as signing up for Dave and Busters Rewards! It is just their email program, but it comes with a ton of free perks!
You can earn free gameplay and get exclusive offers (that means great savings)! Plus, you'll get even more free gameplay when you first sign up.
Their rewards email program is completely free and takes seconds to sign up for. So what are you waiting for?
What is the All-Day Gaming Package at Dave and Busters?

The All-Day Gaming Package is exactly what it sounds like. For a set price, you can get an entire day of unlimited non-redemption video gameplay and 18 game chips!
This is perfect for people who want to spend a whole day honing in on their video game driving craft or practicing their virtual skiing to prepare for the real thing when winter rolls around!
Just keep in mind that buying the All-Day Gaming Package doesn't mean you'll be walking away with a prize of any sort. As previously mentioned, non-redemption games don't give out any tickets, so you'll be playing for the joy of playing — not to acquire a stuffed animal or bag of candy from the prize counter!
What will make the All-Day Gaming Package incredible is if you squeeze a laser tag session in between spending your game chips and playing video games. It's a great way to get on your feet and practice your strategy play.
What are you waiting for? 
With plenty of ways to save and maximize gameplay, there's no reason not to check out your local Dave and Busters!
If you go, be sure to play a round or two of laser tag. Nothing beats running around a professionally built blacklight maze with friends. It's a tactical way to get a bit of exercise and have a load of fun!
Have you ever been to a Dave and Busters location? Are you planning on going now?
Let us know! We would love to hear what your experience was there!