The Dynasty Toys Laser Tag Set aims to promote fun and healthy family activities. Dynasty Toys started out in 2013 as a small team of toy-makers. Its mission is to unite families by helping them have fun together, and this is achieved by producing toys that would entertain children and keep them active.
In 2016, the company created its first vest-less laser tag toys, resulting in product line-ups such as this laser tag set.
Traditionally, laser tag games require participants to wear a vest, where there are sensors to shoot at. In contrast, this laser tag set by Dynasty Toys places sensors at the front of each blaster (gun). Users will have to aim at the blaster instead of the person.
| | | | |
| --- | --- | --- | --- |
| Gameplay | Add-ons | Affordability | Overall |
| 4 / 5 | 4 / 5 | 4 / 5 | 4 / 5 |
What We Like
No vest required
4 team settings
Unlimited team size
Compatibility with Jukibot add-on
4 gun settings
Safe infrared laser of <1mW
What We Don't Like
Fixed number of lives (9)
Lack of recoil and ability to block bullets
Who is This Product For?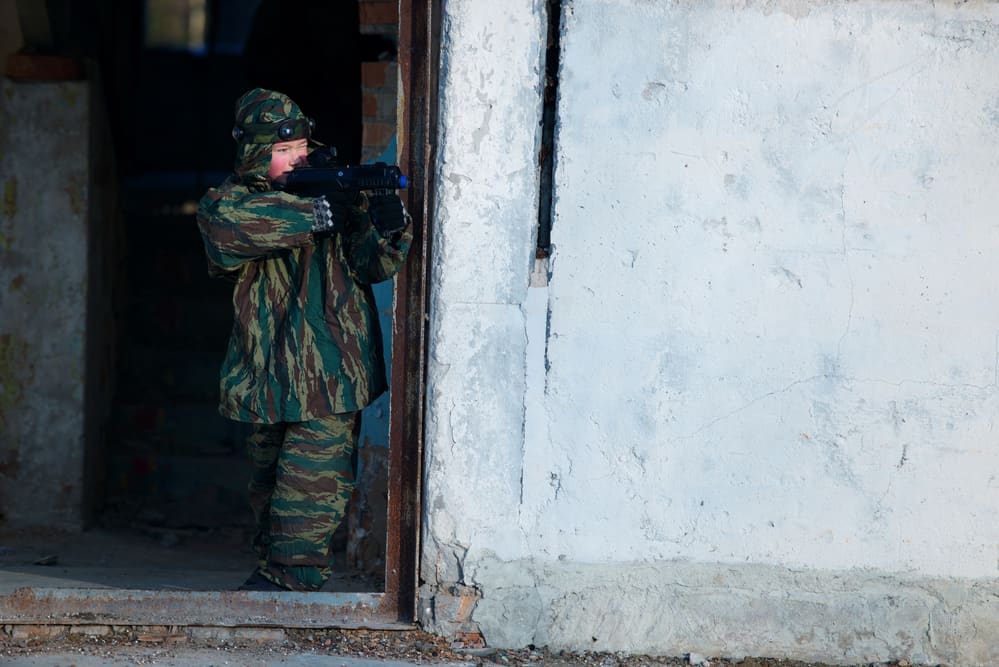 This product is ideal for families looking for games and toys for all-around healthy entertainment. Instead of having children's eyes glued to cell-phone or television screens, the Laser Tag Set aims to get everyone moving.
Customers have reported great satisfaction playing with this product as a family. Better yet, you could also purchase a few of these sets to play laser tag in bigger teams. This would be ideal for youth workers and school coaches, who may consider buying it to engage the kids with a healthy pastime.
However, this product may not be suitable for those who prefer less-active games. While the product is affordably priced, it may still pose a challenge for those who are budget-constrained.
In terms of gameplay, those who grew up playing laser tag at amusement centers should not have problems learning to play. The only adjustment needed is instead of aiming at rival team members' vests, you have to aim at their blasters.
What's Included in the Set
This is a multiplayer 4-pack set, meaning there are four laser tag blasters in the box. Note that each blaster requires 4 AA batteries.
However, batteries are not included in this product, meaning you would have to purchase at least 16 AA batteries to use. Besides the four blasters, each set also contains a quick start guide with a diagram and key instructions.
Detail of Features
The laser tag set comes with four different team settings. You could play either a Team A vs Team B scenario or a free-for-all mode with four players. This makes gameplay very versatile. Moreover, you could purchase more sets and combine them into one mega game – the manufacturers claim that team sizes are unlimited!
Another important feature is the built-in speakers. The blasters come with speakers to inform you of key events. For instance, when you are out of "ammo", you need to tap the butt of the blaster to reload. The speakers will then inform you if the reload was successful. They make distinctive noises when you are hit, or you have successfully shot an opponent's blaster.
The blaster's laser takes on the form of invisible infrared light. The infrared laser used is safe for consumers, as they have a power output of less than 1 milliwatt (mW). No safety goggles are required as they fall under the Class 1 category of laser products.
A unique feature of the Dynasty Toys Laser Tag Set is its compatibility with the firm's Jukibot game robot. The Jukibot is the company's trademarked invention which comes with three modes.
Two of the modes, the countdown and battle modes, involve using Dynasty Toys' laser tag blasters to test your shooting ability. While it is not necessary to purchase the Jukibot, we think it is a complementary addition!
DYNASTY TOYS Robot for Kids and Parents - Jukibot Laser Tag Family Companion (Blasters Sold...
Jukibot is the First Ever App-Enabled Robot that can Interact with Dynasty Toys Blasters All On Its Own. Jukibot is the Ultimate Companion For Family Game Night.
Jukibot Includes 3 Different Game Modes: Countdown Mode, Battle Mode, and Droid Mode.
Countdown Mode - Great for family game night. Everyone blasts Jukibot while the app keeps score. The player with the highest score after each round wins!
We were impressed by the blaster's four gun modes, which mimic pistols, shotguns, sub-machine guns, and rocket launchers. Most users were happy with the overall quality and lightweight of the blasters.
However, some customers commented that their laser tag blasters stopped working after a short period of intense use. The faulty devices were quickly replaced after contacting customer service.
Dynasty Toys' blasters come with a fixed amount of lives-nine and do not allow adjustments. They also do not allow you to block bullets. Another possible downside is the volume of the built-in speakers is fairly loud. This might be a deal-breaker for those who live in extremely quiet neighborhoods. Nevertheless, we think this laser tag set is suitable for playing in most homes and outdoor areas such as parks and sporting grounds.
Setting Up and Installation Process
The laser tag set comes in "plug-and-play" condition and does not require much setting up. All you have to do is purchase four AA batteries for each blaster (16 x AA batteries for a set of four blasters). However, to enhance gameplay, you may want to set up more obstacles using cardboard boxes or discarded objects. This is all up to your creativity!
Alternatives
An obvious alternative to Dynasty Toys' Laser Tag Set is the Nerf Lazer Phoenix. This blaster comes with an indicator for Ammo level which shows five bars, compared to none in Dynasty Toys' version. Furthermore, the Nerf blaster provides a recoil effect and allows you to shield yourself from bullets, whereas Dynasty Toys' blaster does not.
Nerf Official: Lazer Tag Phoenix LTX Tagger 2-pack - Fun Multiplayer Laser Tag Game for Kids &...
MULTIPLAYER COMPATIBILTY – The Nerf Lazer Tag Phoenix LTX Tagger is a complete system that features 2 Phoenix LTX Lazer tag blasters for fun, action packed Lazer battles. All Nerf Lazer Tag Phoenix...
INDOOR AND OUTDOOR BATTLES – The arena can be anywhere with these Nerf Lazer Tag Phoenix LTX blasters so players can battle inside the home or spread out outside for epic match ups
FUN FOR THE WHOLE FAMILY – Nerf Lazer Tag Phoenix LTX Lazer tag blasters are great for kids, teens, and adults alike. For ages 8 years old and up, different play settings make the game fun and easy...
The Nerf Lazer Phoenix also has a choice of 10 or 25 lives, compared to just nine in Dynasty Toys' blaster. However, the Nerf blaster uses six AA batteries compared to four for Dynasty Toys' blaster, and it also does not have more than one gun mode.
Read more: Best Choice Vs. Dynasty Toys Laser Tag
Conclusion
Overall, we think the Dynasty Toys Laser Tag Set is an excellent choice of toys and games to occupy your time. The gameplay is very enjoyable, with four different gun blaster modes, four-team settings and no limit to the team size. The device uses a safe infrared laser pointer with less than 1mW of power output and does not require safety goggles.
Furthermore, no vest is required, and the built-in speakers announce important events. We wish that the manufacturers had included recoil and ability to block bullets, and also an indicator of Ammo level. However, this is an all-around great laser tag set for some family fun, and you could extend your enjoyment further by purchasing a Jukibot add-on.
CHECK LATEST PRICE ON AMAZON.COM
Dynasty Toys Laser Tag Instructions
The laser tag set will work straight out of the box, as long as you have prepared 4 x AA batteries for each blaster.
To switch on the blaster, find the "Power On" switch on the left side of the gun and flip it up. Also on the left side, just above the trigger, you will find the "Team Select" button, which is the second orange button. The first orange button is the "Gun Setting" button, which lets you toggle between pistol, shotgun, machine gun, and rocket launcher modes. At the bottom of the gun's handle, there is a large black button which is used for reloading.
You will be given nine lives for each round. The number of lives left can be seen from the three red lights located above the trigger. When one life has been taken, the light will blink slowly; when two lives have been taken, the light will blink quickly. When all three lives for each light has been taken, the light will go out.
Another point to note is that different gun settings will provide you with different amounts of ammunition. In pistol setting you will have 12 shots available; shotgun and machine gun settings give you 6 shots; while the rocket launcher setting only gives you one shot.