There are a lot of great things to do in Topeka, Kansas. You can drive over to Lake Shawnee and take a dip, visit several museums, appreciate fine architecture, and enjoy delicious food at several restaurants.
All of that sounds great, but what makes Topeka stand out in our books in the three laser tag centers in and around the city. We love laser tag because it's exciting, heart-pumping, and great for the whole family.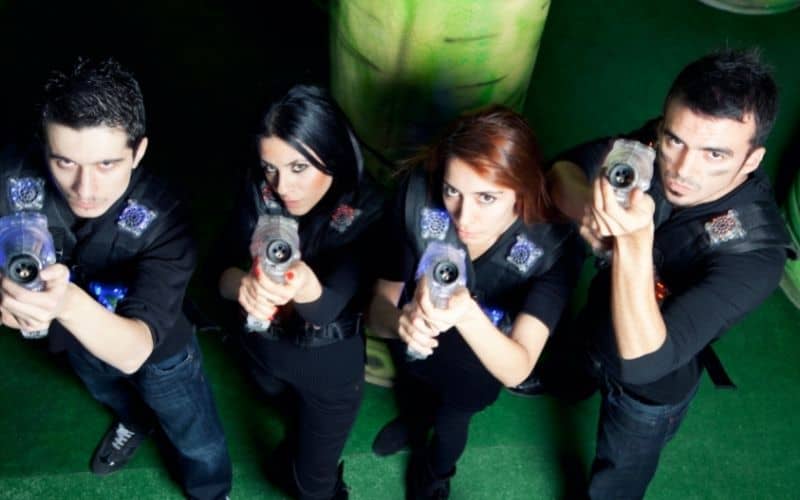 Kansas can get really hot in the summer and really cold in the winter, so on the days where the kids don't want to play outside, bring them to one of the laser tag arenas in the area.
Two of these attractions are right in Topeka and the final one is about an hour's drive away, so check which one is closest to you, get in your car, and go play some laser tag!!
1/ Laser Trooper
Address: 1801 SW Wanamaker Rd, Topeka, KS 66604
Phone Number: 785-274-8399
Get ready for a laser tag experience like no other at Laser Trooper! This laser tag center has exactly what you need to have a blast playing your favorite recreational sport.
Unlike other indoor laser tag arenas, Laser Trooper's space isn't adorned with painted walls and tons of props. Instead, they keep things simple and have plenty of panels as obstacles. The whole arena is lit by different colors and looks modern and stylish.
Imagine playing laser tag in a contemporary art museum. It may not be traditional, but it's certainly a memorable experience.
Say goodbye to glowing phasers and sweaty sensor games. The phasers are black, branded, have helpful accuracy scopes, and have built-in sensors so players never have to worry about a vest or headband slipping.
Laser Trooper also has tournaments and leagues. Players can participate as individuals, in duos, or in small squads. Will you play as a lone wolf or as an invincible team?
They also have player information available on their website so you can see who won what badge and competed in which competition.
Customers enjoyed the unique player experience at Laser Trooper. The staff is dedicated to giving guests the time of their life and they throw great birthday parties, too!
Want to bring the fun to you? Laser Trooper also has a mobile laser tag truck available to rent! There are a lot of perks to playing in a laser tag arena but there's nothing more convenient than tagging in your own backyard!
2/ GreatPLAY – GreatLIFE Topeka
Address: 1936 NW Tyler St, Topeka, KS 66608
Phone Number: 785-233-9815
Want to feel great? Why not head on over to GreatPLAY in Topeka and enjoy the several entertaining attractions they have available.
Visitors can try arcade games, bounce in trampoline pits, ride bike trails, play footgolf, get competitive at paintball, swim, and, of course, play laser tag!
Their multilevel laser tag arena is one for the books. It features glowing lights, tall pillars that serve as obstacles, several balconies so you can look up or down at the different levels, and bright phasers and vests.
GreatPLAY is proud that their laser tag facility is family-friendly, and players with the PLAY Everything membership get two free games every day!
We love how simple but effective the laser tag space is. There's room to move around and stalk your opponents, but it's not so large that young children might get overwhelmed.
If you have children who need to burn off some energy, taking them to GreatPLAY might be your best option. Who knows, you might end up joining in on the fun, too!
Customers really enjoyed visiting GreatPLAY. While laser tag can get tactical and extreme, we appreciate centers that cater their experience to families and children. The laser tag, arcade, and pool are visitors' favorite parts of this space.
3/ Main Event Olathe
Address: 11950 N Kansas City Rd, Olathe, KS 66061
Phone Number: 913-768-4444
A little drive away lies Main Event in Olathe. Their state-of-the-art attractions are bound to keep the whole family happy for hours. Parents can bring their kids here for a fun weekend afternoon, or pop over on their own to meet some friends.
Their multi-level playing space will bring a smile to players' faces. Main Event explains that their laser tag isn't just meant to test your tagging skills, it's also supposed to help players improve their problem-solving skills and encourage them to think creatively.
Guests can expect to leap over hurdles, play on several levels, and dodge obstacles. We love laser tag arenas that sound interactive and Main Event's arena fits the bill perfectly!
Main Event encourages players to wear dark clothing to blend into the space, have fun exploring the area, keep moving during the game to avoid detection, and never stop shooting before hitting a target—you can even bounce lasers off walls if you don't have a clear direct shot!
There's no age restriction for the laser tag attraction but players must be at least 48 inches tall to participate. We always recommend measuring smaller children before showing up to a laser tag so you aren't caught off guard by a little one being turned away from playing.
Main Event has great reviews, especially when it comes to their laser tag. The staff is kind and entertaining, and their laser tag was an exhilarating and satisfactory experience for several customers.
You can also bowl, play arcade games, beat a friend at billiards, rock climb, sing karaoke, enjoy their ropes course, have fun in story rooms, and even try virtual reality.
Ready, Set, Tag!
So, now that you know about the laser tag centers in and around Topeka, it's time to decide which one will suit you and your family best. GreatPLAY is the place to go if you're looking for all-day entertainment, but we also love Laser Trooper for its simple and to-the-point arena.
Are you a Topeka local? Have you been to any of these laser tag facilities? What did you think? Let us know in the comments!
Have fun, stay safe, and happy tagging!