Bloomington is a beautiful place to live. Nature is sublime, the activities are entertaining, and the weather is great. We love a city that has it all! And lucky for Bloomington locals, they also have a great selection of laser tag centers and services.
We've compiled the top five laser tag establishments in and around the city for you to bring your friends, family, and even your children! There is a great selection of tactical and traditional indoor laser tag arenas.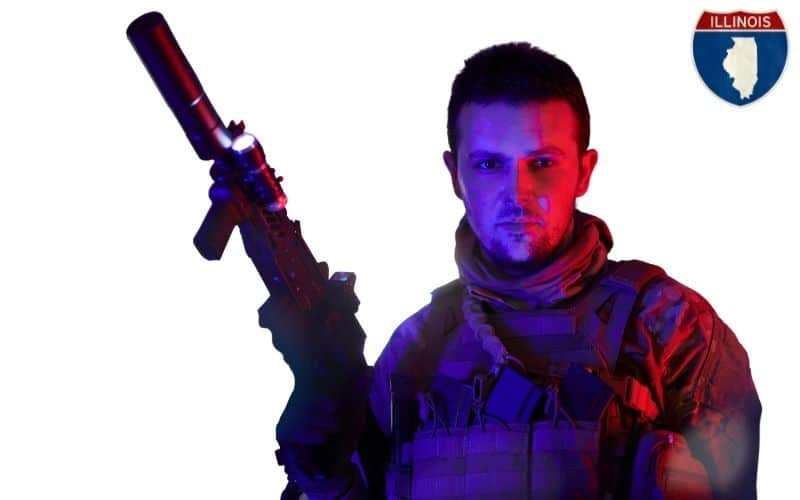 We appreciated the variety of other activities also available with the laser tag centers. You could bounce on giant trampolines or spend an hour mastering an arcade game.
So, if you're struggling to make your next weekend plans, don't give up yet! Have a look at these exciting laser tag opportunities, and get excited for your upcoming Saturday!
1/ Urban Warfare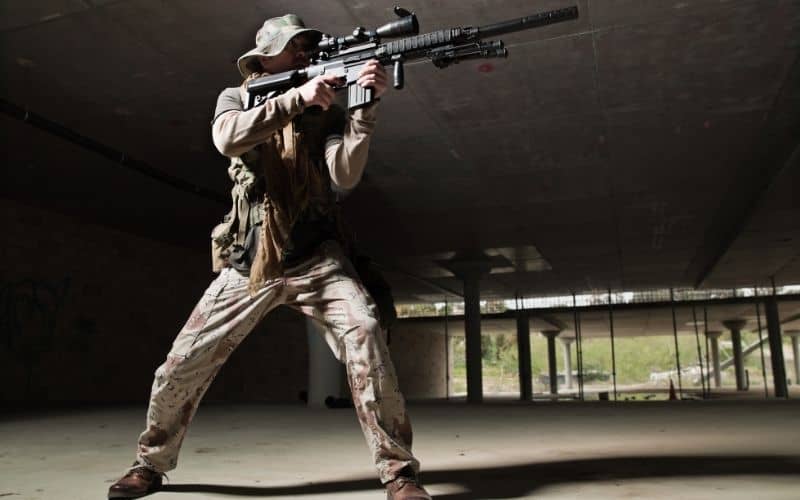 Address: 10424 E. 1400 North Rd Bloomington, Illinois 61705
Phone Number: 309-261-2596
Urban Warfare is a paintball center, but it also hosts fantastic laser tag games that will transport players to an urban battlefield. If you're tired of indoor neon laser tag, drive over to this laser tag center and get ready for a next level playing experience.
The arena, where paintball games are played, is indoors and packed with sandbag walls, barrels, and other props to immerse guests into the tactical playing experience. All of the laser tag guns have been modified to look more realistic. They are painted black and could easily be mistaken for real weapons!
We love the simplicity of the space. Instead of using color to decorate the walls, mesh, wooden panels, and metal columns give the space a rough urban feel. Players get the chance to focus on their tactics and hone in their craft instead of getting distracted by the luminescent blacklight and strobe lights.
Players must be at least six years old to participate. Urban Warfare recommends guests come in clothing they don't mind getting a little dirty. Since laser tag is played on the paintball field, the possibility of getting paint on your clothes is high. Don't worry, though; it washes it!
They also have a smash room and a speedball room.
Customers loved their time at Urban Warfare. It's a great spot for birthday parties and visitors appreciated how invested the staff was in making their time memorable.
2/ Alpha Dog Entertainment Mobile Laser Tag
Address: Wherever you want!
Phone Number:  417-763-3648
Going to a laser tag center is a lot of fun. You can play with other enthusiastic laser taggers, have fun exploring an area, and even enjoy some good food afterward. But sometimes, you want to be able to bring the fun to you.
Mobile laser tag is ideal for families looking to enjoy a few games while still socially distancing.
Alpha Dog Entertainment Mobile Laser Tag is a laser tag party service that makes enjoying laser tag at home convenient. There are several party packages available depending on how large your party is. The largest one available accommodates 24 players.
They ask that the playing field be at least the size of an elementary basketball court which is 80 feet by 40 feet. The size ensures that players have enough room to run around and play in a cramped space.
Inflatable obstacles are set up inside the perimeter, giving players things to hide behind to avoid fire!
A team leader is included with every party. They run the game and act as referees so all of the guests can enjoy the games.
The phasers are large, exciting, and we know any child would love to use one of the fields.
Customers loved their experience with Alpha Dog Entertainment. They said it was a lot of fun, reasonably priced, and would recommend it to others in the area looking to host a laser tag party.
3/ Elevate Trampoline Park
Address: 8800 N Allen Rd #2, Peoria, IL 61615
Phone Number: 309-966-0231
Galaxy Laser Tag at Elevate Trampoline Park is a short drive away in Peoria, Illinois. Their indoor laser tag arena provides visitors with the class of playing experience many enjoy.
The space is large and has an extraterrestrial space theme. Panels are intricately painted to look like steel spaceship doors and are covered in alien signs.
Players can expect to explore winding passageways that take them around the space. We feel panels make an arena feel larger and more interesting.
Blacklights hang from the ceilings and give the space an alien glow. We recommend wearing white if you want to glow as brightly as the purple panels around the arena!
A giant UFO sticks out of the galaxy walls. Be careful, you might even run into an alien while playing!
Visitors can get significant discounts if they book several games at once, so we recommend reserving at least two at a time!
Have a birthday coming up? They've got you covered with their party packages.
While you're at the center, be sure to enjoy some time at their trampoline park. We recommend bouncing before you eat, though!
Customers had a great time playing Galaxy Laser Tag. The arena, glowing phasers, and friendly staff all contribute to the visitors' awesome experience.
When you play indoor laser tag, you want to be able to forget about your worries for the games' 10 to 15 minutes. This laser tag establishment provides exactly that for children and adults alike!
4/ Plaza Lanes
Address: 1500 Washington Rd, Washington, IL 61571
Phone Number: 309-444-3059
We love a good bowling alley, especially one that also offers laser tag. Plaza Lanes provides an Area 51 themed laser tag experience, a large bowling alley, and a few arcade games to keep kids occupied in between rounds.
And it's only a short drive away in Washington, Illinois!
Their laser tag arena is colorful, fun, and a little retro. This science-fiction-themed space is lined with eerie lamps, fun and mystical murals, and lots of shooting lasers. If you're looking for a good old-fashioned laser tag time, Plaza Lanes is the place to get it.
The panels are placed strategically to give players room to run and hide around the arena. We love the many nooks and crannies for players to duck into while playing.
Plaza Lanes' laser tag birthday party package is also a winner. It comes with a party coach, arcade tokens, soda, ice cream, pizza, two laser tag games, and an additional free laser tag game pass.
They also offer discounts for different days of the week, so be sure to see what deals are available for the day you plan on going!
The feedback for Plaza Lanes is overwhelmingly positive. Customers enjoyed their time playing laser tag. It was entertaining and great for kids.
If you get hungry at Plaza Lanes, they also have food available. Visitors have also commended their food quality and selection.
5/ Tag Illinois
Address: Wherever you want!
Phone Number: 888-882-2885
Do you have a birthday or event coming up? Or maybe you're just a big laser tag fan and want a private laser tag experience in your backyard? Either way, Tag Illinois might be your best bet for a fun laser tag party.
This mobile laser tag service brings fun to you with a modern laser tag experience. Their party packages include phasers, a tactical tech, and depending on the size of the package, bunkers to set up around the space.
There are several packages to choose from. Their backyard or birthday party events can accommodate up to 12 players at a time. This means you'll have to take turns playing, but being a spectator is sometimes just as fun as taking part in the game!
Customers can book up to 2 hours of rental time, which is enough to play several rounds of laser tag. The phasers have over 30 gun types programmed into them, so get ready to have fun finding which one is your favorite.
Tag Illinois also offers archery tag, game rentals like giant Connect 4 and Jenga.
Most customers enjoyed the service. After all, who doesn't love a little laser tag?
Who's Ready to Play? 
Now that you know what laser tag adventures lie ahead, are you ready to get out and start tagging? Which one sounds the best to you? Will you try out Urban Warfare for their giant urban arena? Or will it be Alpha Dog Entertainment Mobile Laser Tag for a safe at-home experience?
Are you from Bloomington? Have you visited any of these centers? What did you think? Let us know in the comments!
As always, have fun, stay safe, and happy tagging!