Knoxville, Tennessee is a great city filled with friendly people, scenic views, and a few great activities to keep everyone entertained on the weekends.
However, in our opinion, no weekend is complete without a couple of rounds of laser tag. Luckily, Knoxville has several fantastic laser tag centers in and around the city. All of their laser tag establishments are kid-friendly and sure to keep the whole family smiling.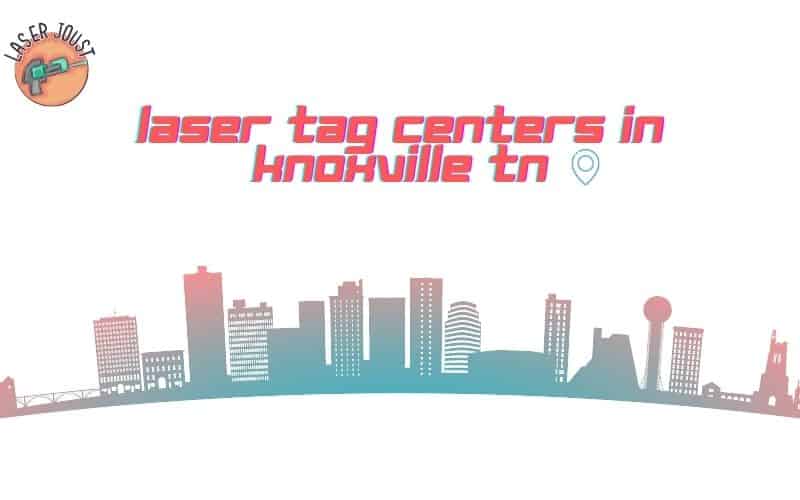 Most of the centers are also indoors, which is perfect for those days when the humidity makes it near impossible to spend too much time outdoors.
So, before you make plans for your next weekend or day off, have a look at five of the best laser tag centers in the Knoxville area. You might be pleasantly surprised by the options available near you!
1/ Main Event Knoxville
Address: 9081 Kingston Pike, Knoxville, TN 37923
Phone Number: 865-351-5000
As the name suggests, Main Event Knoxville is a memorable and stimulating place to go for family-friendly attractions in the area.
Families can enjoy laser tag, bowling, billiards, gravity ropes, and an arcade. Their laser tag, however, is the best thing about them.
The multi-level Main Event laser tag arena is packed with obstacles and hurdles that make the playing experience thrilling. Wear comfortable clothing, because you're going to be moving around a lot while taking down opponent taggers!
There is no age requirement for laser tag, but you must be at least 48 inches tall to play. We recommend that parents bust out the tape measure if they aren't sure their children will be tall enough to play. No one wants teary-eyed children who have to skip playing.
The establishment recommends that players wear dark clothing, keep moving while playing and explore all the vantage points, and never stop shooting once you spot your target! We appreciate facilities that give their customers tips and tricks for optimizing their playing experience, and Main Event hits the nail on the head perfectly.
Customers left Main Event happy and pleased with the amount of fun they had there. The laser tag seemed to satisfy nearly all the visitors, which is incredible.
One side note is that there may be longer waiting times for bowling and laser tag due to COVID requirements. But don't worry too much, it will be well worth it once it's your turn to play. The waiting time is just an opportunity to decide your game plan.
2/ GameTruck Knoxville
Address: Wherever you want!
Phone Number: 866-253-3191
Sometimes getting in the car and driving to a laser tag center isn't very convenient, especially if you're trying to get a large group of kids coordinated. Luckily, mobile laser tag services are there to help!
GameTruck brings fun to you with laser tag and arcade games. They do birthday parties, church events, or any other occasion that might require laser tag (although all occasions require laser tag, in our opinion).
One tactical laser tag party package accommodates 12 players and includes everything you need to have a blast. The one thing the hosts need to decide is where the laser tag is going to be played. We recommend a flat grassy patch.
The phasers and sensors are comfortable and lightweight, so younger children won't be dragged down by heavy equipment.
GameTruck will set up tent-like bunkers and inflatable obstacles around the space, completely transforming it from a standard backyard to an exciting laser tag arena. We know kids will be transported into another dimension once they're handed their phasers and let loose in the laser war zone!
Customers were pleased with their experience. GameTruck was professional and supplied their event with a recreational experience that met expectations. It's always nice to be able to rely on a service, and GameTruck is consistently reliable!
3/ LazerPort Fun Center
Address: 2782 Parkway, Pigeon Forge, TN 37863
Phone Number: 888-907-4694
Not too far away in Pigeon Forge lies LazerPort Fun Center. This wildly popular entertainment center has several attractions, including laser tag!
The laser tag is played on a 7,000 square feet arena, which is quite large. In fact, it's the biggest in the Smoky Mountains Area.
LazerPort has done a great job in their arena. It's filled with glow-in-the-dark components like luminescent panels and fun props. The space you play laser tag in is half the fun, and we can imagine families having a blast exploring the large space while simultaneously hunting down their tagging prey.
Each game lasts 12 minutes, which is plenty of time to take down the other team and claim your tagging crown!
The vests and phasers are equally exciting. They are both covered in lights and are sure to make a child feel like a sci-fi robot and cyborg. After all, what's laser tag without a little bit of playful imagination mixed in?
Like several other laser tag centers, we have no doubt parents or even groups of adults would have a great time playing here.
LazerPort also offers axe throwing, go karting, mini golfing, and an array of arcade games.
Over two thousand customers have left a review for this establishment, and most of them are positive. Some visitors were surprised with how much they enjoyed laser tag. A few even played a couple of rounds during their time there.
It's a great place for large groups since the space is so large.
4/ WonderWorks
Address: 100 Music Rd, Pigeon Forge, TN 37863
Phone Number: 865-868-1800
WonderWorks is an entertainment utopia for all ages. They have several attractions and pride themselves on mixing entertainment and education together to create "edutainment".
They describe their laser tag experience as action-packed and fast-paced. The arena is filled with lights and modern panels that could have easily been stolen from an abandoned spaceship. Think of eerie lighting and lots of dark colors!
We love the simple and exciting feel of the space and how many places there are to hide while you plan your next move. The phasers are large and exciting to use — think of the guns you might see being used by an evil space villain.
However, WonderWorks' laser tag isn't the only glowing attraction they offer. Their glow-in-the-dark ropes course is 50 feet tall and features four stories of bridges, wobbly steps, and other vertically ascending obstacles. Children must be at least 48 inches to climb alone and 40 inches to climb at all.
Their 4D XD Simulator Ride and educational Wonder Zones make WonderWorks a place of learning, giggles, and adventure. And if you have a birthday coming up, they have several birthday party packages to choose from.
The reviews for WonderWorks are overwhelmingly positive. Customers loved trying out all the attractions, with laser tag being a highlight for several visitors.
Their laser tag generally satisfies parents and children and is included in the price of the ticket.
5/ Gatlin's Mini Golf

Address: 716 Parkway # 219, Gatlinburg, TN 37738
Phone Number: 865-436-2326
A modest drive away in Gatlinburg likes Gatlin's Mini Golf, an amusement center designed to look like a small town. They offer several attractions, including escape rooms, mini golf, and of course, laser tag.
Their laser tag arena is the largest in the Gatlinburg area at 3,000 square feet. The space is designed like a maze and features spots to hide and regroup with your team to plan your next move.
Like other indoor laser tag arenas, Gatlin's is filled with blacklight, exciting music, and plenty of ambient lighting.
Children must be at least 44 inches tall and five years old to play. Parents are welcome to scope the arena out beforehand to ensure their children will feel comfortable playing in it.
There are four different laser tag gameplays to choose from. Players can tag individually, as a group, or play Vampire or Team Capture to mix things up a bit.
We recommend choosing your gameplay based on the age of your teammates. A simple game of individual play might be best for younger taggers.
Customers had fun exploring Gatlin's, although a few thought the center was a little expensive. Several visitors agreed it's a great place to go if your family wants to enjoy several attractions.
Gatlin's also offers bumper cars, a laser maze, a ropes course, blacklight golf, and Atomic Rush which combines Simon Says with Whack-a-Mole.
Who's Ready to Play?
Now that you know the fantastic laser tag available in the city, are you ready to get out and play? But first, you have to decide which place you're going to visit first!
Will you venture to Main Event and enjoy their well-maintained attractions? Or will you give GameTruck a try for your next at-home birthday bash? The choice is yours!
Are you a Knoxville local? Have you visited any of these laser tag centers? What did you think? Let us know in the comments!
Have fun, stay safe, and happy tagging!