If you're looking for a fun activity to do with your friends or family, playing laser tag is a great option to consider.
It's exhilarating as you will all be running around trying to tag one another and it's safe because there are no flying objects that could hit you.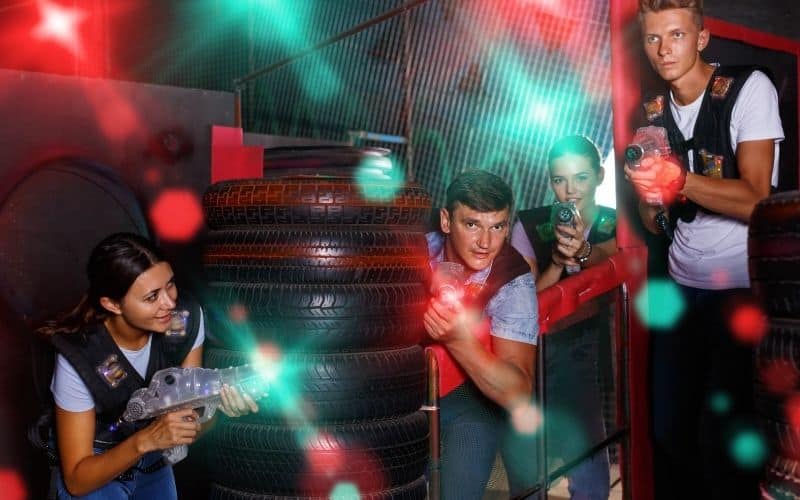 Just pure clean fun and to top it off, most laser tag arenas use black lights to give you a more thrilling playing experience.
Unfortunately, if you're from Bozeman, Montana, the last laser tag center closed in 2020 because of the pandemic. So how can you try laser tag?
Top 2 Laser Tag Centers Near Bozeman MT
If you don't mind driving to nearby cities, below is a list of laser tag centers near Bozeman, MT.
1/ Kaboom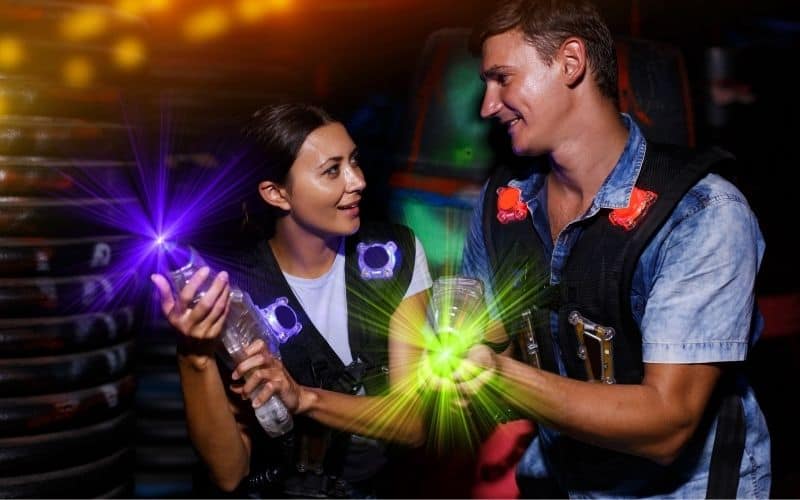 Kaboom is a newly-opened family fun center located at 901 9th Street North (Suite B), Great Falls Montana. It is a 3-hour drive from Bozeman, Montana.
At Kaboom, you can find a 3,000-sq.foot laser tag arena that is adorned with neon paint on the walls and floor. Black light is used to illuminate the arena, which helps the neon lights pop, giving it a cool and out-of-this-world vibe.
Players wear a vest that lights up when another person shoots them with their laser gun. Depending on your rules, you can either continue playing after being shot or wait for the next round.
The huge space has a lot of dividers and cubicles. Players can be strategic and use these partitions to hide and not be tagged. They can also wait patiently and time their attack to get the upper hand.
If you're not sure yet that laser tag is for you, there's a viewing area above the laser tag arena. From there, you can see all the action or even plan and scout spots so you can beat the other team.
To book an appointment, you can:
They are open on Mondays – Thursdays from 3 pm to 9 pm, Fridays from 3 pm – 10 pm, and Saturdays from 10 am to 10 pm.
Kaboom offers discounted prices for Family Night which happens every Monday, from 6 pm to 9 pm.
Kaboom is open for all ages, but those who wish to play laser tag must be at least 42-inches tall. Before you head on to Kaboom, be sure to fill up and sign a waiver form that asks for your name, contact information, and a place to indicate the name of a minor you are signing for.
Aside from laser tag, Kaboom also has over 25 arcade games, space for parties, an inflatable park in the open air, and a 16-foot giant slide. Kaboom also offers a 2,500-sq. foot Ninja Park with 18 obstacle courses that will test their strength, endurance, and agility.
2/ Flashpoint Outdoor Laser Tag

Flashpoint Outdoor Laser Tag offers a different kind of laser tag experience. It is located in Flathead Valley, Montana, which is a 5-hour drive away from Bozeman, Montana.
As an outdoor laser tag experience, you have the option to choose from one of its two locations in Columbia Falls and Happy Valley.
If you're unable to make the 5-hour trip from Bozeman to Flathead, there's an option to bring the game closer to you. You can set an appointment to have the game in your backyard if you have enough space for outdoor laser tag or other outdoor spaces of your choosing.
So what makes Flashpoint better than other laser tag experiences? Because it is played outdoors, you can have 40 people or more playing all at once. Instead of being confined in a room, you get to enjoy the great outdoors and feel like you're in a real-life battle.
Flashpoint offers two types of guns: a rifle and an Uzi. The rifle is made from heavy-duty military-grade metal, giving it a realistic look and feel. The Uzi is made from heavy-duty military-grade plastic.
Both guns fire infrared beams that activate infrared-sensitive targets worn by players.  Unlike other laser tag arenas that use infrared receivers on vests, the targets are worn on the head.
According to Flashpoint, their guns are very accurate and can hit targets as far as 150 yards.
Remember to wear proper clothes and footwear that can protect you from outdoor elements such as branches, bugs, sharp rocks, rain, snow, and much more. It is advisable to wear closed shoes, long-sleeved shirts or jackets, and pants. Be prepared to get down and dirty with Flashpoint's outdoor laser tag experience.
To book an appointment, you can:
Flashpoint Outdoor Laser Tag doesn't have strict hours of operation as you can book any day of the week at your desired time. The minimum hours of gameplay are two hours.
Other Fun Activities to do in Bozeman MT
Driving 3 to 6 hours isn't for everyone. If you prefer to stay local, there are other fun group activities you can try in Bozeman, MT. Check out the list below.
1/ Escape 406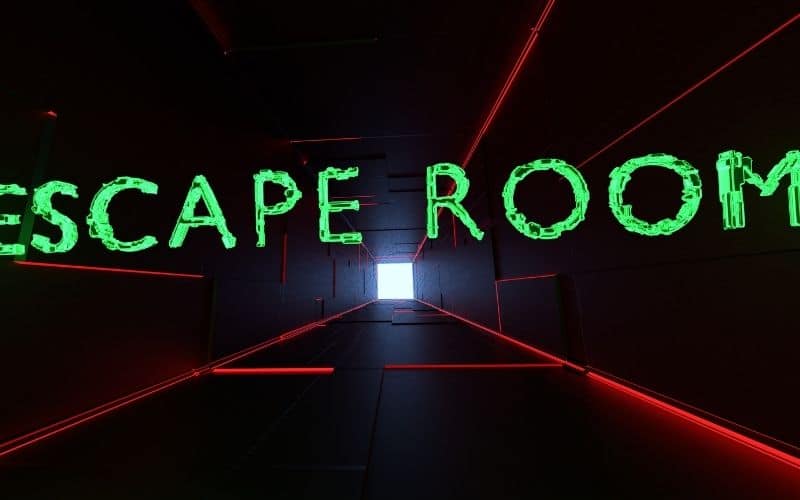 Bring your friends or family along to Escape 406, Bozeman's escape room experience. It is located at 2504 W. Main Street Suite 2E Bozeman, MT 59718.
If you want a less physically tiring game then let Escape 406 give you mental exercise instead. At Escape 406, you can choose from 2 escape rooms.
Will you be able to find Alice in A Death in Wonderland before the time runs out? Or will you choose to solve the murder and find the killer in Mystery at Bleakwood Manor? A third room, The Temple of the Abyss, is set to open soon.
Each room provides a different type of experience and scenario as well as challenges that would get the wheels in your brain turning. Try one or both to test how good or fast you are at solving puzzles.
Each room at Escape 406 has a 60-minute time limit. Solve the puzzles fast by working together and get a chance to break the record for the fastest escape room breakout.
To keep the playing field fair, escape room participants cannot bring their smartphones or any other electronic and recording devices inside. Escape 406 provides safe and secure storage for all your valuables while you immerse yourself in the escape room experience.
You can call Escape 406 at +1 406-624-6149 to book your escape room experience, or send an email to [email protected]. Escape 406 is open Mondays to Sundays, from 1 pm to 8 pm.
2/ JumpTime
For an action-packed experience, JumpTime can help you break out some sweat. JumpTime is located at 159 Homestake Drive Bozeman, MT 59718.
JumpTime is not just a trampoline park. It offers various trampoline courses that aim to challenge you. Test your aim and dodging ability with the Extreme Dodgeball course. The Ninja Warrior course will test your strength and agility.
Love basketball? Try the Slam Dunk course. And if you're not afraid of heights, try jumping from one of the two towers of the Storm Castle Tower course. Meanwhile, check out the Battle Beam & Slack Line source, if you want to test your balancing abilities.
JumpTime also has a ToddlerZone for kids five and under. And if you're up for some psychedelic vibes, be sure to go on Fridays when they use black lights to light up the place.
Remember to bring socks, or socks with grips, when you go to JumpTime. Wearing socks will help keep the courses clean.
To book an appointment or party, you can call JumpTime at +1 406-586-3473. You can also reach them at [email protected]. JumpTime is open Monday and Tuesday from 4 pm to 8 pm; Wednesday, Thursday, and Sunday from 10 am to 8 pm; and Friday and Saturday from 10 am to 10 pm.
3/ Madison River Tubing
If you're up for some fun in the water, Madison River Tubing offers an assortment of water toys that will allow you to enjoy nature, get a bit of exercise, and have a blast with your friends or family.
Madison River Tubing has three pick-up locations in Montana, including one in Bozeman at 1110 W Main St, Bozeman, MT 59718.
Madison River Tubing offers stand-up paddleboards, deluxe single tubes that can be connected with other tubes if you want to float as a group, a carrier tube for things you want to bring along like a cooler, the SOLs Fiesta which is a standup paddle board that fits six people, a 12-foot and 13-foot Tributary raft, single and tandem inflatable kayaks, and a Reckon PackRaft.
Before you can begin your water adventure, you need to complete and sign a waiver form. If you are under 18 years old, you need your parent or guardian to accomplish a waiver form for you.
Except for the water tubes, every rental comes with a life jacket helmet, and air pump if you're using an inflatable kayak or raft.
To book an appointment, you can call them at +1 406-209-8384. You can also email them at [email protected]. Hours of operations are from 9 am to 5 pm, Mondays to Sundays, but may change because of the weather.
All rentals should be returned before closing, but if the items are not returned at the end of the day, renters have until 10:30 am the next to return them without paying any penalty. If renters fail to return them before 10:30 am, there is a minimum fine of $100 per rented item.
Which Activity to Pick?
It all boils down to whether you're willing to drive 3 to 5 hours for your next group adventure, and which activity your group would like to do.
Any of the above activities foster bonding as they require you to work together as a team to either break out from an escape room, move along the river, or eliminate the other team.
Because of COVID-19 restrictions, be sure to book an appointment so the facilities and services can accommodate your group.