Mobile, Alabama, is a beautiful southern city with great restaurants, stunning nature scenes, and even a few attractions to keep the kids busy.
We were pleased to find several great laser tag centers in the Mobile area, the furthest one being about an hour away. There are also centers no further than 15 minutes away, so you're bound to find one that suits your schedule!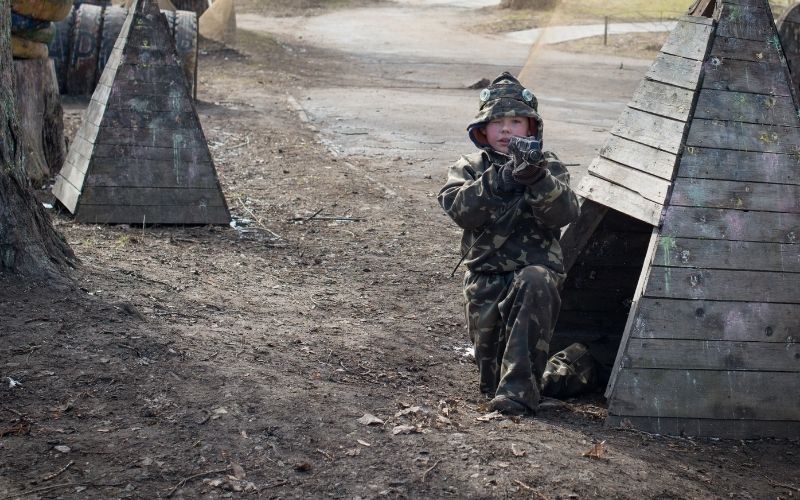 There are several exhilarating indoor laser tag arenas in the area, along with a memorable outdoor experience as well. Laser tag is great for the whole family, so why not get out next weekend and explore the thrilling world of tagging?
We've compiled the best laser tag that has great reviews and lots of fun additional attractions to try out, too!
1/ Battle City Laser Tag
Address: 4901 Montee Rd, Theodore, AL 36582
Phone Number: 251-402-8656
We love a traditional indoor laser tag experience, but you're missing out if you haven't played laser tag outdoors. Battle City Laser Tag offers a unique laser tag that's ideal for players looking to get outside, run around, and have some fun.
Their large arena consists of large wooden structures. Bridges, multi-story buildings, and small obstacles are peppered around the space. There is so much to explore; walking around the arena is half the fun!
The equipment is high quality, and we like how large and realistic the phasers are. You could easily immerse yourself in the realistic weapons, tall structures, and woodsy surroundings.
Some laser tag arenas feel quite linear. However, Battle City Laser Tag gives the players free rein. There are countless places to hide and tag from.
If you have a birthday party coming up, this establishment can help host it for you. There's nothing more exciting than playing laser tag with a large group of friends in a top-notch laser park arena.
Don't like vests? Neither do they! The phasers have built-in sensors, so you don't need to worry about lugging around a sweaty vest or uncomfortable headband. We love the simplicity of their laser tag experience.
They also have an indoor setup if it's too muggy or chilly outside.
Customers had a fantastic time at Battle City Laser Tag. One customer had her son's 9th birthday party at the center and said it couldn't have gone any better. Other visitors appreciated the surrounding nature.
2/ Eastern Shore Lanes
Address: 10460 Eastern Shore Blvd, Spanish Fort, AL 36527
Phone Number: 251-625-3400
Eastern Shore Lanes is a family activity center with bowling, arcade games, laser tag, and more. Expect to spend several hours in this fun-filled establishment that's great for kids and parents alike.
Their multi-level laser tag arena is complete with glowing phasers and vests, fun murals, and plenty of action. Each game lasts about 15 minutes, which is the perfect amount of time in our opinion. Too long might start to get tedious, but anything shorter wouldn't be enough playtime!
The dimly lit space looks exciting and we have no doubt that it will put a smile on every player's face.
Eastern Shore Lane's ropes course is also worth mentioning. This elevated athletic experience lets visitors walk right over the arcade. It's made up of ropes, wobbly bridges, and other obstacles to test your balance and agility.
If you're worried about falling, rest assured every player is strapped into the course. Only a certified facilitator can release them from the course.
Children must be at least 48 inches tall to participate independently or 42 inches tall with a paid chaperone.
There's even a simulated golf experience and a Clip & Climb.
Customers had a great time at Eastern Shore Lanes. The facility was clean, the staff was friendly, and the games were enjoyable. Visitors also appreciated how well-priced things were, which is always great to hear.
3/ Adventure Island
Address: 24559 Perdido Beach Blvd, Orange Beach, AL 36561
Phone Number: 251-974-1500
This amusement park is about an hour away from Mobile in Orange Beach, but it is well worth the drive. Watch your kids get giddy exploring the ins and outs of Adventure Island, an elaborate entertainment center fit for the whole family.
Their laser tag is thrilling, and perfect for families. The space is filled with black light and the walls are painted to look like the stone walls of an old castle.
The phasers look like they are straight out of a science-fiction movie. We love how they look different from most indoor laser tag arenas.
Adventure Island's biggest attraction is its five-story volcano. It's the centerpiece of the park and erupts colored steam regularly, sending vibrations throughout the park.
They also have go-karts, mini golf, bumper boats, paddle boats, a small teacup ride, and the Coconut Climb. There's also an arcade if you're looking for classic fun.
Make sure to save your tickets and cash them out for a prize at the end!
There are over 1,400 reviews for Adventure Island, and the majority of them are positive. The laser tag is air-conditioned, which visitors appreciated, and many customers enjoyed the variety of activities to try.
One thing several customers mentioned was the price. Adventure Island can get a little expensive, especially if you plan on trying out several of their attractions. We wouldn't recommend this theme park if you're looking for fun on a budget.
4/ Arena The Next Level
Address: 4720 Main St, Orange Beach, AL 36561
Phone Number: 251-224-5297
Also located in Orange Beach, Arena The Next Level is an indoor amusement park that will keep the kids busy for a few hours. Their modern laser tag is about 55 minutes away from Mobile.
Their arena is a respectable 4,000 square feet, which is plenty of space to run around and have fun exploring. The science-fiction-themed arena is filled with panels painted to look like the walls and doors of an alien spaceship.
Arena The Next Level is very proud of its modern phaser and vest combo. The laser tag guns are straight out of a giant blockbuster science-fiction action film and look sleek and sophisticated.
Their vests are equally impressive. They don't shut down for a moment when a laser hits them and are completely adjustable. Like the phasers, the vests look modern and impressive, as part of a uniform for a star-traveling soldier. Expect the vest to light up and vibrate when it's been tagged!
Generally, customers enjoyed their time at Arena The Next Level. The space and arcade games are entertaining, and the additional surrounding wharf activities are enough to make the entire experience worthwhile.
There seem to be a few issues with the establishment being understaffed, so keep that in mind. On the other hand, everything is reasonably priced, so it's a great, budget-friendly place to visit on a rainy weekend afternoon.
5/ The Gulf Bowl
Address: 2881 S Juniper St, Foley, AL 36535
Phone Number: 251-943-4575
If you like delicious food and fun attractions, you will love The Gulf Bowl. It's about a 45-minute drive from Mobile and is home to an exciting indoor laser tag arena.
Indoor laser tag is known for being filled with neon and glowing lights, but The Gulf Bowl takes it to the next level. The walls are covered in luminescent paint that looks other-worldly. The swirls and colors are luminescent and set the mood perfectly.
The space is split into multiple levels and every game lasts about 15 minutes. We love how many passageways there are to explore and the beams of light that brighten the dark and mysterious space.
Finished your laser tag game and still have some time to kill? Try out their 16-lane bowling alley, 2,500 square feet arcade, and elevated glow-in-the-dark ropes course.
The bowling alley features seven VIP lanes and the arcade is stocked with "the latest and great" games. Every attraction looks well-maintained and modern.
There's also a full bar and classic American food like burgers available.
Customers enjoyed playing laser tag at The Gulf Bowl. The arena was maintained and it was entertaining for families.
There seemed to be some staffing issues, so don't be surprised if you have to wait a little longer to be served. This appears to be a common problem with several establishments around Mobile right now.
Other than that, families sincerely enjoyed their time at The Gulf Bowl and left satisfied with their experience.
Who's Ready to Play?
Now that you know what fun awaits, it's time to choose which laser tag center to go to first!
Will you stop at Battle City Laser Tag and take the game outdoors in their giant wooden structures? Or does visit Adventure Island and watching the volcano erupt sound like a better fit?
Are you from Mobile? Have you visited any of these establishments? What did you think? Let us know in the comments!
Have fun, stay safe, and happy tagging!