So you want to throw an awesome laser tag party? Well, you've come to the right place!
Party planning can be overwhelming but it doesn't have to be! From ways to set up and decorate your space, to final touches that will bring everything together, we've put together ten great laser tag party ideas to help you realize your ultimate hosting vision.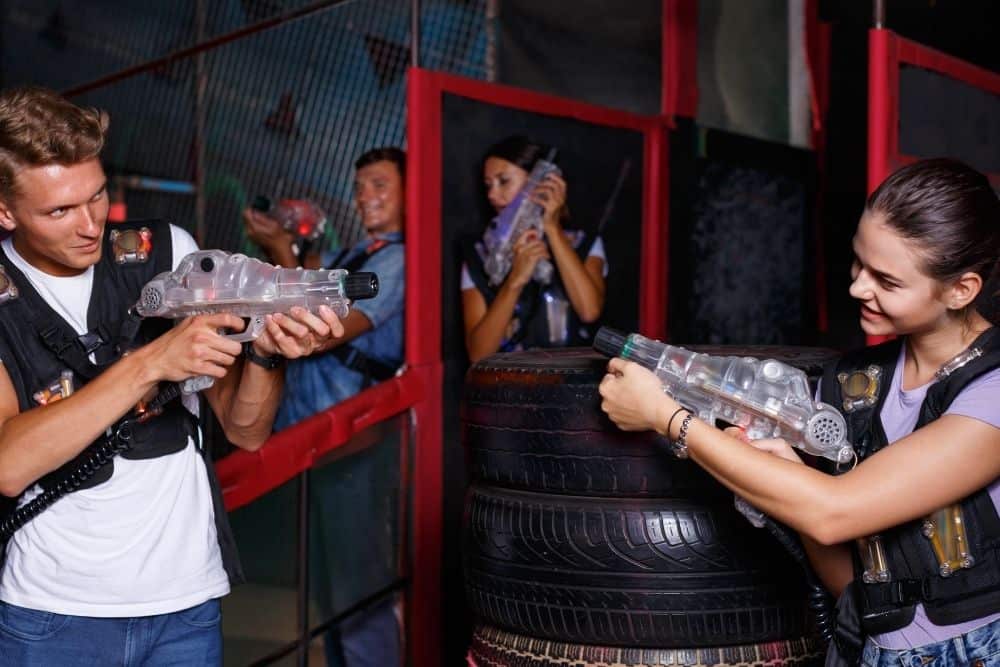 Don't worry, you don't have to be a professional party planner to take inspiration from these ideas — just have fun with it! That's the whole point!
But before we start, you're going to need your guns! This Rechargeable Laser Tag Set is the Rolls Royce of at-home laser tag party supplies , it comes with vests, four guns, and indicates how much ammo and how many lives you have left.
Now let's get into it!
1. DIY Light-Up Laser Tag Maze
Laser tag mazes look awesome, but they can also be very, very expensive.
What if you could achieve a similar effect for your next party for a fraction of the price? Well, now you can!
You will need:
Instructions
Make sure the room you're using is as empty as possible and that you've blacked out any windows with black paper or very thick curtains.
Paint plenty of fun colorful designs on both sides of the black paper. You will probably need a couple of days to do this since the first side of the paper has to dry completely before you flip it over.
Figure out what maze design you are going to use. We recommend picking a simple one from the internet to copy. That will be easier than trying to design one yourself.
Tape your paper onto the ceiling so that it hangs down and matches your chosen maze design.
String your lights either on the ceiling or taped on the paper if it's strong enough. Use as many strings of lights as you can get your hands on — the more the better!
Turn the lights off and let the black light paint and lights shine! All you need now is some fun background music and you're ready for an awesome laser tag party!
2. Glow in the Dark Team T-Shirts
Some friendly competition never hurt anyone, so why not have some fun with it? Glow in the dark team t-shirts are fun, easy, and a great way to boost the competitiveness factor of any game!
Get some Glow In The Dark Fabric Paint in multiple colors and have each guest bring an old t-shirt. Follow the instructions on the paint packaging to get the brightest glow possible.
Decide which team is going to be which color or color-way, for example, Team A might be blue and green while Team B might be yellow and orange. Have the teams paint their t-shirts with their team colors and let the paint dry completely.
This is an awesome way to boost the visuals of any party, but it might take some planning ahead since the paint does take some time to dry. We recommend having a t-shirt painting pre-party so everyone can show up to the main event looking snazzy in their fully-dried team uniform.
3. Costume Theme
Want to make your laser tag party one for the books? Add a costume element to it!
You can go as big or as small as you want with this idea, but what would really make things interesting is if the teams had competing costume themes.
Here are a few opposing team costume ideas to consider:
Cowboys VS Aliens
Dogs VS Cats
Cops VS Robbers
Hamburgers VS Hotdogs
Mice VS Cheese
Pirates VS Vikings
Ketchup VS Mustard
This idea is great for when you don't have access to a glow-in-the-dark laser tag venue. Just make sure all of your guests are down for dressing up– no one wants a moody cowboy or mouse!
4. Capture the Flag
While the demo video uses a digital flag, feel free to also use a real object!
This is great for team building and strategizing! Laser tag is already awesome as is, but this added format is sure to keep everyone on their toes!
Have two different color flags (or any other fun object!) on their side of the room, garden, or venue. Each team could delegate a 'flag-keeper', defense, or any other official-sounding position names.
If someone gets shot, they have to go to the end of their side and start over. You could take turns being the referee for each round if you're worried about people following the rules.
The first team to steal the other team's flag wins!
Does playing for a flag not sound enticing enough? Here are other objects to try to steal from each other:
Plastic crowns
Treasure chests
Stuffed animals (the hostage)
Small vouchers for the winning team
5. Laser Tag Inflatable Set
Ordering inflatable laser tag equipment is an affordable and easy way to completely transform your backyard into an awesome laser tag experience.
Each pack of inflatables has a different theme, so your guests can really 'get in the zone when playing.
This Combat Arera Inflatable Battle Obstacles Set  will make your yard look like the remnants of the apocalypse with an old giant tire, a toxic waste barrel, and a battered red call box.
If you're looking for bigger obstacles to hide behind, try the Inflatable Battle Obstacles Set that comes with a 'brick' wall, a 'wooden' container box, and a biohazard barrel oozing bright green goo!
The best part about getting an inflatable set is that once you're done with it, you can deflate and tuck them until your next party! Just make sure you store them safely so they are safe from any pointy objects or potential critters in your basement or attic.
All it takes is one small hole for them to not inflate!
6. Themed Snack Table
Bring the party to the food table with a laser tag-themed snack array. There are a few ways you can do this, depending on how elaborate you want to go.
Cupcake Toppers
This is an easy way to jazz up a batch of cupcakes or other individual treats. Print out several small bull's eyes or other laser tag themed images and glue them onto toothpicks or skewers.
You could even customize the toppers by throwing them onto Paint or Photoshop and adding some text on top of them.
Laser Tag Pizza
Bring the fun to mealtime with laser tag-themed pizzas. There are a few ways you can go about making target practice pizza.
Buy premade cheese pizza and decorate with pepperoni, olives, jalapenos, or any other topping. As long as it ends up looking like a target — you've done your job!
Make pizza-making an activity at the party! Have an example picture or pizza to show guests, then let them have a go at designing their themed dinner.
Make the pizzas from scratch and earn ultimate host bonus points!
Refuel Station

Laser tag gets the heart pumping! Your guests/soldiers will need plenty of fuel to keep them energized while playing — play into that!
By labeling your snack table the 'Refuel Station', your guests can keep their spirits high even while munching away! This is a simple idea that will make everyone chuckle in between rounds.
7. Camouflage Party in Nature

If you have access to an area full of trees and plenty of places to duck and hide, you will love having a camouflage laser tag party!
This is especially great whenever guests don't like playing in teams and prefer to fend for themselves while playing. Will you be bold and risk being seen? Or blend into the surroundings and come out unscathed? The choice is yours!
Ask your guests to show up in all camo. You could even have fun with it and provide camouflage face paint to fully blend in with the forest or park you're playing in.
These Arcturus Camo Face Paint Sticks are a great mess-free option. You could pass them around beforehand and let your guests take turns giving themselves the ultimate undercover look.
8. DIY Themed Laser Tag Arena 
This is a more general idea that lets you be as creative as you want with your decorations, theme, and layout. When designing a laser tag area, you want plenty of obstacles and fun colors.
Start with a large open space, and begin to fill it with things to hide behind, jump over and crawl under. Fill the walls with pictures or colors that match your theme — you really want to feel like you've been transported to another world!
Not sure what theme to go for? Here are a few ideas:
Aliens in Space
The End of the World
Wild Wild West
Deep-Sea
Candyland
Zombie Apocalypse
Haunted House
More is more when it comes to decorating your laser tag arena. Get some friends involved and have fun!
9. Freeze Laser Tag 
This way of playing keeps team members connected and is great for kids and adults alike!
Whenever a player is shot, they have to freeze until a member of their team "unfreezes" them by tapping them back into the game. This means that players have to protect themselves from getting shot, attack opposing team members, AND keep their team at full capacity by unfreezing allies as quickly as possible.
Neglecting to unfreeze team members might mean that one team quickly outnumbers another and defeats them, so teamwork is key here!
Here's the most important rule to enforce when playing this way: players must make physical contact with their team members to unfreeze them.
The game ends when one team has completely frozen the other!
10. Kidnapper Laser Tag 
Don't worry, no one is actually getting kidnapped in this laser tag variation.
Each team chooses a player to be the other team's target, you could call them the queen, king, hostage — whatever suits your party theme or makes things more fun for your guests!
The objective is to shoot the other team's guarded member. Every other player has to do their best to protect their king/queen/hostage as best as possible.
The first team to bring down the other team's target wins!
You could make this fun by providing crowns or some other small costume for the target to wear.
It's Party Time!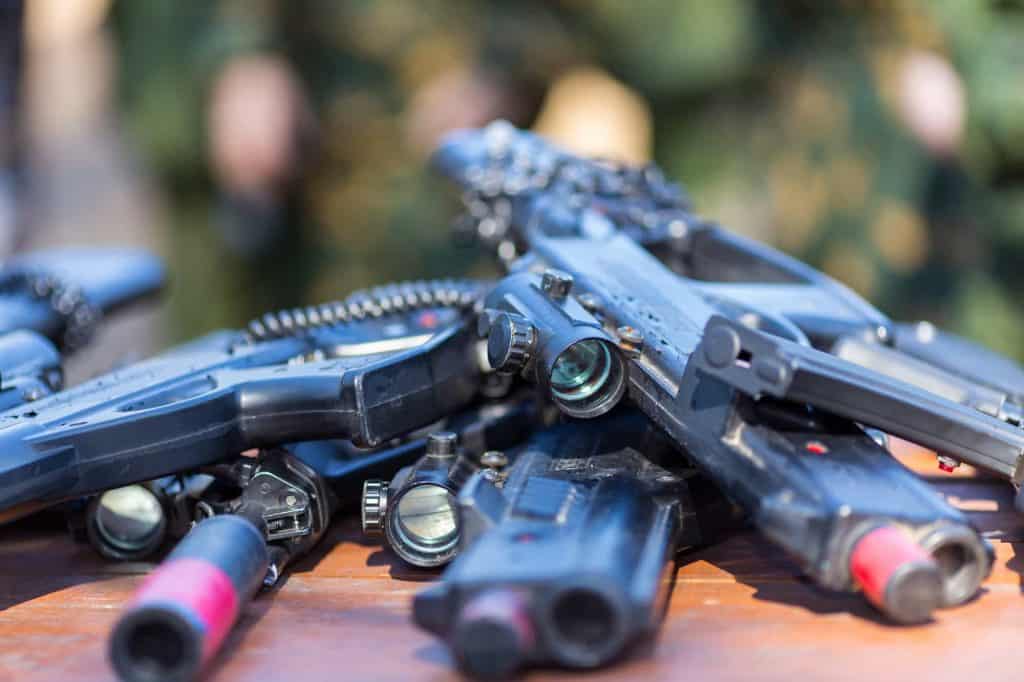 Which idea is your favorite? Maybe you have a few? You could design your own area, get some inflatable obstacle sets, and have a target pizza-making table.
Any guest would definitely love that killer combination!
Let us know if you play any of the laser tag variations and how they go for you. We would love to know!