Whoo! It's Friday and a group of friends have invited you to celebrate the start of the weekend by getting together and playing a few rounds of some good old laser tag tonight. Sweet, huh?
But you say to yourself, "Wait, I don't know if I have the right shoes for this".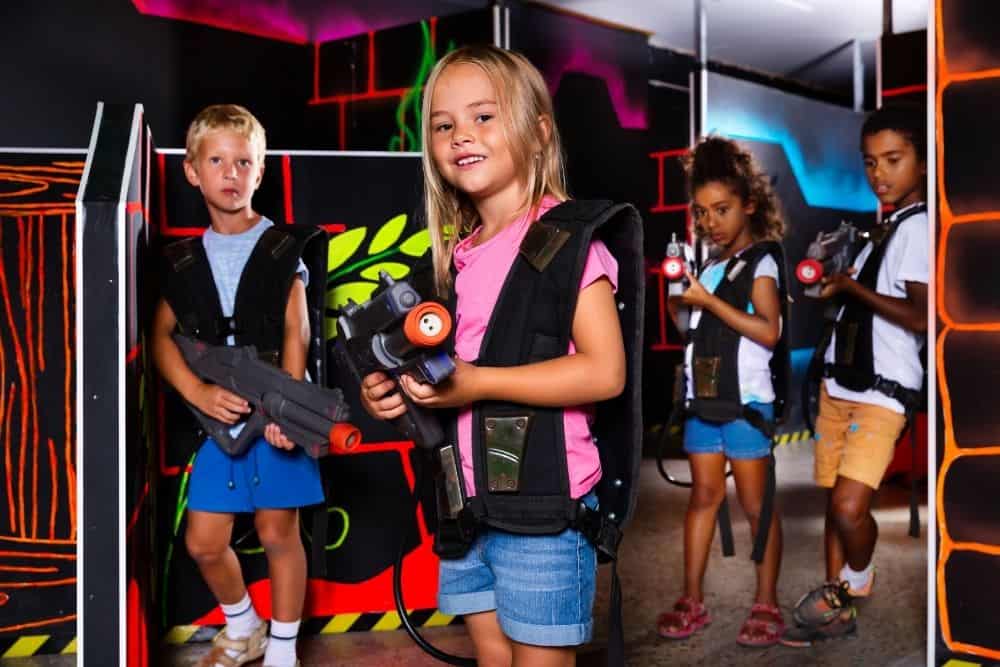 First of all, you may be asking yourself (especially if you've never played laser tag before) "Do I even need shoes for laser tag?"
It depends. For starters, you're not even asking the right kind of questions. Stop.
Instead ask yourself: How effectively do I want to perform during the game? How quickly do I want to be spotted by a member of the opposite team? The short answer ( and the correct one):  the fastest player with the most shots and last one standing of course. And in order to make both happen, you need shoes that maximize comfort, protection, and agility yet don't give yourself away to the other team by making yourself an easy target.
Let's break it down.
In laser tag, every player wears special infrared-sensitive material or devices (in most cases it's a vest covered with infrared sensors) and is equipped with an infrared light gun. The objective of each team is to eliminate all the players from the opposite teams by using the laser gun to shoot as many of the infrared sensors on opposing players as you can.
Therefore you'll be playing in an environment where it is to your advantage to blend in as much as possible, as you and your team's success depends on stealth, good night vision (if applicable), and accurate marksmanship.
Kick the Crocs to the Curb and Skip the Skates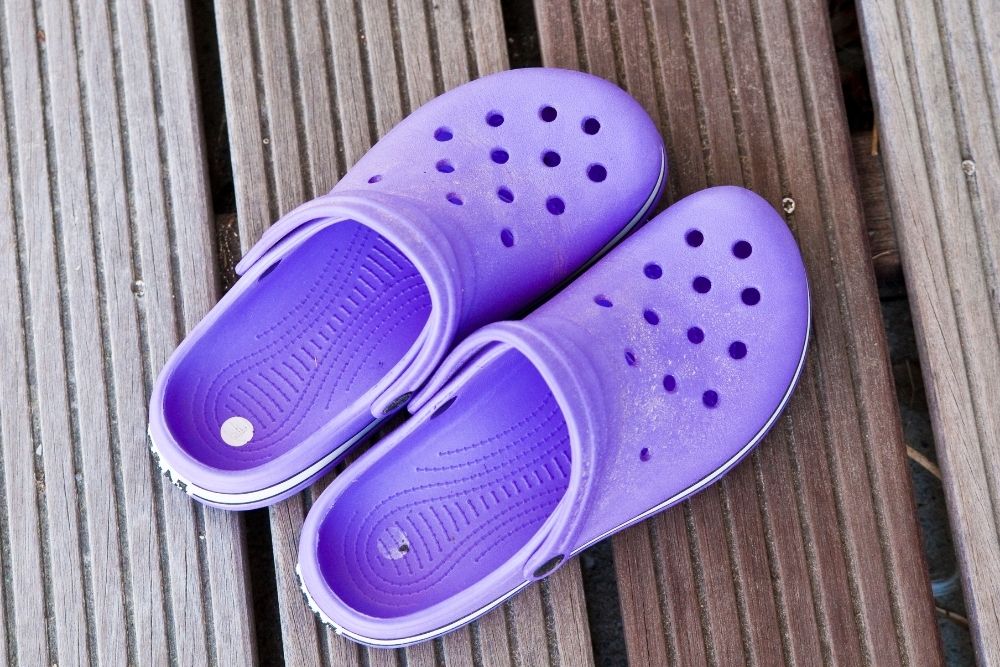 Whether you're playing laser tag indoors or outdoors shoes are a must. Shoes give you support and protection that other footwear cannot. However, not all shoes are equal in terms of protection or support.
Casual shoes include a huge spectrum of options. But hang on before you head out with your comfortable DC shoes or favorite pair of Adidas flip-flops.
You need shoes that strike a balance between comfort and function that also provides support.  Open-toed shoes such as sandals, flip-flops, and Crocs are a big no-no. Laser tag is a very physical game that involves the heavy usage of the ligaments and tendons in your feet and ankles.
And no fancy footwear either: sorry but moccasins and anything with elevated heels have no place in laser tag and in fact, will most likely increase the risk of injury. So ditch the DCs, kick the Crocs to the curb, and skip the skate shoes.
Your choice of footwear should emphasize function and good fit over aesthetics. Laser tag is after all a military simulation game where your chances of survival depend on being fast on your feet. This can include sprinting and jumping and as such it's optimal to wear something that protects your ankles for something as intense as laser tag.
Sneakers vs. Shoes: Does it really matter?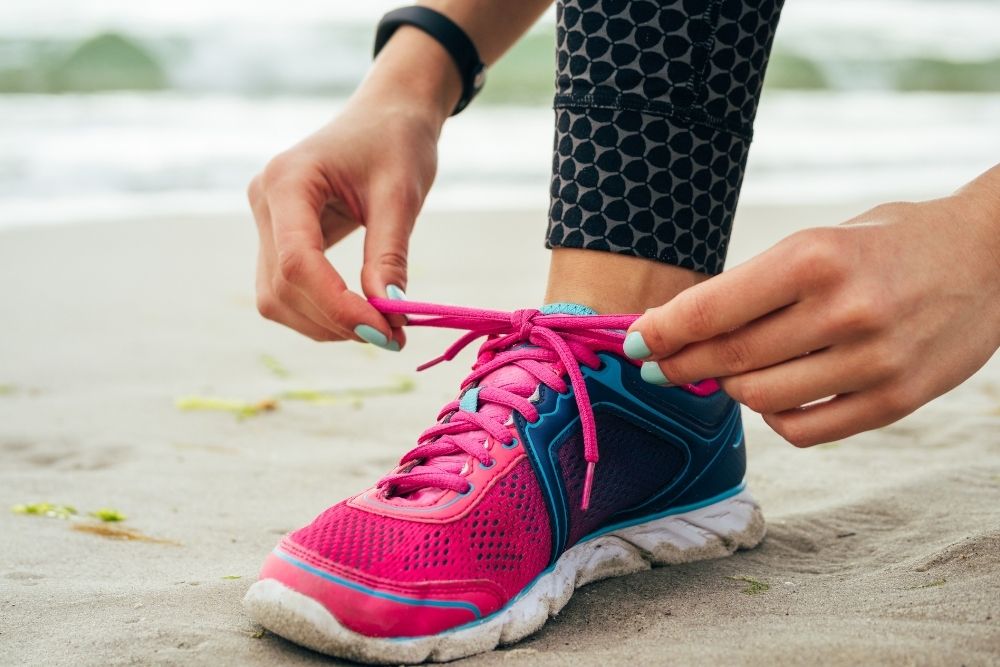 Okay, here we go. What's the difference between sneakers and shoes, aren't they the same? Well, yes and no. All sneakers are shoes but not all shoes are sneakers.
Sneakers are shoes that have a rubber sole that are great for working out at the gym, just walking around and ordinary casual wear. Sneakers aren't great for intense activities or sports however because the manufacturers make them with rather weak material with little to no shock absorption.
On the other hand, shoes, athletic shoes or tennis shoes (Don't worry, they all mean the same thing) are a specific kind of athletic footwear made of superior material for dynamic sports and are more versatile when it comes to sports played on tricky terrain. Shoes are naturally made with special material designed to cushion your feet when running or doing an explosive activity.
Always go with strong soled, sturdy athletic shoes for when planning your next laser tag outing.
Don't Forget about Terrain
Laser tag can be played in a number of different environments. Indoors or outdoors, it really comes down to the layout of the game.
Indoor Laser Tag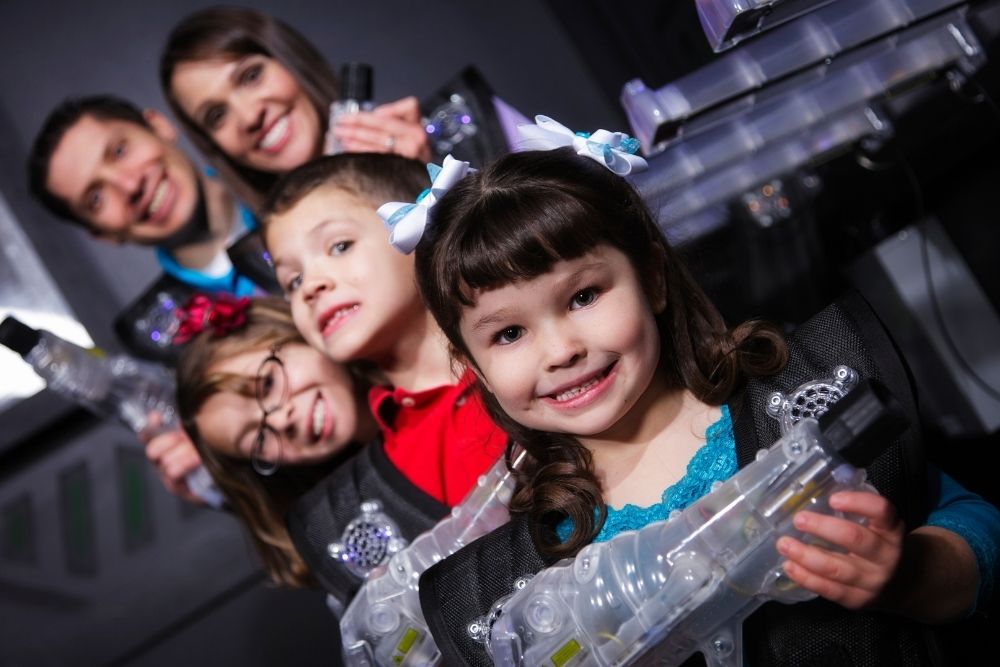 If you're playing indoors, you can relax your standards a bit when choosing footwear. Most commonly you'll be in a small, darkened room with artificial walling that creates a fun, thrilling labyrinthine environment, requiring you to navigate with stealth. Your best options are a pair of comfortable sneakers that have minimal if not zero reflective surfaces and are muted in color.
New Balance Men's Dynasoft Nitrel V4 and Nike Women's Revolution 5 Running Shoes are a couple great examples of shoes perfect for this type of setting. With a suitably thick sole for support and black color for stealth, you could be a laser- tagging ninja in the dark!
The same applies if you're playing in a larger space like an arena with structures you can use as shelters, bunkers, and decks that provide excellent vantage points for sniping.
Outdoor Laser Tag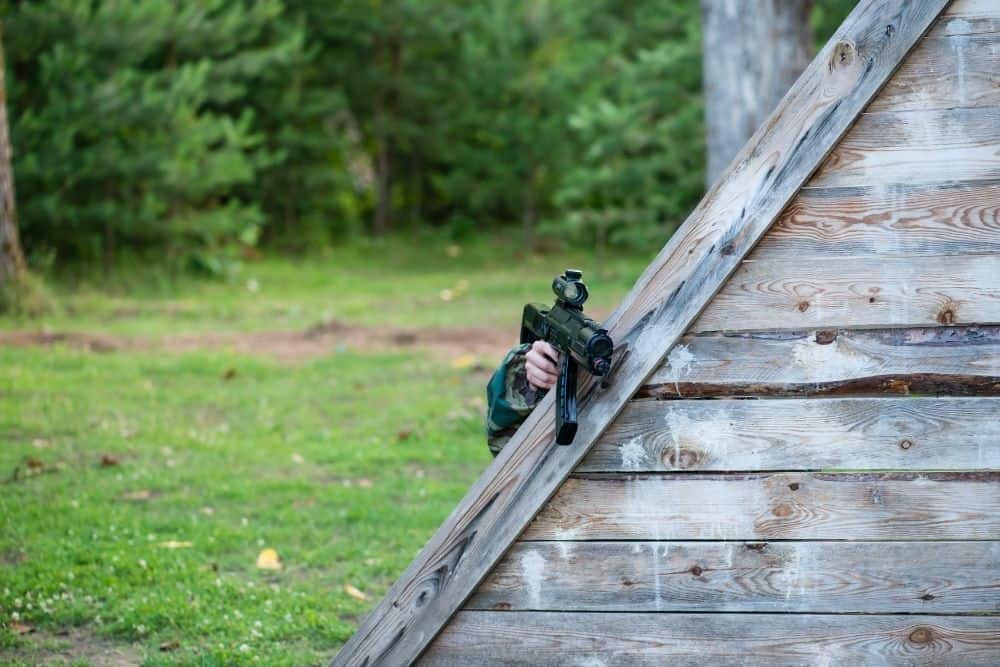 If you're playing outdoors, you need to take the terrain into consideration. Outdoor laser tag games can be played in almost any type of weather and on any terrain. Laser tag in the woods, field or even snow is awesome!
However, you'll need to step up your game (no pun intended) for knowing what type of footwear to use. For games that take place in the woods, you'll need a pair of heavier duty shoes that protect your ankles from sprains. The more difficult and uneven the terrain, the harder it is to stay agile.
Optimal shoes that fall within this part of the footwear spectrum are Timberland Women's White Ledge Mid Ankle Boot and NORTIV 8 Men's Waterproof Hiking Boots. Both kinds of boots have the basic qualities of what you should consider when playing laser tag outdoors. Arch support, a midsole that provides shock absorption, and outsoles that provide excellent traction.
Wait, What if it's Wet!?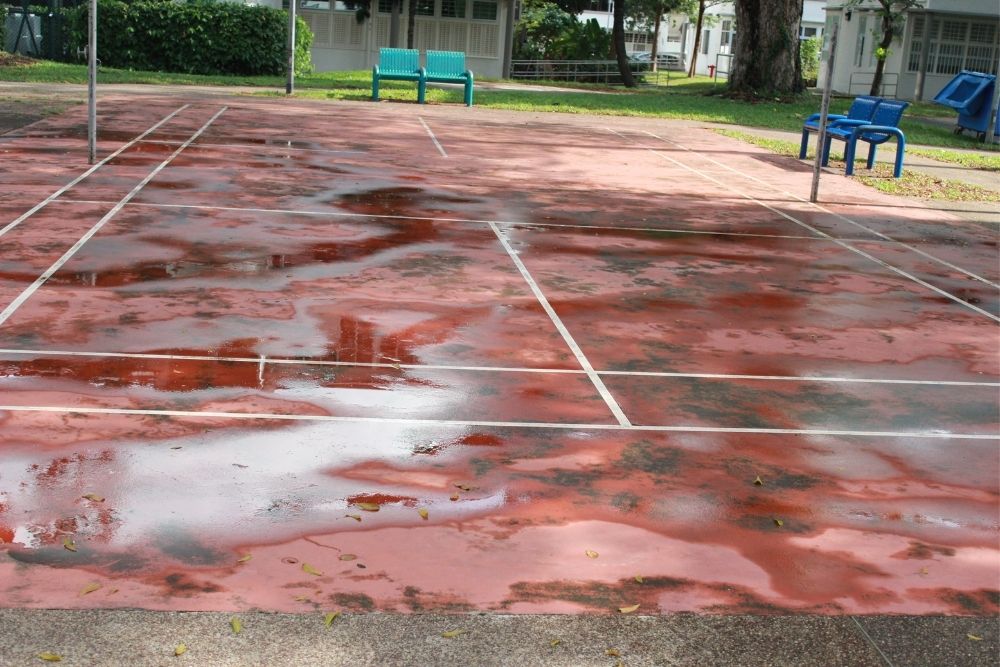 In rainy, or areas where it's wet and the potential to slip and fall is higher, you should opt for a pair of shoes or boots that allow greater mobility and traction to play on muddy or slippery ground.
Shoes that have a thick outer sole and that you can lace up are preferred which allows you to have a firmer grip when running with all that adrenaline pumping through your veins.
Another great kind of slip-resistant footwear is shoes that have grooves or breaks in their soles similar to soccer cleats that increase the surface area of the bottom of your shoe, which ultimately gives you more grip.
If you're playing in wintry conditions or in an area with significant amounts of snow and or ice on the ground, it's best to wear wool socks and sturdier footwear such as water resistant boots or durable shoes that come up above your ankle but don't restrict the movement of your shin. POLAR Womens Quilted Short Winter Waterproof Snow Boots and Flashtrek Mens Ankle Winter Boots are both examples of good shoes that are waterproof, slip-resistant and insulating for a cold-weather game.
Hey, at least with these you can definitely crack out some nice white snow boots to better camouflage yourself!