Many of us played with toy guns throughout childhood.
Nevertheless, playing with toy guns as an adult could also bring lots of fun and help relieve stress.
So, how to select toy guns for adults?
Selecting a toy gun depends on several variables.
For instance, you might want to consider if it's a gun for the whole family (including children) to play together, or strictly for adults.
Furthermore, there are many kinds of ammunition used by toy guns. Each kind of ammunition could affect the types of games available to you.
In this post, we will round up the 5 top toy guns that are recommended for adults.
1. Nerf N-Strike Elite Strongarm Toy Blaster
Sale
Nerf N Strike Elite Strongarm Toy Blaster with Rotating Barrel, Slam Fire, and 6 Official Nerf Elite...
FIRE 6 DARTS IN A ROW: Fire 6 darts in a row from this quick draw, fast firing Nerf N Strike Elite Strongarm toy blaster that shoots darts up to 90 feet (27 meters) and includes 6 Nerf Elite darts
FLIP OPEN ROTATING 6 DART BARREL: The Strongarm Nerf blaster has a rotating 6 dart barrel that flips open for easy dart loading and is hand powered no batteries required
SLAM FIRE BLASTING: Slam fire all 6 darts in a rapid blasting wave at targets by moving the slide back and forth as you hold down the trigger
If you played with toy guns while growing up, chances are you've heard of the Nerf brand. Nerf is a long-established manufacturer of toy guns, with ammunition ranging from foam darts and water to even laser.
This particular Nerf gun looks like a revolver, except it uses foam darts instead of real bullets. It features a rotating barrel with rapid-fire, and does not require batteries to operate!
Each time you want to fire, you would have to cock the blaster to load it. Some users commented that their children had trouble loading this Nerf gun, but we think it is just a matter of teaching them how to use it.
The Nerf N-Strike Elite Strongarm Toy Blaster has a good range of up to 30 feet (9 meters), after which accuracy declines. This makes it more suited to indoor play.
While this Nerf gun is built with quality and comfort in mind, it is relatively lightweight and should be easy to hold.
Customers have the option of selecting "Frustration-Free Packaging" or "Standard Packaging". "Frustration-Free Packaging" just means that the blaster will be packed in a recyclable cardboard box, generating less waste.
Those buying this as a gift could consider selecting the "Standard Packaging" instead, which comes in a more appealing design.
Pros
Rapid-fire of 6 foam darts
Comfortable to hold and light in weight
Good range of 30 feet (9 meters)
Requires no batteries
Provides the option of recyclable packaging
Cons
You would have to cock (load) this Nerf gun each time you fire
The recyclable packaging is not visually-appealing
2. Airzooka Air Blaster
Airzooka Air Blaster- Blows 'Em Away - Air Toy for Adults and Children Ages 6 and Older - Black
HOW IT WORKS: AirZooka is the "fun blaster" that blows a harmless ball of air up to 20 feet! Just point and shoot a ball of air and have a blast! This is the perfect indoor fun for family game night.
UNIQUE DESIGN: AirZooka is lightweight, can be used whether you are right or left handed. It features a pop-up site for the most accuracy and best aim! Easy to operate elastic air launcher.
OBJECTIVE: Provides a fun and safe way to "blow your friends away"! Have an air war with the kids or surprise your cat. This air cannon is a fun and entertaining way to get involved.
The Airzooka is unique in that it shoots air instead of darts, water, or laser. This means no batteries are required, and you do not need to reload the gun!
This blaster is suitable for home and office parties, such as your department's team building session.
The air blaster is shaped like a bucket, unlike conventional gun designs. It is made of lightweight plastic and has a small handle at the bottom, ensuring even kids could hold it easily.
Once you pull and release the trigger knob, the blaster shoots an invisible ball of air at a range of 20 feet (6 meters).
While the blaster's range is quite short, it is still fun to play indoors. Aiming the gun is easy as it comes with a pop-up sight.
One thing to take note is that children should only play with it when supervised by adults, as it could cause discomfort when shooting from close range.
Pros
No batteries required
Runs on air, so no reload is necessary
Lightweight and easy to handle
Comes with a sight for aiming
Cons
Short-firing range of 20 feet (6 meters)
Requires children to be supervised by adults when playing
3. Dynasty Toys Capture The Flag Laser Tag Set
DYNASTY TOYS Capture The Flag | Glow in The Dark Yard Games for Adults and Families. Includes 2...
The great outdoors are calling and it's saying capture the flag. Capture more time with your family, capture more time with your kids and their friends. Made to make memories and bring activity for...
2 Dynasty cubes with 4 colors to choose from, 2 Dynasty Laser Tag Blasters and 4 siren barrier lights. Class 1 certified safe infrared laser product. Safety and quality is what we value most in all...
An alternative to video games, televisions and computers. Capture the flag will surely bring the neighborhood together in a fun active way.
Dynasty Toys
is a company that aims to make interactive games that get people moving. Nowhere is this more obvious than in products like this, where the laser tag blaster forms just one part of the overall game experience.
The "Capture The Flag" Laser Tag Set is designed as a game to be played in your backyard or outdoors. This set comes with 2 laser tag blasters, 2 Dynasty cubes, and 4 siren base lights.
The lasers used are rated Class 1 in the US, meaning it emits infrared beams that are safe for consumer use.
The "flags" are printed on the Dynasty cubes, which have the option of 4 colors. Each color denotes a team. If you have four players, you could each choose a color, creating a "Free-for-all" game mode!
To win the game, you would either have to capture your opponent's cube and bring it back to your base or shoot at your opponent's cube until it changes to your team's color.
The blasters are powered by 4 AA batteries each. In addition, each Dynasty cube runs on 3 AA batteries, while the base lights run on 3 AAA batteries each . To save money in the long run, it is recommended to get a set of rechargeable batteries so that you would not have to purchase new batteries each time they are used up.
Regardless, battery life is reportedly very good, so it is unlikely that you would have to recharge your batteries often.
Some users commented that they received guns that did not work as expected. That said, a number of customers have praised their customer service for providing replacement guns quickly.
Overall, the Dynasty Toys Capture The Flag Laser Tag Set is great for those looking for a game that involves more than just toy guns.
Pros
The best toy guns set recommended
Can be played outdoors
Supports rechargeable batteries; good battery life
Enjoyable gameplay with up to 4 teams allowed
Cons
Some guns may be defective, although the company is quick to respond and provides replacements
4. Nerf N-Strike Elite Rampage Toy Blaster
Nerf Rampage N-Strike Elite Toy Blaster with 25 Dart Drum Slam Fire & 25 Official Elite Foam Darts...
High capacity 25 dart drum: The Nerf Rampage blaster's drum holds up to 25 darts and includes 25 official Nerf Elite foam darts giving you plenty of firepower for Nerf battles
Slam fire action for rapid dart blasting: shoot a rapid fire dart Storm at targets with the toy blaster's slam fire action feature as you hold down the trigger and slide the handle
Hand powered blasting up to 90 feet (27 meters): you're in control as you prime and fire the Rampage Nerf blaster by hand; No batteries required and send darts flying up to 90 feet (27 meters)
This is another popular product by Nerf, and it isn't difficult to see why. The Rampage blaster outdoes the Strongarm by having a larger capacity for its foam darts – 25, to be precise. This provides you with lots of ammunition and saves time in a battle.
Reloading the drum is a seamless process, meaning while others are reloading their blasters, you could continue firing away!
Like the Strongarm, this Nerf gun has a slam fire feature. All you have to do is hold the trigger and slide the gun handle. However, this Nerf N-Strike Elite gun has a much longer range of 75 feet or 23 meters, making it ideal for playing outdoors in large spaces such as parks or by the seaside.
The package includes 25 official Nerf Elite darts, so you are assured of bullets that fly accurately and are safe for the whole family to play together. (Buy more Elite darts )
Some users commented that the gun could get jammed if you do not prime it properly for slam firing. The drum's location could also get in your way at times.
Despite these flaws, we think that this Nerf gun performs well in an outdoor battle. It is also fairly powerful for a blaster that does not run on batteries!
Pros
Long-range of 90 feet (23 meters)
Large capacity drum for 25 darts
Easy reloading process
Powerful action
Does not require batteries
Cons
Darts could get jammed if you do not prime this Nerf gun properly for slam fire mode
The drum's location may get in your way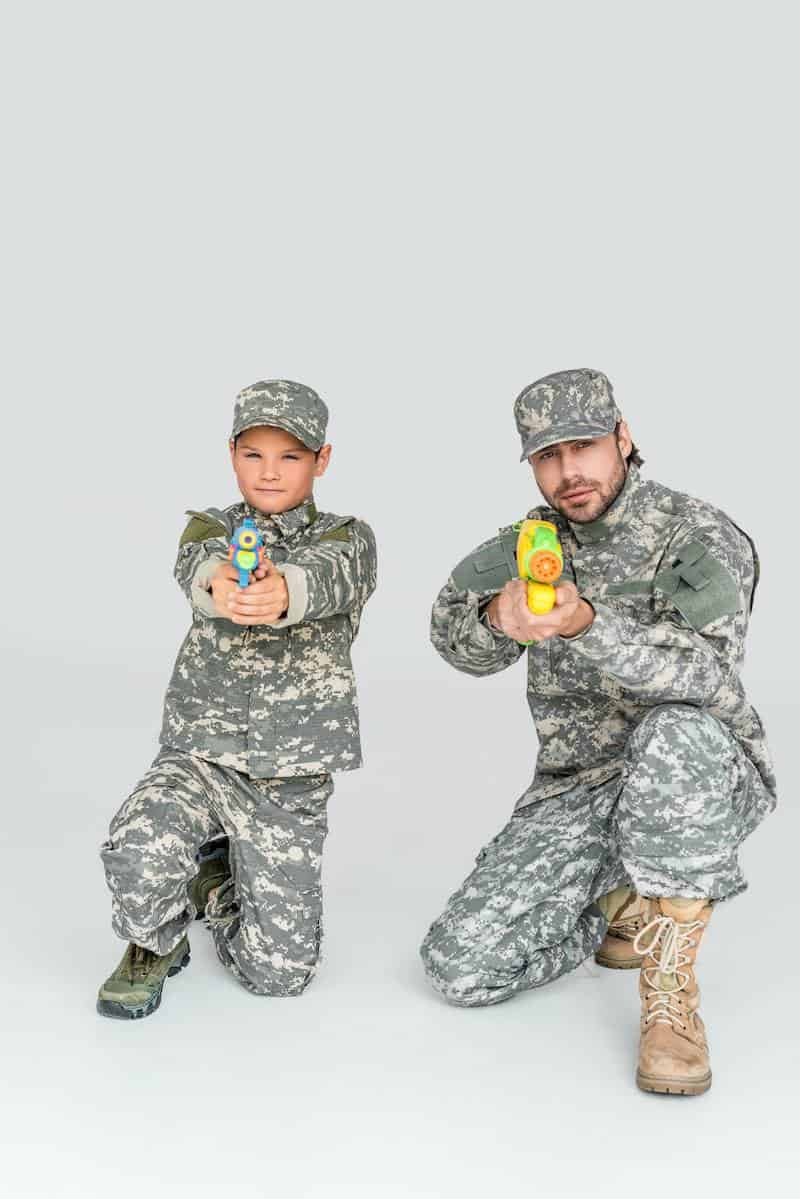 5. PEFECEVE Water Gun Blaster
PEFECEVE Water Gun Blaster for Kids, 2 Pack 800 CC Capacity 40Ft Long Range Squirt Guns for Adults,...
【SAFETY APPROVED & HIGH QUALITY】All water guns passed the Standards which are the highest and strictest international safety standards of toys. ABS material can directly contact with kids' skin...
【DUAL LEAK-PROOF DESIGN】Designed with tight water outlet and reinforced leak-proof seams, PEFECEVE Water Blaster can effectively reduce water leakage by 80% comparing with other water guns on the...
【ONE STEP SQUIRT】Fill the water tank, pull the pump and start to shoot instantly. No need to pull trigger and get hands sore, super easy! Even 3-year-olds children can use it effortlessly.
Who doesn't remember playing with water guns as a kid? Whether it's at backyard pool parties, at a public swimming pool, or even at the park, playing with water guns is the quintessential sunny-day activity.
For adults though, water guns may be a way of reliving your childhood or even a form of family bonding.
This water gun blaster by PEFECEVE comes in a pack of two. The squirt gun boasts a range of 40 feet (12 meters), meaning you do not have to go close-up in order to spray your opponent with a powerful stream.
While most water guns require you to pull the trigger to shoot, this blaster only needs you to fill it up with water and pull the pump.
The water tank is able to hold up to 800cc. Even when filled up, the blaster still feels relatively easy to hold. A small number of users commented that the seal around the nozzle was not as tight as they hoped, resulting in water leaks.
The gun's casing is made of ABS material designed to be break-resistant and is also non-toxic. One downside is children's fingers may get slightly caught in the pumping action, which we think should be included in the instruction manual as a warning.
Pros
Long-range of 40 feet (12 meters)
One action for pumping and shooting, compared to two for most water guns
Break-resistant material
Fairly large capacity of 800cc
Cons
Seals around the nozzle may not be tight enough and could result in water leaks
Children's fingers may get slightly pinched when pumping the blaster
Verdict
We recommend purchasing Dynasty Toys' Capture the Flag Laser Tag as the best toy guns set if all-round family fun and unique gameplay are what you are looking for.
However, Nerf N-Strike Elite Strongarm Toy Blaster is also great for simple battles, while the PEFECEVE Water Gun Blaster should be considered if you get lots of warm weather where you live.