Laser Tag has been a popular pastime for several years now. So it's easy to find laser tag arenas pretty much everywhere these days, even in Madison, Wisconsin.
1. Ultrazone
Location: 680 Grand Canyon Dr, Madison, WI 53719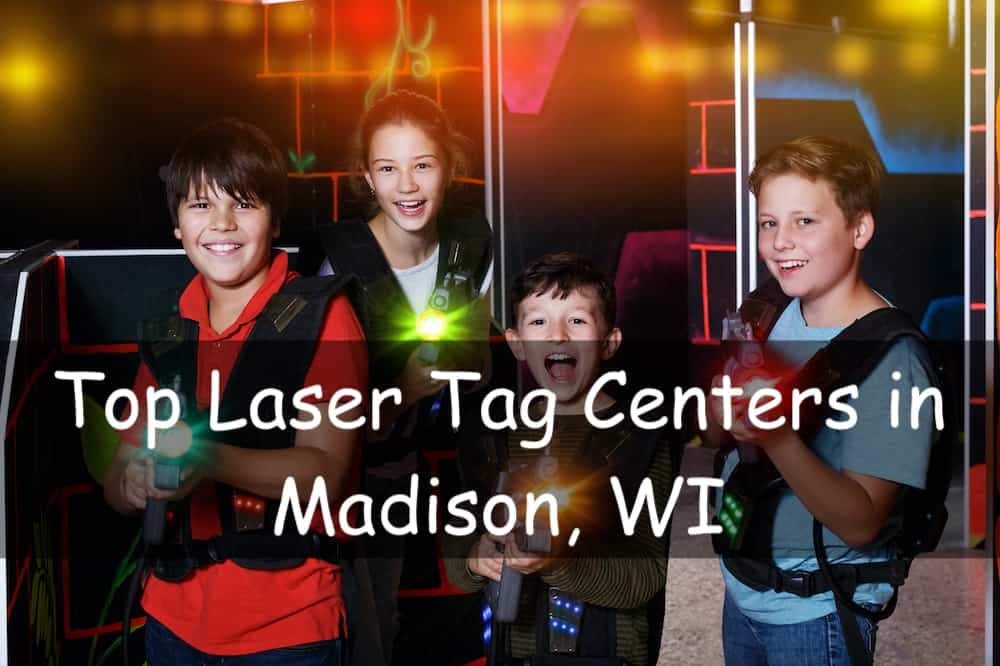 Contact: (608) 833-8880
Website: https://www.playlasertag.com/
Ultrazone is a great way to celebrate all kinds of events or simply have a casual game of laser tag. Various deals and easy coordination makes playing at Ultrazone a stress-free experience.
You can pay per person or get a reservation for groups. Simply contact them by phone or through their website.
Hours:
Winter hours
The following schedule will be effective until June 10, 2020.
| | |
| --- | --- |
| Monday – Tuesday | Private events |
| Wednesday – Thursday | 4 PM – 9 PM |
| Friday | 3 PM – 11 PM |
| Saturday | 9 AM – 11 PM |
| Sunday | 10 AM – 8 PM |
Office hours
Be sure to book in advance, Ultrazone will not accept reservations for the same day.
Important: Reservations are all pre-paid and full priced
| | |
| --- | --- |
| Monday – Friday | 9 AM – 4 PM |
| Saturday – Sunday | 9 AM – 8 PM |
Weekly specials
Check out these great deals to save your coin!
| | |
| --- | --- |
| Student Wednesday: 4 PM – 9 PM | Bring your ID to get 50% off! |
| Friday/Saturday Frenzy: 8 PM – 11 PM | Unlimited play |
| Saturday Fun Zone: 9 AM – 12 PM | A great time for kids aged 5+ |
Mobile Laser Tag
If you're planning a laser tag party in a different area, you can book their portable laser tag services. You can play at home, or in another exciting venue. Here's how:
Ultrazone can setup laser tag games indoors or outdoors.
Pricing will depend on the length of time, the equipment, and the staff needed.
Sound systems, lighting effects, inflatable obstacles, scoreboards, and others are included.
Experienced in all kinds of events. They've worked with: UW Madison, Monona Terrace, Alliant Energy Center, and many more!
Simply fill up this form, and they'll take care of you.
Team building events
Ultrazone is experienced in planning group activities. Whatever it is, they'll take care of it for you.
Details
Can accommodate 10-175 guests
Easy contact by filling up this form, or calling their number
Tons of experience with groups like Google, American Family, Verizon, and many more!
Mobile laser tag also available: they can take the party to you!
Birthdays
Of course, we can't forget about birthday parties. It isn't just exclusive for children, everyone can have a birthday party here! Here's what's included in their standard laser tag birthday blast.
Three rounds of semi-exclusive laser tag
A whole room completely decorated for you!
Additional decorations for a fee.
Eco-friendly utensils
Rosati's Pizza
Unlimited drinks for all
Outside food and beverages can also be brought in. NO CORKAGE!
For 10-15 people, depending on the day
Printable invitations available here
Click here if you want electronic invitations
The VIP package
For a really special birthday just for you and your friends, this deal is the best choice. You basically get the whole place for yourself!
A BIG party suite will be decorated for you and your guests
Pizza and drinks for everyone
Private laser tag arena entrance
You can bring your own food and drinks, too!
Revamp the decorations for a fee
Must have at least 25 players
Whatever birthday party deal you want, it's as easy as filling out this short contact form. They'll be helping you plan out your awesome party as soon as they can.
Take a look at how well this Ultrazone event turned out. Their "May the 4th be with you" theme is perfect for laser tag!
2. Urban Air Adventure Park
Location: 7309 West Towne Way, Madison, WI 53719
Contact: (608) 467-5330
Website: https://www.urbanairtrampolinepark.com/locations/wisconsin/madison
Activities:
Urban Air isn't just a trampoline park, they have so many fun activities for the whole family, it's impossible to enjoy them all in just one trip.
You'll definitely be back to play some more. Here's a list of all their attractions you'll have to try out:
Laser Tag
Spin Zone Bumper Cars
Sky Rider
Ropes Course
Adventure Hub
Climbing Walls
Warrior Course
Wipeout
Battle Beam
Climbing Hill
ProZone Performance Trampolines
Tubes Playground
Dropzone
Dodgeball
Runway (Tumble Track)
Slam Dunk Zone
The APEX Trampolines
And a café!
Laser Tag
There are many activities that you can enjoy but we know you're looking to play laser tag. So here's what Urban Air's laser tag is like:
Awesome and colorful arena enhanced with black lights!
Futuristic wasteland theme.
Complete with smoke effects.
Maze set up is great for sneaking and overall gameplay.
Phasers have different modes, like the sniper mode.
Great for parties and team building activities!
Hours
Going on a fun trip to Urban Air Park? Here are the park's open hours to help you out:
| | |
| --- | --- |
| Sunday | 10 AM – 8 PM |
| Monday – Thursday | 4 PM – 8 PM |
| Friday | 4 PM – 10 PM |
| Saturday | 10 AM – 10 PM |
Prices and deals
Before you play, make sure to buy a pair of Urban Air Socks because personal socks are not allowed. Then you can choose to pay for single games:
One round of Laser Tag
One game of Spin Zone
Basic trampolines for 1 hour
5 and under – access to attractions will depend on the child's height
Parent's pass – entry to the same activities as the child
Passes for multiple activities are also available:
Deluxe attractions
Height requirement: Under 41"

1.5 hours

ProZone

Climbing Hill

Warrior Course

Battle Beam

Drop Zone

Tubes Playground

Apex Trampolines

Dodgeball

Slam Dunk

Runway Tumble Track

Ultimate attractions
Height requirement: Over 41"

2.5 hours

All deluxe attractions

Ropes Course

Climbing Walls

Wipeout

Slam Dunk

Runway Tumble Track

Platinum attractions
Best value

Unlimited Laser Tag

Spin Zone

Sky Rider

And all ultimate and deluxe attractions
Birthdays and events
With so many fun attractions, planning a birthday or event with Urban Air is definitely going to be an unforgettable one. It's also stress-free.
Booking is easy, check out their calendar of events here, and pick out a free date and time! And to build your theme and party, fill out this simple questionnaire.
Important details:
Deposit of 50% is required
If you cancel within 72 hours before the party:

Urban air will help you reschedule
Or you will forfeit the full deposit

If you reschedule and then cancel again, you will forfeit the full deposit
The deposit will be used for the remaining balance after the party
Tax is not included
You can bring a birthday cake but other outside food is not allowed.
Urban Air can also help you out with sports team events, group events, team building activities, and fundraisers. Whatever special event you're planning, it's easy to fill in the forms on their website.
3. iCombat
Location: 2919 Marketplace Dr, Fitchburg, WI 53719
Contact: (855) 454-4426
Website: https://www.icombat.com/madison/
iCombat specializes in tactical laser tag. But they also have Battle-Axe which is basically ax throwing.
Laser Tag
If you're a serious laser tag player looking for something more intense and iCombat will be a thrilling choice for you. Here's what I found out:
iCombat only uses realistic laser tag blasters modeled after real guns
Amazing arena with realistic themes and props
Over 25 missions to complete
Realistic, high-quality tactical equipment
Camp Leatherneck Arena
12,000 sq ft
Two stories
Designed and decorated with army trucks, grass, brick buildings, steps, and real props.
Missions
Domination
Reaper
Judge Dredd
Supply Grab
Hell's Bells
Whack-A-Mole
Domestic Threat
Juggernaut
Sniper
Elimination
Equipment
Adjustable headband with multiple sensors
Plateloader
Activities and services
Activities and services vary in price. Keep a lookout for promos on their Facebook page, too!
Laser Tag (Public session)

For ages 13+ or at least 54" tall

Laser Tag (Public group rate)

For 10 or more players

Must book in advance

Laser Tag (Private session)

For 10 or more players

Must book in advance

Party room

Rate per 30 minutes

Battle-Axe (Public Session)

1 hour

Maximum of 6 per lane

Friday – Saturday

(One the half-hour of every hour)

Battle-Axe (Private event)

1 hour

Minimum of 6 per lane

Maximum of 8

Monday – Thursday (anytime)

Friday – Sunday

(One the half-hour of every hour)

Corporate events

Call for an estimate, prices depend on group size.
Parties and events
iCombat can also be booked for birthday parties, private events, and corporate outings as long as there are 10 or more people. But make sure that you book them 24 hours in advance! Click here to make a reservation.
What to expect:
Unique missions
Advanced and fun lighting for your party
Custom add ons like loot bags
Adult equipment for laser tag (ages 13+)
Youth equipment for laser tag (ages 6-12)
75-minute sessions
1 shirt for the special guest
30 minutes for the party room
Mailed photo souvenir
Utensils included
Printable party invitations
They do offer beverages and snacks. However, iCombat does not offer food but there are nearby restaurants that you can contact for carry-out, deliveries, or catering services:
| | |
| --- | --- |
| Buffalo wild wings | Only for carry-out: 608-268-0025 |
| Pancheros Mexican Grill | Carry-out and catering: 608-298-9800 |
| Pizza Hut | Carry-out and delivery: 608-845-0845 |
| Noodles and Company | Carry-out, delivery, and catering: 608-276-7600 |
| Jimmy Johns | Carry-out, delivery, and catering: 608-275-7722 |
| Mooyah Burgers | Carry-out, delivery, and catering: 608-270-1022 |
4. Wild Fun Zone
Location: 310 Broadway, Wisconsin Dells, WI 53965
Contact: (608) 253-0607
Website: https://www.wildfunzone.com/
Expect tons of fun because, in the whole of Downtown Wisconsin Dells, this is the BIGGEST arcade. It's also in a great location because restaurants and other local attractions are nearby.
What's there to do in Wild Fun Zone?
Laser Tag
Blacklight 3D Mini Golf
Bumper Cars
Arcade
Xcape Room
Lazer Maze
Eatery with pizza, snacks, ice cream, slushies, and more!
Laser Tag
Largest laser tag arena in Dells
Alien planet theme
Colorful design complete with blacklight!
10 minutes per session
Business hours:
Unfortunately, Wild Fun Zone is usually closed from Monday – Thursday. Make sure you drop by on the following days and hours:
| | |
| --- | --- |
| Friday | 1 PM – 6 PM |
| Saturday | 10 AM – 8 PM |
| Sunday | 10 AM – 4 PM |
Parties and events:
If you're thinking of throwing a birthday party or a group event, Wild Fun Zone is a great venue! With pizza, video games, activities, and food, there's really nothing to stress about when it comes to planning.
All details and prices can be discussed during the reservation, and they'll take care of it for you! You can either go to their establishment and make a reservation, give them a call, or you can contact them online here.
Curious? Take a look at this awesome arcade tour below!
5. Fort Dells Laser Ops Compound
Location: 2191 Wisconsin Dells Pkwy, Wisconsin Dells, WI 53965
Contact: (608) 514-1927
Website: https://laseropscompound.com/
With great reviews online, Fort Dells Laser Ops Compound is a popular venue for Laser Tag enthusiasts. In fact, their battlefield called Laser Warfare has been rated #1 by Trip Advisor!
Features:
One indoor battlefield: Laser Warfare
2 new outdoor war zones: Urban Assault and Military Mayhem
Battlespace of 20,000 sq ft
6 missions to play:

Team Death Match
Capture the Flag
Domination
Last Man Standing
Infection
Mine Sweep
If you want to make a reservation, it's easy! Simply fill in and submit this form on their website.
6. Kalahari Resorts & Conventions
Location: 1305 Kalahari Dr, Wisconsin Dells, WI 53965
Contact: (608) 254-5466
Website: https://www.kalahariresorts.com/wisconsin/
You might be planning a whole holiday with your family, if you are, Kalahari is the perfect place to go to. Along with laser tag, they have so many other attractions and activities for all ages!
What's there to do in Kalahari?
Here's a simplified checklist of their attractions and activities. Take your pick or try all of them out!
| | | |
| --- | --- | --- |
| Activities and Events | G-Force One | Swahili Swirl |
| Anaconda | Indoor and Outdoor Spa | Tanzanian Twister |
| Adventurers Club | Indoor Whirlpool Spas | The Smoke that Thunders |
| Become a Mermaid | Laser Tag | Tiko's Watering Hole |
| Big Game Room | Lazer Frenzy | Toucan Climb |
| Conqueror's of Mt.Foolmore | Lazy River | Trappers Turn Golf Club |
| Crocodile Cove | Leopard's Lair | Underwater Virtual Reality |
| Elephant's Trunk | Master Blaster | Victoria Falls |
| Escape Rooms | Maximum Foolocity | Virtual Reality |
| Extreme Rush | Meteorace | Volcano Lounge and Lanes |
| Centrifooled | Mud Hut Swim-Up Bar | Wave Pool |
| Ferris Wheel | Outdoor Whirlpool Spa | Wild Wildebeest |
| Kalahari Carousel | Rippling Rhino | XD Dark Ride |
| Legends of the Lost Jungle | Sahara Sidewinders | Zig Zag Zebra |
| Lil' Toucan Climb | Screaming Hyena | Zimbabwe Zipper |
| RevoFOOLtion | Shark Attack | Skeeter's Sky Flyers |
| Flowrider (lessons available) | Splashdown Safari | And more! |
Laser Tag
Their Laser Tag attraction is called Fury 242, and they say it's the Ultimate Laser Tag Experience. It has an intergalactic theme where players have an exciting and out of this world mission.
Here's an awesome POV video from one of the players!
https://www.youtube.com/watch?v=YoexhhIlm6E&t=2s
Dining
With so many activities to try out, guests will surely get hungry, which is why Kalahari has several dining options for you. You can see all your choices here
Accommodation
Kalahari is such a great place, so it's really no surprise that guests prefer to stay for several days. It doesn't matter if you're by yourself or a group of 44 people, there's a place for you to stay!
Here's the best part, all registered guests can use the waterpark for FREE! You can book or check out all the rooms, suites, and villas here