The popularity of laser tag is on the rise, not just for kids, but adults, too. Many people experience laser tag for the first time in laser tag arenas.
With such a wide space and terrific equipment, it's no wonder that many individuals keep going back to play again and again.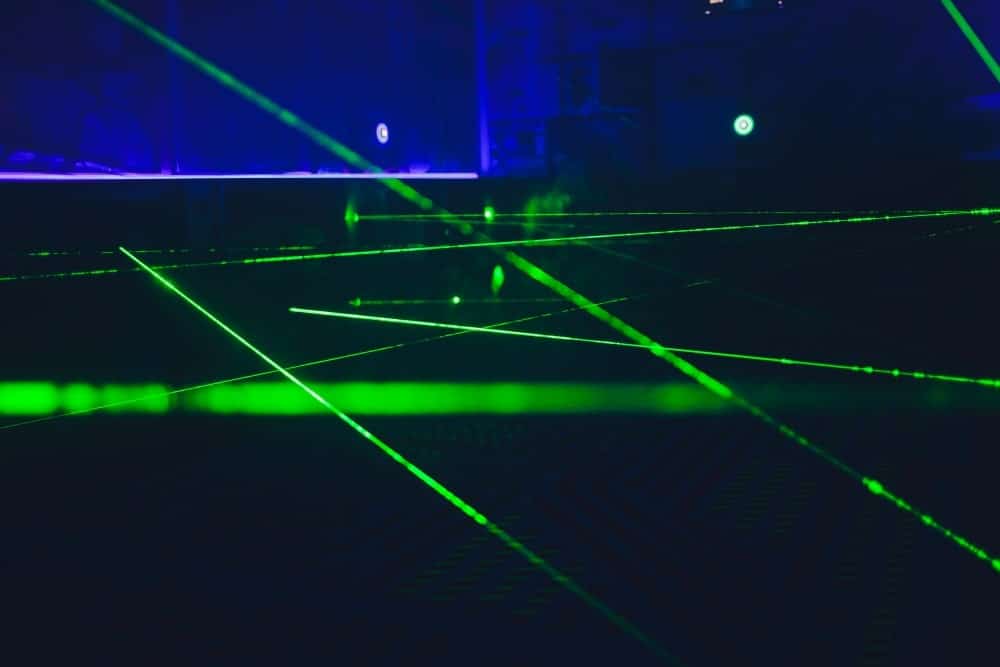 Thankfully, it's actually possible to play laser tag anywhere, even at home!
Ultimately, this game is incredibly flexible and there are no rules about what kind of play area is allowed.
As long as the players are and are allowed to play there, then you can have all the fun you want.
1. Secure the Blasters
You just need the basic gear such as the laser tag gun with a receiver.
If the gun has no receiver, it usually comes with a separate vest which acts as the sensor for the laser.
Many of these blasters are available and easy to order online. You can check out our well-reviewed list of best laser tag blasters.
Even with just the blasters, you can have a lot of fun with all kinds of laser tag games at home.
This means you don't need to purchase all the fancy equipment that they have in laser tag arenas.
But other accessories will definitely heighten the excitement for this activity.
If this is what you're envisioning, the following materials can be used for you to make your arena at home.
2. Decide on the environment
Laser tag is flexible in terms of what area you want to play in. You can either play indoors or outdoors.
As long as the environment is safe for the game, it's possible to play.
This is why kids love playing in gardens and even inside their homes where they can use bushes, furniture, and walls to hide.
In the clip below, you can see how fun it is to play outdoors because of the large playing area available.
If you want to have a play area that's more like a laser tag arena, then you'll need a wider empty space that you can fill up.
Just make sure you have enough room to run around and to place the furnishings.
The arena in the video below is indoors and it has more interesting features and light effects.
3. Blockage Pieces
Playing in an open space would be challenging because you'll have nowhere to hide! Players would be an easy target and that's no fun.
It's important to have large pieces in the play area that can act as an obstruction for the players.
You can simply use things in your surroundings, such as trees and bushes or pieces you already have, such as furniture.
It's also possible to DIY these items. You can stack boxes filled with pillows or comforters.
As long as the boxes are weighed down, but will not cause serious harm to the players.
The goal is to create equipment that can make the landscape a bit more challenging and also helpful for players to use as cover.
But it's also possible to purchase ones that are specifically designed for laser tag games.
BUNKR Inflatable Battlezone Battle Royale Set
This 4 piece set is inflatable making it easy to store when it's not in use. Furthermore, the design is perfect for laser tag battles because it makes the arena visually realistic.
The barrel, jumbo tire, and crates are exactly what you would see on a battlefield. Kids and adults will definitely feel more stimulated with these utilitarian props.
You can use these indoors and outdoors. You don't need to worry about rain because this product is quite sturdy and also waterproof.
The review below shows how this product works and looks.
4. Lighting
This depends entirely on your preference. But it would surely be so exciting to be able to play under different environments and conditions.
Many laser tag arenas are dark with only a few lights, making it more exciting. It also gives the players a clear view of the light signals on the blasters and vests.
If you want to play in the dark, you'll have to play at night time but make sure the players are all safe!
You can also play indoors but all the windows and sources of light must be blacked out.
To black out your windows, you can use blackout curtains. It's also possible to tape on privacy film and foil.
Use whatever material you have in hand, as long as it does the trick!
For a more detailed tutorial on how to blackout your windows, check out the video below.
5. You can play anywhere!
Home, arena, gardens, or fields, as long as you have the basic blaster set, then you're ready to go.
The players in the video below seem to have made use of an abandoned building for their arena.
Ultimately, this game is incredibly flexible and there are no rules about what kind of play area is allowed.
As long as the players are safe and are allowed to play there, then you can have all the fun you want.