So you've decided to get yourself or your beloved children a brand new laser tag set. You then try to shop for it online or at a toy store, but then you get overwhelmed by all these different laser tag sets out there.
Not only this, but you also realize that times have changed, and the good old laser tag set with a vest isn't the only type available on the shelves anymore.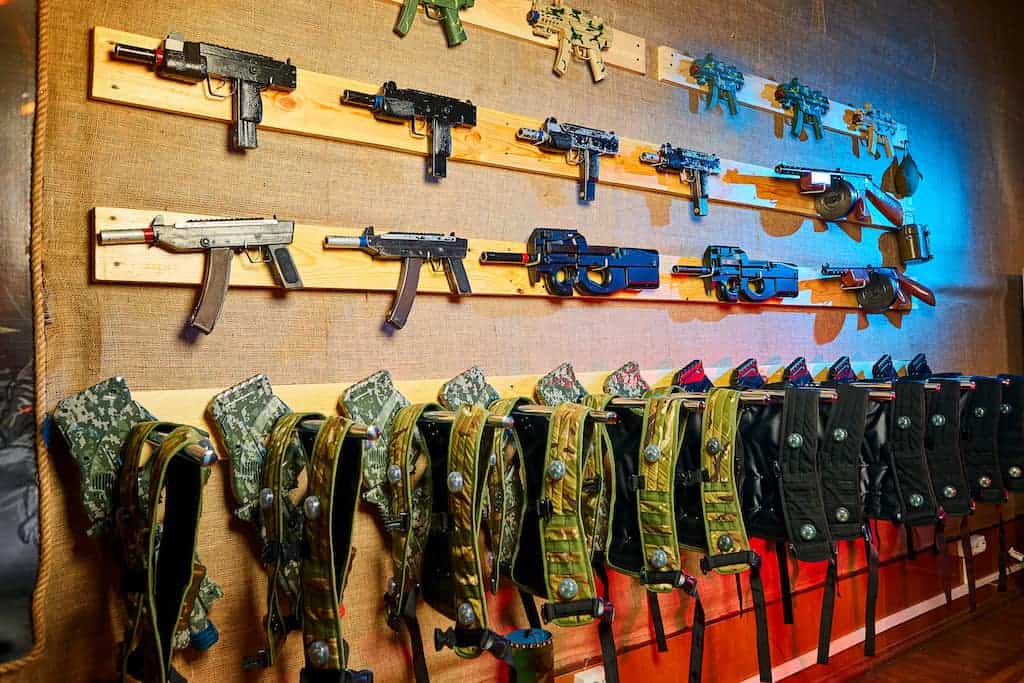 There are currently two types of laser tag sets, the classic laser tag sets with a vest that we all know and love, and a new type that works without using vests.
With that said, I have decided to explain everything you should know so you can answer the hour's question. Laser tag set with vests – why and why not?
How They Work?
A question that might pop up in your head is how would this work? Well, to answer that you first need to know that laser tag sets with vests consist of two parts: the gun that you shoot with, and the vest that you shoot at.
The vests contain the sensors that pick the shot signal from the opponent's gun. The new laser tag sets dropped these vests all together and now have the gun as both the shooter and the target. Achieving that by attaching the shot sensors on the gun itself.
This new approach that many companies went for can be suitable for lots of people. However, there are others who still like the old school laser tag and how they reason it is totally understandable too.
So how about we tackle this issue down and try to explain why would someone pick one over the other? Let's dive in and discuss what we like and what we don't about each type so you can find what suits you best.
Pros And Cons With Vests
Having a vest attached while playing laser tag allows you to imagine how things go generally, whether it being indoors, outdoors, and even in the big arenas.
Almost every laser tag arena uses laser tag sets with vests attached. Let's discuss all the reasons why a lot of people would pick laser tag sets with vests rather than without.
What We Like About Them
Realism
It goes without saying that being in battle requires you to do anything possible to hit the target.
Since shooting the largest and easiest section in the human body is the first thing that comes to your mind while in a battle, that makes having a vest attached to your target's torso in order to hit the enemy something essential to have a genuine gunfight experience.
Easier Target
Laser tag is a game that uses aim and precision, so imagine how harder to play it can be when your target is just the gun.
The vest offers a mile far easier target to hit while moving because of its larger size, and unlike guns, you can't just hide your torso away.
Keep in mind that your open torso would also be an easy target too, so you'll have to be more careful. This heavily adds to the realism and responsiveness of the game.
Skill Transfer
Laser tag isn't the only activity or sport where your main objective is to actually shoot your enemy, but what they all have in common is the fact that shooting the torso area is the most recommended place as its the largest and easiest to hit.
Now imagine if you're a pro paintball or airsoft player, and you're invited to a game of laser tag, it'd be of great use to have the vest attachment so you can show your true skill in the battleground.
What We Don't
More Complicated
With all its cords and attachments, in addition to the vests itself, having a laser tag set with the vest on is deemed more complicated for many, as everything needs to be in place in order to play correctly.
Heavier
The presence of a vest and attachments in addition to the gun can make the whole laser tag set weights heavier in general, which can be a burden to little kids who just want to play the game, and they don't really care or know how to play it correctly.
Our guides on how to play and win a laser tag game.
More Things To Malfunction
Another thing to worry about while having a laser tag set with vests attached is the fact that there are more ways things could go wrong, especially if you'll be using one of those cheaper models that don't offer a warranty.
Expensive
Putting all that aside, if having fun without hurting your wallet is your main concern then having a vest on laser tag sets can't be your ideal choice, because if you want to have a decent one, it can be a bit of a pricey option to go with.
Decide to go with a laser tag set with vests? Here's our recommendation:
Sale
ArmoGear Laser Tag – Laser Tag Guns with Vests Set of 4 – Multi Player Lazer Tag Set for Kids...
AUTHENTIC LAZER TAG GAME Turn your home or backyard into a laser tag arena with the ArmoGear laser tag blaster set, the most advanced set of laser tag blasters out there! No other laser tag set has...
MULTI-PLAYER, MULTI-AMMO Up to 4 teams can play in this riveting battle! Switch between the unique powers of PISTOL, SHOTGUN, MACHINE GUN, and ROCKET to blast your enemy and declare victory! These...
FUN FOR THE WHOLE FAMILY Tactile vibrations and lifelike shooting sounds make for deeply immersive gameplay, turn kids and adults away from their screens! Have a blast and create cherished memories...
Pros And Cons Without Vests;
The new type offers many solutions to what seemed before as a problem to those who just want to have some good time without worrying about everything. Together we'll find out why.
What We Like About Them
Cheaper
Generally, laser tag sets that are without a vest comes at less than half the price of the ones with vests attached, which makes most people who are on a budget go for the lower cost.
Some high-end laser tag sets without vest can be even more expensive than some vested ones, so although it's a generally cheaper option, this isn't always the case.
Equally, there are also some laser tag sets with vests that aren't expensive at all. However, it's recommended to avoid them if you're looking for a long term investment for your money as they are more prone to malfunctioning.
Look for an affordable laser tag set and get the most bang for your buck? Here's our buying guides!
Lighter And Portable
If you compare a laser tag set including vests and attachments to just a gun and that's it, you can clearly see which is lighter here, not to mention how even more bulky and complicated some big arena's sets can be.
So for kids, a laser tag set without the vest and all these annoying cords won't only maximize their movements, but also the fun they're having.
And with all the attachments and cords ditched, it's clear that they're going to be a breeze to store and carry anywhere.
Easier To Use
It's always easier to use and start playing with a laser tag set without a vest. At the end of the day, it's just a gun.
That's why many opt for it as a quick way to have fun without the complications and hassle all the bulkier types come with.
Good For Younger Kids
With every plus mentioned above about how light and easy can laser tag be if they have no vest, it can be clear how some kids, especially the younger ones, would prefer to play with such type.
Little kids who just want to have fun might not understand how things work anyway, so it'd be nicer if they aren't weighed down by more attachments they don't understand.
What We Don't
Less Engaging
Now imagine being in a gun battle where you're only allowed to shoot the firearms themselves off the enemies' hands, I did and it was terrible and it just didn't get me going.
Laser tags without a vest can sometimes make you feel like something is missing, especially if you're a shooting-games enthusiast because it lacks the engagement a free to shoot anywhere a vested laser tag would give.
Can't Transfer Your Skill
Since it'll be the only game that targets the gun itself, you'll find out that playing laser tag without a vest doesn't actually add to your shooting skill tree.
So if for example, you think that your kids can play laser tag without a vest, in order to learn shooting and be a future shooting games Olympic champion, this journey might be tougher than you think.
Decide to go with a set without vests? Here's our best pick:
Nerf Official: Lazer Tag Phoenix LTX Tagger 2-pack - Fun Multiplayer Laser Tag Game for Kids &...
MULTIPLAYER COMPATIBILTY – The Nerf Lazer Tag Phoenix LTX Tagger is a complete system that features 2 Phoenix LTX Lazer tag blasters for fun, action packed Lazer battles. All Nerf Lazer Tag Phoenix...
INDOOR AND OUTDOOR BATTLES – The arena can be anywhere with these Nerf Lazer Tag Phoenix LTX blasters so players can battle inside the home or spread out outside for epic match ups
FUN FOR THE WHOLE FAMILY – Nerf Lazer Tag Phoenix LTX Lazer tag blasters are great for kids, teens, and adults alike. For ages 8 years old and up, different play settings make the game fun and easy...
Wrap up
Now that we've made both the pros and cons of laser tag sets with and without vests clear, the ultimate choice is up to you. What sounds more fun? Can you afford your pick? How about kid-friendly performance?
No matter your decision, make sure your pick provides the most wholesome laser tag experience to you.