1. Adventure Quest Laser Tag
Location: 1001 Elmwood Park Blvd, New Orleans, LA 70123
Contact Number: (504) 207-4444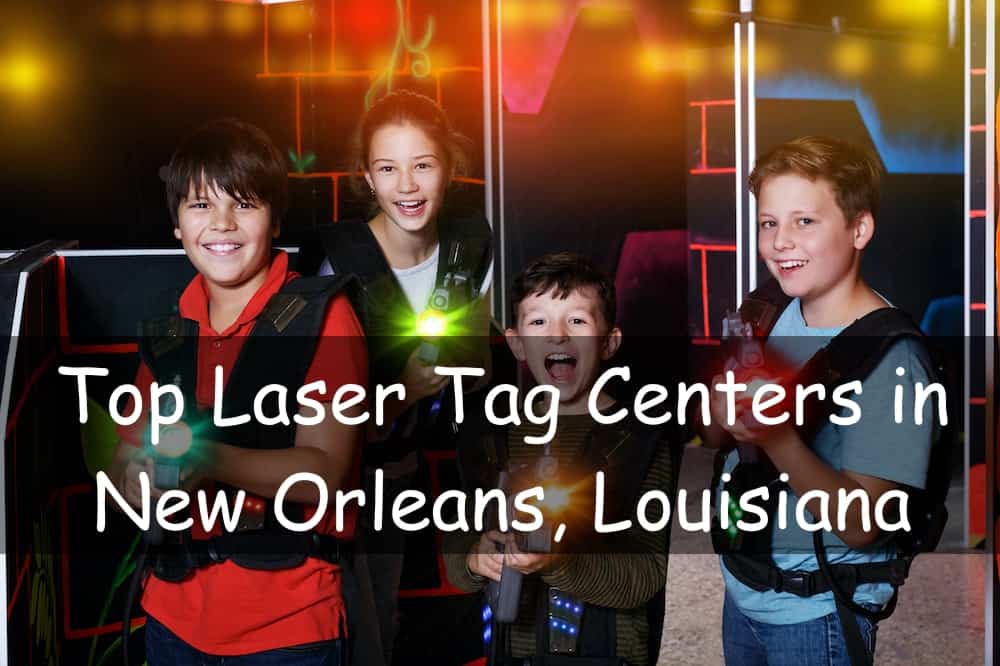 Website: http://www.lasertagnola.com/
Video:
If you're looking for a great birthday party, event, or weekend activity, check out Adventure Quest's Laser Tag Center. Here, you will find one of the best laser tag centers in New Orleans.
They have an indoor laser tag arena that is full of advanced features. It is Mayan themed, so you'll feel as if you're running around ruins on the Yucatan as you play. The multi-levels of this arena also allow for more strategy and diverse gameplay.
The arena is lit just right. It's bright enough to see where you're going but dark enough for the glow of the equipment to shine bright. There are also mirrors where you can bounce off lasers, adding another dimension to your battles.
What's more, the whole arena is full of walls. This allows you to choose between hiding and waiting or running after your enemies. Should you choose to run, there are also a lot of escape ramps you can use.
Laser tag is the main attraction, but that isn't all that Adventure Quest has to offer. Step outside the arena, you'll find escape rooms, bumper cars, cosmic golf, and more! To make things more fun, they have a game credits and rewards system – so the more you play the more you take home.
And when you're hungry, there is also food available. That's why if you're looking for a good laser tag center in New Orleans, you should check this one out.
2. Laser Tag of Metairie
Location: 8855 Veterans Blvd, Metairie, LA 70003
Contact Number: (504) 469-7475
Website: https://www.ltag.com/
Video:
Right outside New Orleans is another great place for laser tag. Laser Tag of Metairie has been around since 1996, and it isn't slowing down. It is still one of Metairie's and New Orlean's best laser tag spots today.
Laser Tag of Metairie offers a huge arena. At 7,500 square feet, you're never going to run out of running space here. And like all good arenas, it is dark, has smoke effects, and is full of flashing lights and music.
There's something for everyone at Laser Tag of Metairie, even for the young kids. For children who are too young for the intensity of laser tag, there's a balcony where they can stay. They can join the action by shooting on the players down below.
Laser Tag of Metairie is so much more than laser tag though. Here, you'll also find an arcade with all types of games to enjoy. They even have a laser maze, bowling, and bumper cars.
Pair this with their food station, this is a great place to spend a family trip. If you're having a party, there are also party packages you can get.
3. Area 51 Laser Tag
Location: 1539 Lafayette St, Gretna, LA 70053
Contact Number: (504) 265-8828
Website: area51lasertag.com
Another spot right outside New Orleans is Area 51 Laser Tag. It's so near, it's almost as if you never leave New Orleans at all.
One of the things that makes Area 51 Laser Tag special is that it specializes in laser tag. There are arcade and PS3 video games you can play with while waiting for your next match. But the focus is really on their laser tag, and it shows.
As you may have guessed, Area 51's arena is radioactive themed. There are a lot of barrels with biohazard signs on them. The walls are also lined with high-voltage stickers, making it as if you are stepping into the actual Area 51.
Area 51 Laser Tag comes with modern equipment that will enhance your games. You can see your individual statistics in the guns itself. This allows you to make plans and see how you are doing as you play.
Of course, it wouldn't be a good laser tag place without food. After your intense laser tag battles, there's a lot of great dishes you can order as well. This is yet another great venue for a birthday party.
4. About to Bounce
Location: New Orleans, LA
Contact Number: (504) 914-6489
Website: https://www.abouttobounce.com/
Aside from these laser tag centers, you can also opt to get laser tag rental instead. If you're throwing a house party, you should check out About to Bounce's services. This company offers inflatable bounce houses and water slides for rent.
You can rent all your favorite inflatables, but that is not all. One of the best things they offer is their inflatable laser tag arena.
Instead of going somewhere to enjoy laser tag, why not bring laser tag to your home? This laser tag arena rental comes with 10 guns and endless amounts of fun. It is sure to keep the kids running around for hours to come.
And if one time isn't enough, you can even buy the inflatable arena yourself. This way, whenever there is a party coming up, you'll always have something to keep everyone entertained.