If you're an Ocean City local, living in the surrounding area, or even a tourist, you're going to have a terrific time with all the attractions. Of course, part of these attractions is their entertainment centers that also house laser tag!
1. Game World
Location: 107 146th St, Ocean City, MD 21842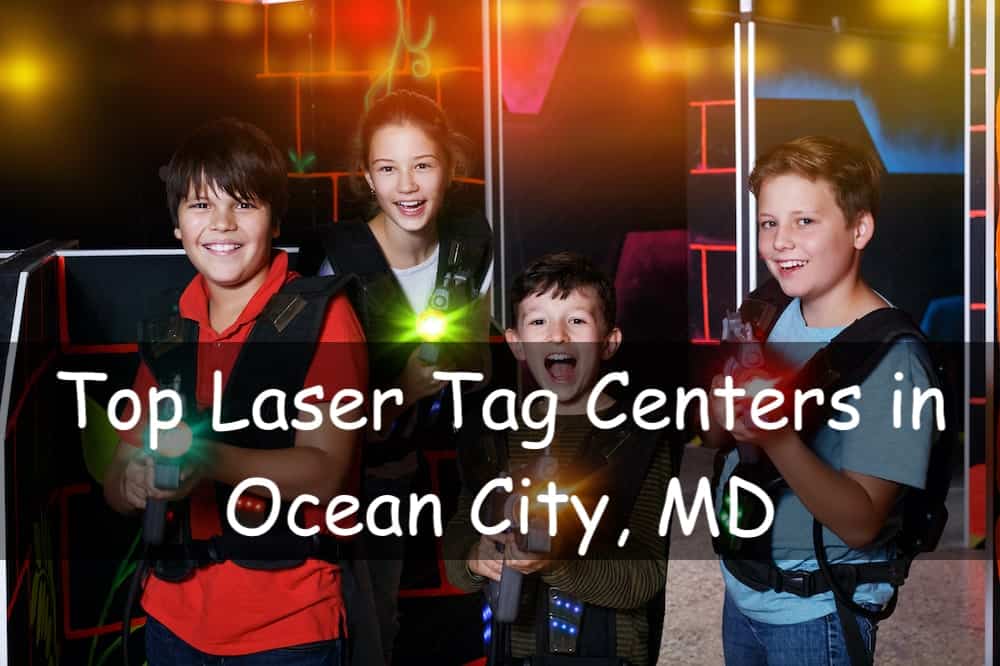 Contact: (410) 250-3888
Website: https://gameworldoc.com/
Laser Tag
Game World is proud to say that they have the best laser tag arena. As for the gameplay, they have a unique storyline that will keep players engaged.
2-story, 7500 sq ft arena
Per game price
2 game promo price
Unlimited gaming (Contact for availability)
Swarmed New York Theme
Other Activities
After a great game of Laser Tag, you can also play arcade games, skeeball, and video games. Once you get enough tickets, you can pick out from the hundred available prizes available.
They also have Mini Golf. You can literally spend hours in Game World without even realizing it.
If you're hungry, they also serve Fat Albert's popular pizza, and other snacks and beverages. Just take a look at their menu by clicking here!
Parties and Packages
Kids will definitely want to celebrate their birthdays here. To help you out, Game Zone has created packages that can accommodate not just kids, but even other events.
Laser Tag Party #1

2 sessions of Laser Tag
2-hour table reservation
2 large pizzas and 1 soft drink per child
Plates and napkins with pizza
Good for 10 guests
Additional fees for more guests

Unlimited Laser Tag Party #2

Unlimited Laser Tag for 2 hours
3-hour table reservation
2 large pizzas and unlimited soft drinks
Plates and napkins with pizza
Good for 10 guests
Additional fees for more guests

Private Party Unlimited Laser Tag #3

Get private use of the whole arcade and the laser tag arena!
Unlimited Laser Tag
A la carte pizza, soda, soft ice cream, and milkshakes
Only available from Monday – Thursday (Limited times available)
Hourly rate (minimum of 2 hours)
2. Lefty's Alley and Eats
Location: 36450 Plaza Dr, Lewes, DE 19958
Contact: (302) 864-6000
Website: https://www.iloveleftys.com/
Laser Tag
In their own words and according to customer testimonies, Lefty's Laser Tag is truly OUT OF THIS WORLD. For an unforgettable, intense, and exciting game of laser tag, definitely go to Lefty's
Subterranean world themed arena
Innovative graphic design
12 minutes per game
Other activities
The name of the establishment is Lefty's Alley and Eats for a reason. They have state of the art bowling alleys and a mouthwatering menu, too.
And for more fun, you should play a few games in their arcade. They have a large collection ranging from retro to modern video games.
Lefty's is also a few minutes away from the popular beaches of Ocean City so it's definitely worth stopping by. Lefty's has also won the following awards:
Coastal Magazine Best Of Winner 2018
2017 Best of Delaware
Certificate of Excellence 2018 from Trip Advisor
Packages and Events
Just like most entertainment centers, Lefty's can cater to all kinds of parties. Exclusive rentals are also available.
But one thing I love about Lefty's is how they plan all sorts of events. Check out the events coming:
| | |
| --- | --- |
| Adult Winter Bowling Leagues! | Jan. 27th – Mar. 16th, 2020 (7 PM – 9 PM) |
| Rock & Bowl with Luna Sea Band | Feb. 15th, 2020 (8 PM – 11 PM) |
| President's Day Play Pass | Feb. 17th, 2020 (11 AM – 4 PM) |
| Rock & Bowl with DJ Messy Marv | Feb. 22nd, 2020 (9 PM – 12 AM) |
| Kingpin Karaoke Round 1! | Feb. 27th, 2020 (7 PM – 10 PM) |
| Rock & Bowl featuring Matt Lafferty and the Dover Pros | Feb. 29th, 2020 (8 PM – 11 PM) |
| Kingpin Karaoke Round 2! | Mar. 5th, 2020 (7 PM – 10 PM) |
| Kingpin Karaoke Round 3! | Mar. 12th, 2020 (7 PM – 10 PM) |
| Kingpin Karaoke Round 4! | Mar. 19th, 2020 (7 PM – 10 PM) |
| Kingpin Karaoke Finals! | Mar. 26th, 2020 (7 PM – 10 PM) |
3. Crown Family Entertainment Center
Location: 28410 Crown Rd, Eden, MD 21822
Contact: (410) 742-6000
Website: https://crownsportscenter.com/
Laser Tag
Laser tag in Crown Family Entertainment Center has definitely caught my eye because of its bright colors, black lights, and awesome overall design. But they have more to offer:
Play with vests and phasers
2-story state-of-the-art arena
Alien themed arena
Special prices and group packages
Players must be at least be 48" in height
Only players aged 7 years old and up are permitted
Laser Tag Specials

Daily Missions
Friday Night

All You Can Play Unlimited Laser Tag 9 PM – 11 PM

Saturday & Sunday

2 Laser tag missions and 12 tokens

Group Laser Tag

15 players
2 missions
Additional fee for more players

Ultimate Group Laser Tag

15 guests
3 missions
Additional fee for more players
Other activities
Crown Family Entertainment Center is also home to other exciting attractions. Their arcade has over 40 games to choose from and you can exchange your collected tickets in the redemption booth.
If you're more adventurous, they have a 24 ft rock wall that can definitely challenge you. For a fee, each climber gets 3 attempts.
But for people who want a more casual activity, they also have a skating rink. For an affordable price, kids and adults can rent roller skates, but kids aged 2 and below are free!
Programs
Kids, teens, and adults can join in different sporting programs. They even have camps and preschools for children!
Crown Care

Preschool 2 – 3.5-year-olds
Preschool 3.5 – 5-year-olds

Sports

FUNdamentals
Youth Sports Programs
Adult Sports Programs

Sports camps and clinics

Manning The Net Goalkeeper Training Club Monthly Sessions
More coming this year. Click here to see updates.
Parties
An entertainment center isn't complete without party packages! You can choose from the bundles below:
Basic

1.5 hours
8 guests including birthday celebrant
1 slice pizza slice per guest
1 two-liter soda
Choose one:

Laser tag
Skating
Sports
Arcade

Ultimate

2.5 hours
10 guests including birthday celebrant
2 pizzas (cheese or pepperoni)
2 two-liter soda
Chose 1 combo

Laser tag and arcade
Laser tag and sports
Laser tag and skating
Sports and arcade
Sports and skating
Skating and arcade

Mega

3.5 hours
12 guests including the birthday celebrant
3 pizzas (cheese or pepperoni)
3 two-liter soda
Choose 1 combo:

Laser Tag, Arcade & Sports
Laser Tag, Arcade & Skating
Laser Tag, Skating & Sports
Arcade, Skating & Sports

Superior

4.5 hours
15 guests including the birthday celebrant
4 pizzas (cheese or pepperoni)
Unlimited fountain soda
Private rental of Crown Room
3 laser tag missions per guest
1-hour open skate
20 arcade tokens per guest
45-minute use of reserved turf field
Laser tag score sheets
2 adult skating passes
250 bonus redemption tickets for the birthday celebrant
DJ shout-out
Read more: Wowwee Laser Tag Set Review
4. XD Darkride Experience
Location: 4008 Boardwalk, Wildwood, NJ 08260
Contact: (609) 305-5283
Website: http://www.xddarkridepierpark.com/
XD Darkride Experience is the last on our list because it isn't exactly the traditional laser tag game that we play in arenas. This one is unique, new and definitely something worth trying out.
What is the XD Darkride Experience?
Don't get me wrong, you'll still be using laser blasters. But you'll be strapped in on a moving seat. It's a lot like a shooting game in a 4D cinema.
You'll be engaging most of your senses to try and get through this highly interactive game. With amazing visuals, audio, and physical sensations, everything feels real.
Features
Players might as well step into a 7-D movie and shoot at monsters because that's how immersive this experience is. But what makes it 7-D?
It's an interactive movie with 3-D graphics
Wind machines are used
Employs incredible special effects
Seats are rapid motion
Makes use of strobe lights
360 degrees of virtual immersion
Gameplay
In other words, you're putting yourself inside the game. No need to control a character because you'll be doing all the shooting.
Up to 16 players
Shoot at the enemies on the screen
High precision blasters
Accurate targeting system
Choices of interactive movies
Zombies! – Definitely a great choice for fans of Resident Evil, and Walking Dead.
Los Banditos! – If you enjoy the unlikely combination of cowboys and robots, this shootout will definitely draw your pistols.
Road Fighters! – I personally love post-apocalyptic themes like Mad Max. If that's something you like, I would recommend Road Fighters!
Werewolves! – Old school grizzly horror fans will enjoy the visuals and gameplay of this take on the classic Werewolf monster.