1. Laser Flash
Location: 617 Third Ave SW, Carmel, IN 46032
Contact Number: (317) 571-1677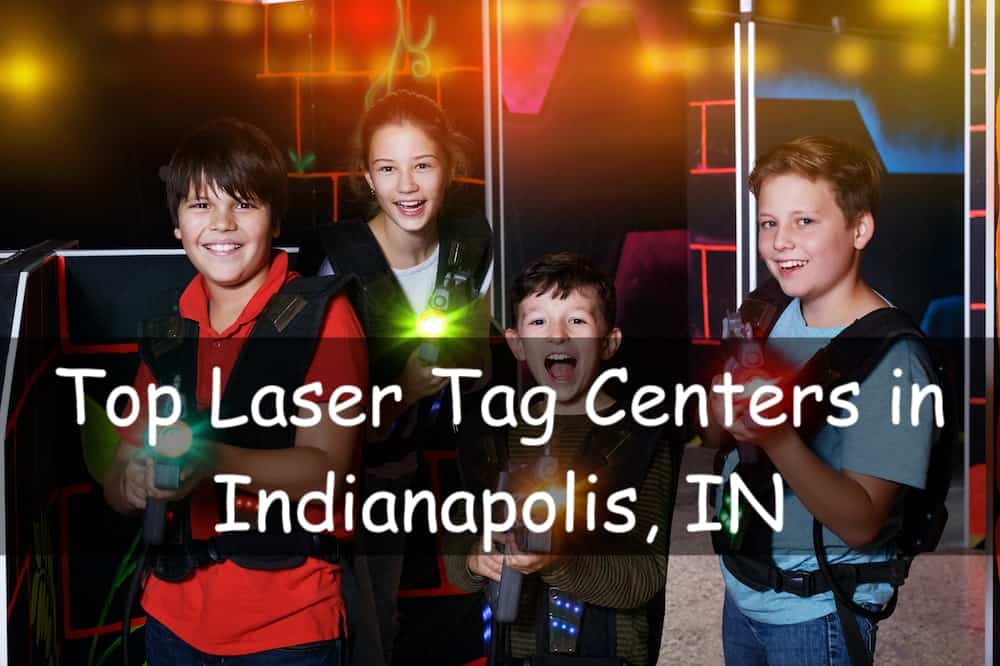 Website: https://www.laser-flash.com/
The first laser tag center we'll have a look at is not actually in Indianapolis. Instead, it is in Carmel, which is right outside Indianapolis.
Despite not being in the city, a lot of people come out here to Laser Flash. This is because this place offers one of the best laser tags in the whole area.
Here, you will find a huge laser tag arena. At 7,800 sq ft. you can run around a lot. Up to 42 players can play at the same time. So you can bring your entire squad.
To make things more exciting, players are divided into teams. Each team has a base to recharge their blasters, and a base they need to protect. This spices up the gameplay a lot.
The arena is also two-storeyed. This adds more tactics and strategies to your games. Not only do you have to look around you, but you also have to look up and down!
Each game lasts 40 minutes. After that, you can also try out Laser Flash's many arcade games, or get a taste of the pizza they have for sale here.
If you're not there to play, you can also enjoy all the action through the observation deck. This will give you a bird's eye view of all the fighting down below.
2. Zip City Indy
Location: 6650 Bluff Rd, Indianapolis, IN 46217
Contact Number: (317) 781-1100
Website: https://zipcityusa.com/indianapolis/
Back into Indianapolis is another place where you can enjoy laser tag. Zip City is a huge indoor adventure park. It has three locations across the country, with one being right here in Indianapolis.
Zip City has a lot to offer. Being an indoor adventure park, expect all kinds of fun activities to enjoy. You can go for an indoor zipline, or bounce around at their trampoline park.
But of course, Zip City wouldn't be on this list if it wasn't for their laser tag! Like their other attractions, Zip City's laser tag is also top-notch.
Their laser tag plays out as a paintball war would. The difference is that instead of paintballs, everything is very high-tech.
Here, you get everything you want and expect from a laser tag arena. The arena is a maze that gives you so many strategic plays. It is all very fast-paced, so expect to be running around a lot.
Zip City is a great place for parties as well. They have several party packages that you can enjoy. These don't only give you access to the attractions, but also to a party room. Here you can enjoy some delicious pizza and other refreshments.
3. Incrediplex
Location: 6002 Sunnyside Rd, Indianapolis, IN 46236
Contact Number: (317) 823-9555
Website: http://incrediplex.com/
From the outside, Incrediplex looks like an enormous warehouse. Come inside, however, and you will be greeted by a load of action!
Incrediplex is an enormous place with so many things to do. With its basketball courts and soccer turfs, it is truly a sports heaven. They also have a gym with lots of equipment for working out.
But before you start thinking that this is just a sports center, you find that its so much more. On one corner of the large warehouse is an entertainment area with a lot of fun activities.
As you might've guessed, one of these activities is laser tag. Here, you can choose between teaming up and defending your base, or going for a free-for-all. You can always change up your games to make things more exciting.
The laser tag room is a dark one. It is filled with black lights to give it a glowing effect. And, of course, so many walls and obstacles where you can hide and take cover.
The nice thing about this place is that there are so many other fun things to do. The laser tag is only a fraction of what Incrediplex has to offer. So when you're done, give their other activities a try!
4. Laser Storm
Location: 5261 Elmwood Ave, Indianapolis, IN 46203
Contact Number: (317) 780-0101
Website: https://www.royalpin.com/Attractions/Laser-Storm
Last but not least, Laser Storm. It is yet another great place to enjoy laser tag in Indianapolis.
By the name, you can expect some real action. And the laser tag here sure is intense! The games only last 15-minutes, so expect an all-out war.
Like every good laser tag arena, Laser Storm has everything you need. You'll have so many places to run and hide from your opponents. The lights and effects of this arena will add a lot to the already amazing game of laser tag.
If you're having a party, there are several party packages that you can go for. These packages allow you to play for hours and give you food and drinks to enjoy as well. When you're finished fighting in the arena, you can come out to pizza and soft drinks.
Laser Storm is not only known for its laser tag, but also for its bowling. Right beside the arena, there is a big bowling alley. After your games, go and give bowling a try as well.