After the existence of the internet, we started to have a 'reality' and a 'virtual reality'.
You can think of the paintball and laser tag in the same way where paintball is the game with 'real paint' and laser tag is the one with 'virtual paint', makes sense?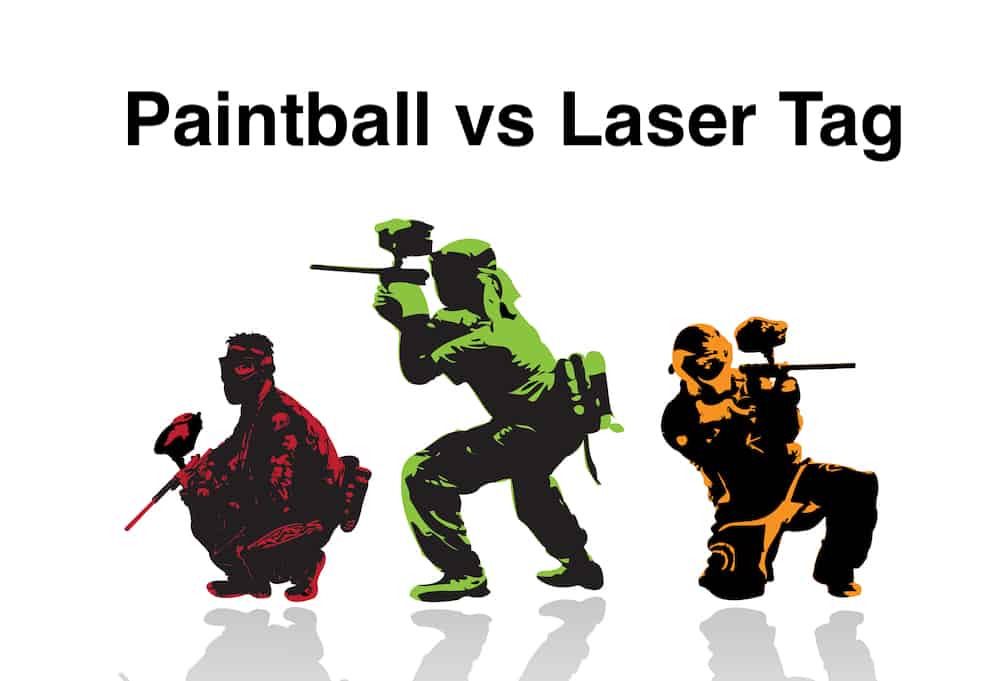 Let me explain what those games are so you get a thorough understanding of both.
Background
Do you have any idea what might've inspired two of your favorite games?
Well, interestingly enough, laser tag guns were inspired by a movie.
Did Star Trek ever cross your mind the moment you saw the laser tag gun?
Yup, Star Trek's phasers were what George Carter III (a pretty cool inventor) was thinking about when inventing the laser tag game.
Sorry, you weren't the only one who wanted to play with that superhero gadget.
Although the paintball game was later invented by three others, Charles Nelson of Nelson Paint Company was a pioneer in making paintball guns.
He created them to mark various things like the trees that need to be cut. Here's a link if you're interested to read about the evolution of the paintball game.
Both paintball and laser tag games were invented and played at almost the same period (1981-1984) in Dallas, Texas, and Henniker, New Hampshire respectively.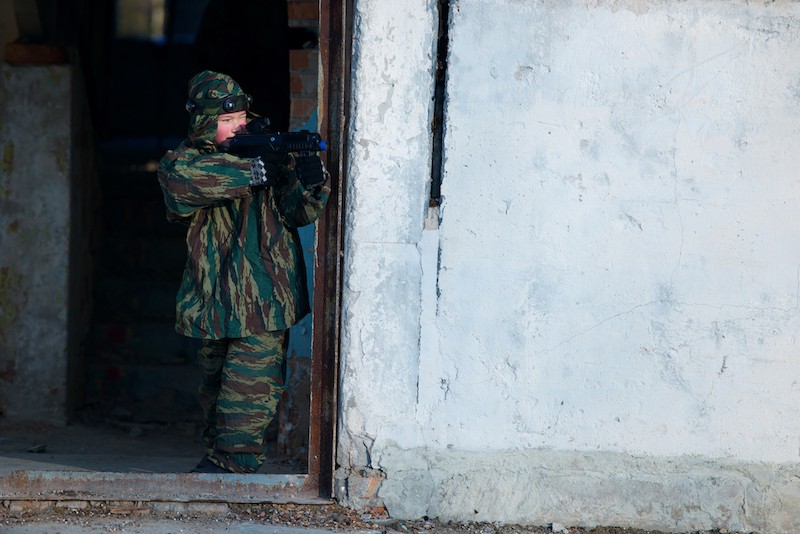 Similarities
Laser tag and paintball have many things in common.
The idea of both games is the same.
You have to hit or 'tag' your opponent, whether with a laser/infrared beam or with physical paintballs.
What Are Some General Common Points?
Both games have tools and equipment and both require more than one player. As a matter of fact, the larger the group is, the better.
Also, both laser tag and paintball can be played indoors or outdoors.
However, laser tags are better indoors because the light effects and range are a bit limited in sunlight, while paintball is definitely more fun outdoors.
Players need to agree on the kind of game they want to play beforehand because both games have different variations.
Any Dangers You Should Know About?
Both games are pretty safe if you follow the instructions at all times.
Laser tag guns usually don't use lasers; they're just infra-red beams of LED.
They don't hurt the eyes too, and if you all play by the rules and don't aim the beams at the eyes then you're good to go.
On the other hand, the paintball uses gelatin capsules that contain different colors of water-soluble paint.
The paint used is non-toxic for humans but it can be poisonous to your furry friends, especially dogs.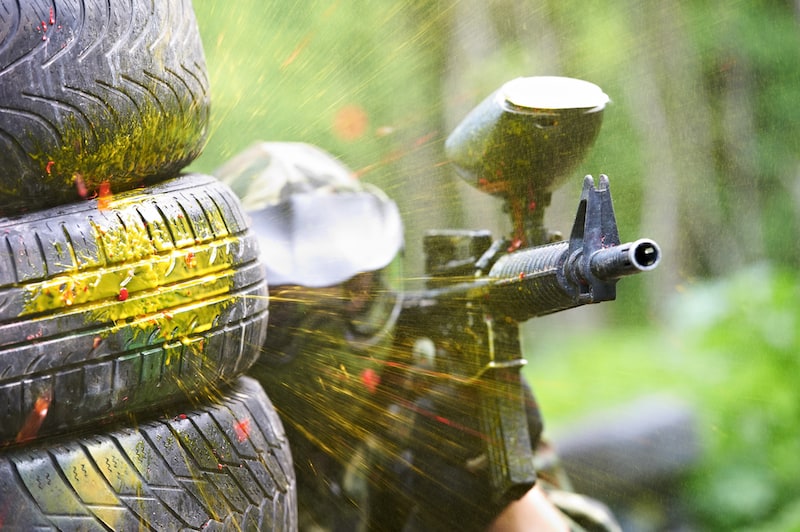 What Are Other Interesting Purposes of Such Games?
Both games are mainly created for entertainment purposes. People of all ages enjoy playing these kinds of fun games with their friends and families.
However, these games have also been incorporated as activities done by employees of certain company departments and military forces to make use of the ideas of teamwork, strategy planning, working under pressure, having a plan B and many more great qualities offered indirectly by such games.
Differences
While both games have pretty much the same target, they do have key differences in certain aspects.
Equipment
There are several paintball kits around the world. Every game field has its special equipment.
The basic Paintball game kit consists of a paintball marker/gun, a paintball mask or regular goggles, paintballs and additional equipment like elbow and knee pads, special clothing, etc.
But these items are optional most of the time.
The laser tag game consists of a simpler kit of only a laser tag gun and a vest or a headband that contains the sensor at which you target your laser gun.
If you want to add some extra stuff like gloves, belts, slings or 'glow in the dark' face paint to make things more interesting there's no problem.
Just remember that anytime you want to wear something out of the ordinary items listed, check with the game organizers or the working staff responsible for your game to make sure that what you want to wear is safe and won't get anyone hurt during the game.
Safety Precautions
Some basic safety precautions are the same.
For example, no contact is allowed in both games, and of course, hurting or bruising each other on purpose is obviously out of the question.
But some rules and regulations might differ according to the nature of each game.
Laser Tag Safety Precautions
Running and climbing on structures inside the arena are prohibited
Lying down on the floor and crawling aren't allowed
Dropping the laser tag equipment may result in their damage because of all the sensitive items inside like computers, radios, sensors, screens, etc.
Firing from a very close distance isn't allowed as you might accidentally injure the other person.
Paintball Safety Precautions
Masks or goggles should be worn at all times no matter what
Overshooting isn't allowed for safety reasons
Ramping – which results in rapid consecutive firing at a certain target- isn't allowed
Wiping out paint from your clothes (since the paint used is water-soluble) is considered cheating and thus, not allowed
The minimum distance at which you can fire your paintballs is 4.5m (15 ft) because firing directly from a very close distance may result in undesired injuries
Are You a Beginner? Are Your Kids Playing Along?
There are types of paintballs made of lighter weight materials.
Those types are referred to as the 'low-impact paintballs'.
They're smaller in size and they travel at a slower speed when fired.
This decreases the shock factor if it's your first game and you're not used to getting hit by paintballs.
This type is also preferred if kids are involved in the game.
Conclusion
Both laser tag and paintball are wonderful games that you can enjoy anytime, anywhere.
Just gather your friends and don't miss out on all the fun!
Next time you want to awaken the warrior within you, you know where to go to collect some (metaphorical) battle scars!