Even though many people are unfamiliar with playing laser tag, it is still rising in popularity all around the world. Everyone should try out laser tag with their friends and family at least once in their life.
It's tons of fun and it's really an effective team building activity, too! If you're curious and want to try it out, you can read about the rules of the game here.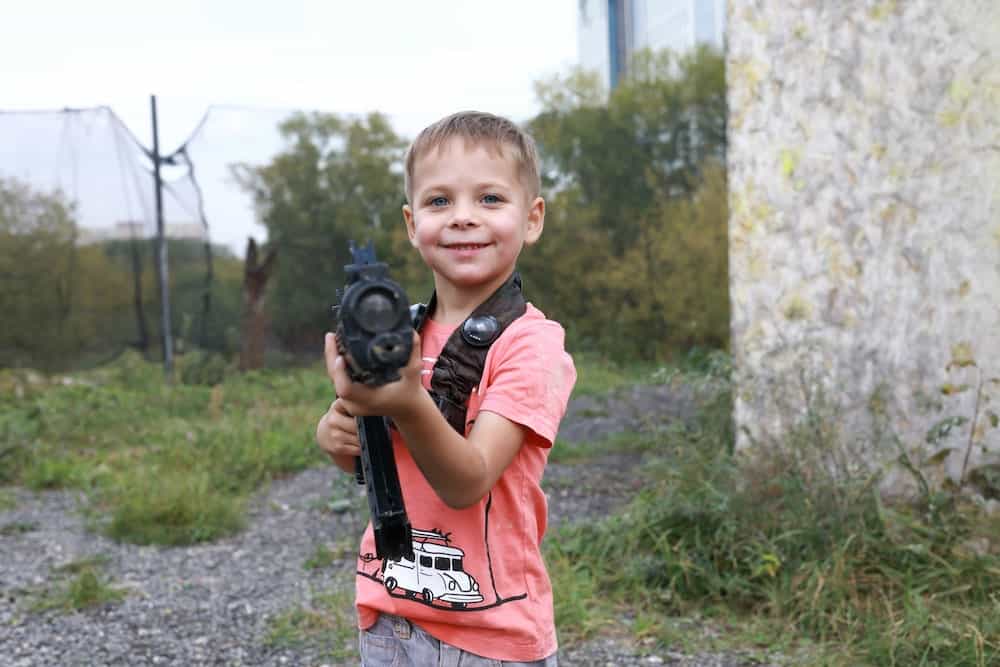 What's the experience like?
It's exhilarating
If you've seen others play laser tag before, you would know that it's an extremely engaging game. It's such an immersive experience that when you're in the moment, you really take it seriously.
Whether you're the shooter or you're on the receiving end of a shot, there's an immediate adrenaline rush. It's so exciting that kids or adults can play from hours on end. It's quite true that time passes quickly when you're having fun. Check out Laser Shooter's video on YouTube. It shows you the point of view of the player mid-game.
As you can see, it's active and takes a lot of stealthy strategies. There's no doubt that anyone who engages in this activity will feel the thrill of sneaking up and taking the first shot.
It's nostalgic
To be honest, I think it feels a lot like how children would feel when they sneak up onto adults and surprise them from out of nowhere. If you did that as a child, you'll know what I'm talking about.
This brings me to my next point. For adults, it brings a sort of nostalgic feeling. It really does make you feel like a child again and somehow makes you forget how old you are.
It's for all ages
In fact, even older people play with younger children and it seems to be a great bonding experience for families or people of all ages. If you bring in a group of strangers to play laser tag, they'll all probably be friends after a game or two.
It's fun
It goes without saying that this is an extremely enjoyable activity for people across the ages. It's easy to understand and doesn't bombard the players with too many rules.
Actually, the players grasp the rules easier the more they play. Most importantly, the sportsmanship is there as everything is all fun and games with a little friendly competition.
Before you play
The first thing to know is that it is beginner-friendly. It doesn't take prior skills or experiences to play and have fun.
Children aged 5 and up are allowed to play and adults of all ages, too. As long as you're capable of using the equipment, and following the safety and game rules, you're good to go.
If you're worried about not knowing how to use the equipment or if you have questions about the rules, the people working there will definitely assist you and help you out. In fact, they'll give you a detailed rundown before you start playing.
But it's also quite informative to read about how to play laser tag here. You'll be surprised by how easy it is to follow!
How it feels physically
Because physical contact isn't allowed, there's no fear about getting seriously hurt by another player. And despite the name "laser tag", it doesn't actually fire real lasers because that would pose too much of a risk.
Instead, it makes use of infrared technology to track the shots taken by the players. With the laser tag vest and laser tag pistol, the signals can be read and converted into points.
Of course, you can't just go trigger happy and shoot at everything. There are corresponding points and penalties depending on who or what you hit with your laser tag pistol.
And by now, you can probably tell that this game is painless. The lasers aren't actual firing lasers so there's no risk of getting burned.
Of course, because it's an active game, you might run the risk of falling over and hurting yourself. Which brings me to my next point: the safety rules.
Laser Tag Safety Rules
For more details on this subject matter, you can click on ahead here. But you can also go through the basic overview below.
Indoors and outdoors
This game can be played outdoors or indoors. Usually, when it's held indoors, there's more control when it comes to the playing area.
Playing outdoors has more variety. People can play in fields with structures laid out. For instance, in the YouTube video below, you can see they have make-shift walls.
Rest assured that these areas are monitored, surveyed, and checked beforehand by the facilitators. If they see that the conditions aren't safe for players, they will likely take a break and wait until the conditions are safe again.
Safety Rules
First off, there are first aid kits in laser tag facilities and they will administer it to players who might get hurt. Moreover, for younger children, adults are required to be present.
One Laser Tag facility that has good rules is Dragon's Lair Family Adventure Center located in Cedar Rapids, Iowa. Their rules are well thought out.
Laser Tag Rules
Players are to follow every rule set by the organizers.
Players are not allowed to crawl, climb, or run.
Physical contact is not allowed.
Foul language is not allowed.
Hands must be kept on the blasters at all times.
Blocking sensors is not allowed
Bullying is not allowed
Show good sportsmanship! Be kind to new players.
Strictly closed-toe shoes only. Sandals, flip flops, slides, high heels, etc., are not allowed.
Secure valuables before playing
No food and drinks in the playing area. This includes gum.
Attendants will be responsible for deciding whether actions are inappropriate or not.
Have fun!
Ready to go!
If you're afraid to try new things, laser tag is a good start because the facilitators are very friendly and there are new players coming in all the time. Players are friendly and they always require players to be mindful and helpful to beginners.
Overall, laser tag is active, safe, great for all ages, and wonderful for socialization. But most of all, it's fun and thrilling.