The Recoil brand of laser tag systems is owned by Skyrocket Toys. The company was founded in 2010 and specializes in technology-based entertainment products.
Recoil's system stands out from its competitors as a complete re-imagination of what a laser tag game should be like.
By incorporating modern technologies such as augmented reality (AR), a Wi-Fi router, and a mobile app, Recoil has arguably blurred the line between first-person-shooter video games and laser tag.
Brief Review
What We Like
Real-world battlefield simulation
Supports up to 16 players
Large playing area of 250 feet (76 meters)
Extensive shooting distance of 300 feet (91 meters)
Realistic sound effects and voice chat among teammates
User-friendly design with comfortable grips
Add-ons available
What We Don't Like
Lack of solo player option
Hassle to change batteries
Limited device compatibility
Who is This Product For?
The Recoil Starter Set is designed with more mobile-savvy gamers in mind. The company recommends a minimum age of 12 for participants.
In order to play the game, you are required to download an app to your smartphone. Your smartphone should be running on the iOS or Android operating systems, and ideally, be among Recoil's official supported devices.
This system is a natural choice for those who are bored with conventional options. If you have played first-person-shooter video games in the past, you would really appreciate Recoil's system.
Instead of constantly staring at a screen, you would be running around in real life, bringing a new dimension to the gameplay.
For families, the Recoil system represents a great way for bonding, while for youth workers, this is an excellent way to harness the boundless energy of teenagers!
What's Included in this Starter Set
There are two sets you could purchase, one with two guns and the other with four. Both sets come with a Wi-Fi hub and an instruction manual.
The 2-player starter set also comes with two RK-45 blasters and two smartphone holders, while the 4-player starter set includes four blasters and four smartphone holders.
If you already have the Recoil Wi-Fi hub and a blaster, you could also purchase RK-45 Spitfire blasters individually .
Each RK-45 blaster requires 4xAA batteries , which are not included in the sets. You will need to have your own screwdriver to open the battery compartment. It is also recommended that you purchase headphones for a full gaming experience.
Unboxing Video:
Overview
The first unique feature you will notice about the Recoil Set is it mimics a real-world battlefield.
Using GPS technology, a mobile app, and a Wi-Fi-powered hub, you can call for supply drops, airstrikes, and even capture "flags" marked out by GPS coordinates.
You do not need to have an Internet connection to run the hub, as it creates its own wireless network that links up all players.
The game allows you to have up to 16 players and a choice of 4 game modes. The system does not allow solo player mode, which we find unfortunate as it would be useful for practicing.
Regardless, the game modes of skirmish, team skirmish, indoor, and capture the flag provide a sufficient variety of games for various conditions.
Like many modern systems, sensors are located on the blasters as there is no vest. Whenever you fire the gun, there is a mild recoil effect.
With each shot, the system calculates your accuracy and determines if your opponent has been terminated. Successful shots will result in your opponent losing a life and being removed from the game. He/ she will then need to go back to the team base to respawn.
Recoil's system operates in a game area of 250 feet (76 meters), which is the limit of the hub's Wi-Fi network. We find this to be very sizeable, although the reliance on the Wi-Fi hub makes it impractical to go "outside the map". The blasters themselves are able to shoot up to 300 feet (91 meters) away.
By plugging in your own headphones, you will hear impressive sound effects and real-time communication from your team-mates. This would be very useful when playing in a larger area or splitting up without visual contact in an obstacle-filled map.
Need to build an amazing battlefield for your next laser tag game? Check out
this post
!
The Recoil Set has been quite well-designed. The blaster comes with a special slot on the left and right side where you can attach the smartphone holder. Your phone rests on this holder at an angle of roughly 45 degrees, allowing you to see it while running around.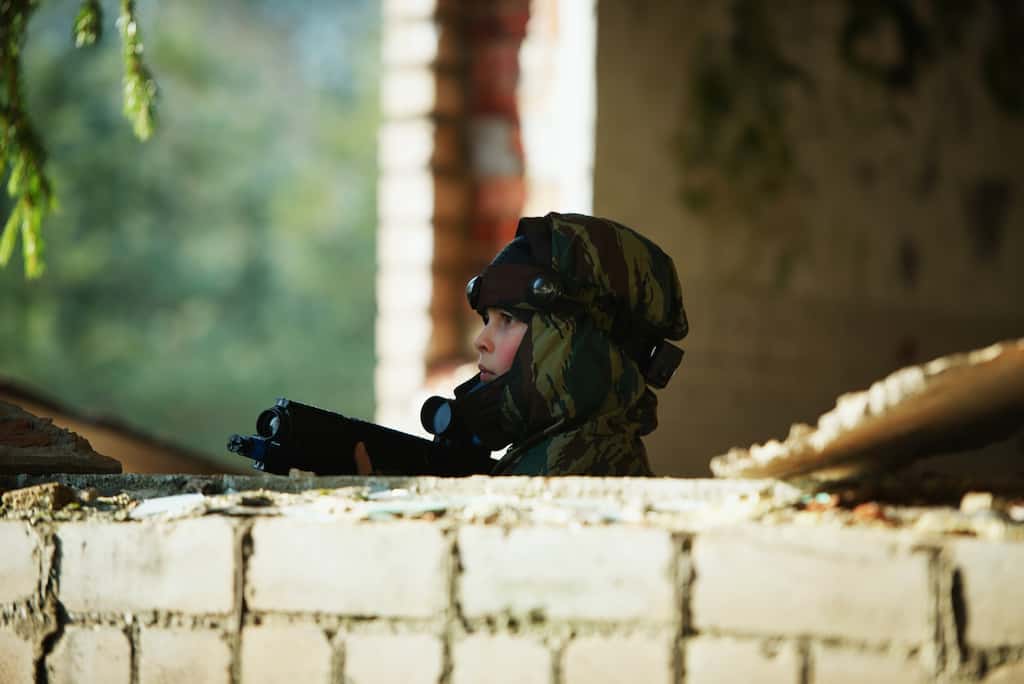 The grips feel comfortable and ergonomic. Inside the mobile app, you will find a satellite map of the playing area, as well as important statistics such as ammo and life. Furthermore, it will guide you back to your team's respawn area whenever you get shot and displays key objectives.
Reloading the blaster is easy. All you need to do is hit the button at the bottom of the gun's handle. The chat button is also located at the back of the gun, enabling easy communication between teammates.
If you wish to record the game, you may even mount a GoPro camera to the front of your Recoil blaster. While the RK-45 blaster is the standard set in all sets, you could also purchase the SR-12 Rogue Rifle and Frag Grenade as separate add-ons.
The rifle gives you more ammo, while the grenade provides just a little bit of extra intensity. In this review, we have attached a detailed manual for the Frag Grenade (link). Have a look at it.
Each blaster is powered by four AA batteries, which are supposed to go for up to 200 hours. However, some users commented that their batteries had to be replaced sooner than this. It is also a hassle to change batteries as you would need to unscrew the compartment each time.
Another area to look out for is device compatibility. You will need to have a smartphone running on iOS 10 and above, or Android 6 (Marshmallow) and above. This may be a problem for those who do not own a newer phone and are not prepared to upgrade.
Having said that, the game works almost exactly as it is designed, and we think that this unique hybrid of laser tag and first-person-shooter video games is worth an investment.
CHECK LATEST PRICE ON AMAZON.COM
Setting Up and Installation Process
To set up the Recoil system, you should first sort out the components. Insert the required number of batteries into each component. The Wi-Fi hub requires four AA batteries to operate, as do each RK-45 Spitfire Pistol. The SR-12 Rogue Rifle runs on six AA batteries, while each Frag Grenade only needs one AAA battery.
To insert batteries into the pistol, you need to first unscrew the lid at the top. Put in the 4 AA batteries, then close the lid and fix back the screws. Press and hold the power button for 1 second to switch your pistol on or off.
The Wi-Fi hub goes in the middle of wherever you're playing. If it's an outdoor field, place it right in the center. If you're playing indoors, try to place the Wi-Fi hub in a centralized location but without obstructing the main walkways. For the best Wi-Fi connection, try to place the game hub 3-5 feet above the ground.
Next, affix the phone mount to your blasters. Note that the phone mount can be attached to either side of the pistol, so it does not matter whether you are left- or right-handed. Align your phone mount with the slot on the pistol's side, then use the included screw to secure it.
When you loosen the mount's clamp, you may insert your smartphone. Tighten this clamp to secure your phone tightly. It is recommended that you use your own protective casing with your phone to prevent damage.
Each blaster comes with an optional damage sensor. If you wish to use it, clip it onto the back of your collar or your back pocket. Plug in the other end to a port at the bottom of the pistol's handle.
The final step is to download the Recoil mobile app to your phone. Open up the Apple App Store or Google Play Store and search for "Recoil Game". Make sure that the Publisher Name states "Skyrocket, LLC". Fill out your details and get ready to play!
Alternatives
While Recoil is a great laser tag system for playing outdoors, those who do not have the required smartphones will have to purchase a different set. The closest alternative that comes to mind is Laser X.
Laser X 88016 Two Player Laser Gaming Set, 72 months to 180 months
Blast your opponent's receiver vest from up to 200' Away. Full color lighting effects let you keep track of shots and Hits
Interactive voice coach gives tips, feedback during the game. Plug in headphones and hear the Laser X soundtrack and sound effects
Compatible with all other Laser X sets. Play as teams or as individuals
This is a system that uses a small vest to detect hits, instead of having sensors on the blaster. Its range is slightly less than Recoil's at 200 feet (61 meters), although we feel it is still more than adequate for outdoor play.
Laser X features stunning lights, an interactive voice coach, and two multiplayer team settings. Solo play is possible if you purchase a Gaming Tower add-on.
This also gives you an additional 8 game modes, providing an outstanding experience to all in the family. Its main drawback is a lack of volume control, as some might find the speakers to be too loud.
Looking for high-quality laser tag sets for your next games? Read our best laser tag reviews!
Conclusion
We are pleasantly surprised at the quality and gameplay of the Recoil system. This is impressive considering that the company has decided to invest heavily in technology and incorporated augmented reality, a mobile app, and a Wi-Fi hub into the system.
We think the investment has paid off, as the game's technology simulates a real-world battlefield. We do not like the hassle in changing batteries or the lack of a solo-player setting.
However, the Recoil Set has given other reasons to cheer, such as its amazing shooting range, big playing field of 250 feet (76 meters), user-friendly grips, sound effects, and ability to chat among teammates.
To sum up, the Recoil system is a solid choice for those who have compatible smartphones.