New Roc City is scattered with all sorts of businesses. It's easy to shop and eat because everywhere you look, there are boutiques and restaurants.
There are also multiple entertainment centers, but only a few provide Laser Tag services. If you're looking to play Laser Tag in New Roc, check out the places mentioned below!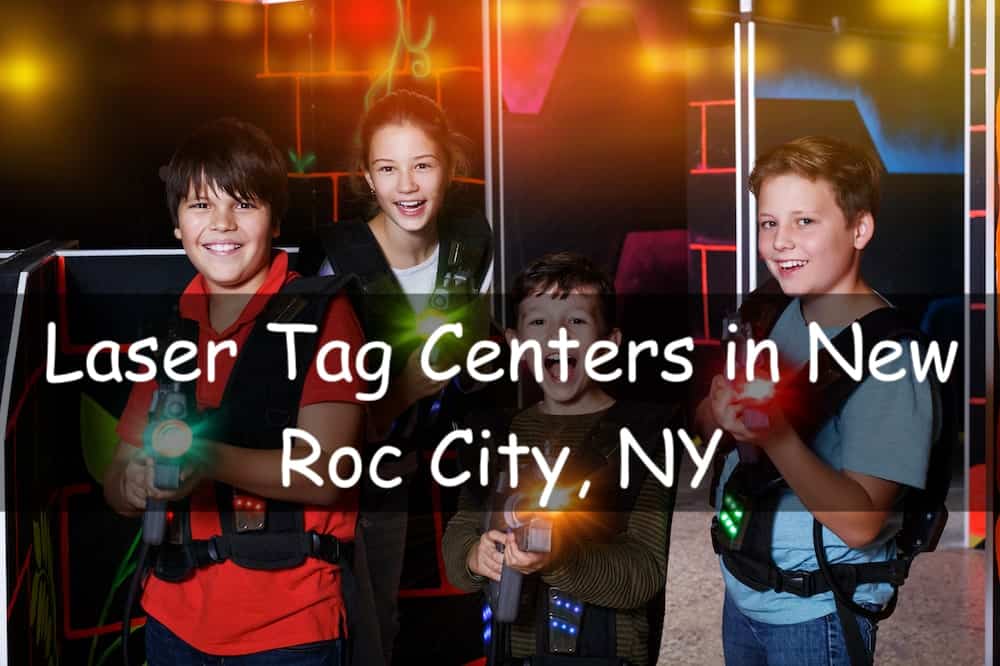 1. Outdoor Laser Tag, USA
Location: Outdoor Laser Tag USA, Mount Kisco, NY 10549
Contact: (914) 413-7138
Website: https://www.oltusa.com/
Outdoor Laser Tag is at the top of the list because Laser Tag is their area of expertise. This comes as no surprise because they've been operating since 2004.
They are proud to be the largest, and longest-running mobile laser tag business in the Tri-State area. They've done numerous parties and events, serving over 25,000 individuals of all ages, every year!
Just like the other companies on this list, Outdoor Laser Tag brings the game to you! They're completely mobile and as long as you have the space for it, they'll set it up.
If you plan to play indoors, they'll even bring special lighting for you. Talk about great service!
In addition to their impressive background, their equipment is also top-notch. In fact, they say it's the most expensive in the market.
Looking at their blasters, you will know that they are of high quality. They look like professional-grade laser tag guns and not like the ones made from cheap plastic.
Specifically, their blaster sets come from Battlefield Sports, Inc., a brand that uses advanced infrared technology. As for the inflatable obstacles and camouflage tents, they are all from Mighty Paintball.
But what really makes their services so popular are the terrific reviews not just on Yelp, but on Facebook, too! The perfect ratings and positive feedback about their services show a promising and worthy experience.
Booking a party can easily be done by filling in a form on their website. They suggest booking 6-8 weeks ahead in order to get your preferred date.
2. Entertainment On Wheels
Location: 825 Windham Court North, Wyckoff, NJ 07481.
Contact: (201) 444-0045
Website: https://www.entertainmentonwheels.com/
Just like Outdoor Lasertag, Entertainment On Wheels is exactly what it sounds like: a mobile laser tag service. This means that they'll bring their equipment and full services to your venue.
What sets Entertainment On Wheels apart is just how many exciting and fun activities they offer. Honestly, just by taking a peek at their website will make you want to join in with the fun!
Their laser tag is called "Hero Blast" and it has many features that make it so exciting and lively. The blaster has a unique design and is equipped with a strong speaker, making it audible even when you're outdoors.
It also vibrates to make playing more sensory and immersive. Best of all is the colored touch-screen controls.
With buttons for multiple functions, there will be no need to fumble around with so many controls. Some controls are even sensed through your gestures!
The laser is also quite advanced and it's easy to target your enemy because there is an aiming sight that lights up. Moreover, the safety wrist strap will make sure that the blaster is fastened on to you at all times.
Up to 12 players can join in, but you can always add more people with a fee. Of course, they also include the field set up, which includes the inflatable obstacles.
Aside from Laser Tag, they also have Video Game Trailers, Happy Car, Magic Mirror Photobooth, Inflatable Maze, Movie Night, Inflatable Games, Laser Maze, Bubble Soccer, and Escape Room. All these interactive games will liven up any boring party.
Even their ratings are impressive. Their Yelp, Facebook, and Google reviews are excellent!
3. GameTruck
Location: Garden City, NY 11530,
Contact: (917) 327-8700
Website: https://www.gametruckparty.com/
We've reviewed GameTruck for the Top Laser Tag Centers in Long Island City. Thankfully, their terrific services aren't limited to that area.
As long as you're renting GameTruck in Garden City or the surrounding area, they can accommodate you. To be sure, it's easy to contact them through phone or email.
But it's not just Garden City, they actually have businesses all over the country. And you can do a simple search of your area on their website to find a GameTruck near you.
I definitely see the appeal of hosting a party in a comfortable area and just renting out entertainment. It's comfortable, stress-free, and a whole lot of fun.
They can turn any wide empty space into a laser tag arena. Whether it's indoors or outdoors, their inflatable obstacles will create a terrific battlefield.
In addition, their long-range blasters can be used day or night, so you can play all day! It doesn't matter whether you're playing inside or outside, the blasters remain accurate.
It's also perfect for kids and adults. Not only are the blasters lightweight, but they're also durable!
But don't forget to strap on the comfortable sensors. The audio-visual effects will make the experience completely deeply engaging.
GameTruck, too, isn't limited to Laser Tag only. They also have a few other activities, namely, Video Game Parties, Gameplex.
Reviews on their Yelp and Facebook pages are also excellent. Just check out their GameTruck party vlog below!
4. Fun Fuzion
Location: 29 LeCount Place, New Rochelle, NY 10801
Contact: (914) 637-7575
Website: https://www.funfuziononline.com/
Unlike all the other businesses mentioned above, this isn't a mobile laser tag service. If you're looking for a place where you can be a walk-in customer or you can book, Fun Fuzion is the place you're looking for.
This is a gaming zone where people of all ages can eat, play, have parties, and have a great time. Of course, one of their amenities is "Lazer Tag".
What I like about going to a laser tag arena is the full auditory and visual set up. The lights, colors, sound system, and design are different for each arena, and it's always exciting to see what other businesses come up with.
Their futuristic glow-in-the-dark arena is remarkable. They have music and even a talking computer!
All players should be at least 42 cm to be allowed to play. Equipment includes a vest and a blaster. If you haven't used a vest before, it's important to know that it acts as the sensor, so make sure that you aim carefully!
But their services aren't limited to laser tag, they also have other entertaining services. The arcade games, kiddie rides, Maxflight, Spaceshot, bumper cars, and X-rider will draw you in for hours of fun.