It's all about different fun centered Laser Tag activities for the following Sharper Image products.
From menial acts to small games, laser tag can definitely make it so much more enjoyable.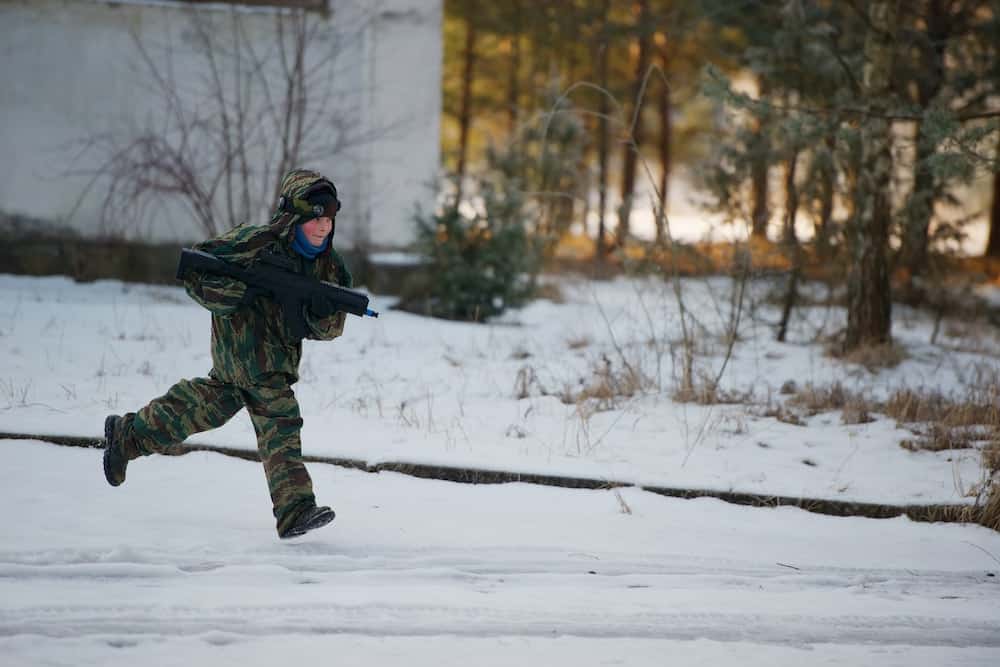 So without further adieu, let's dive in!
Product Reviews
1. SHARPER IMAGE Laser Tag Blasters and Vests Set
For a full-on laser tag game, Sharper Image has the set for you. It's basically all you need to transform your home, backyard, or any place at all into a laser tag battlefield.
For an affordable price, this set comes with 4 laser tag blasters and 4 vest armor. With this single purchase, it's possible to immediately engage in laser tag games with your friends and family.
It's intended for children aged 8 and up. Of course, adults can use this, too.
These products work in the dark or in a well-lit area. It's also good to use day or night. It's also portable so you can play virtually anywhere.
Laser blasters
The guns and vests light up, vibrate, and have sound effects. It's bound to give you a full sensory experience.
The infrared beam is great for long-distance shootouts. Each gun has six rounds of shots prior to reloading. If you want to reload, you only need to pull the slider.
Vests
The vests are the only receivers in the set, which means that the guns can't receive shots. So you won't be able to play without a vest.
But playing with a vest has its own benefit. When you get hit, the vest vibrates and gives you a rush and a thrill of urgency.
Although having guns as receivers is the current trend in laser tag, it's still not the same experience as playing with a vest on. There's something so exhilarating when your body responds to getting hit by a laser blaster.
Moreover, the vests show the life of the player wearing it. So it's easy to track your own or your opponent's life. This will definitely be helpful in the middle of the game. There are even built-in speakers in the vests.
In addition, the vests have adjustable straps so both children and adults can use them. It's for the whole family.
The set does not include any batteries. A blaster needs 2 AA batteries and the vests need 3 AA batteries.
2. SHARPER IMAGE Two-Player Set Laser Tag
Laser tag is something children would want to play all the time, but we also understand that going to a laser tag arena isn't feasible all the time. So this handheld set is terrific for those who want to play laser tag just about anywhere.
With one set, you can play with a friend in the vicinity of your home, in the park, or anywhere you want (provided that it's safe). Children as young as 6 years old can play, and of course, adults can always join in with the fun.
Although it doesn't look like a gun, it still has all of the features of your usual laser blaster gun. I quite like the design as it reminds me of Buzz Lightyear's laser beam.
Portable and compact
The first thing you'll notice is that it isn't designed or shaped like a usual laser blaster gun. But with this two-player set, it'll fit perfectly around your hand and even in your bag.
It isn't a hassle to bring around with you or to simply stick in your bag. It's definitely a great concept to just be able to bust out this set and play anytime or anywhere you want.
Same laser tag functions
Even with such a compact design, it still functions like your usual laser tag blaster. It makes use of infrared technology and has sound, light, and vibration effects. The infrared beam is good for long-distance playing.
It's also easy to track your points based on the light trackers placed at the back of the blaster. Each player starts with 6 lives and the number of lives will be indicated on the light trackers.
Vests aren't necessary and this is quite common among newer designs of laser tag products. But also, because portability is such a focus for this specific product, not including a vest is actually a more practical idea.
Without the vest, it goes without saying that the handheld blaster acts as the receiver. The vibration is there to let you know when you've successfully hit your foe or when you've been hit.
Opposite the side of the life indicator lights are other functions such as ammo indicator, reload button, and the demo function. Right by the thumb is the trigger button, it's placed in a good spot that is also comfortable for children.
Players get 5 shots for each reload. Because your other hand is free, reloading is as easy as a push of a button. You'll know that you need to reload when it makes an "empty" shooting sound".
It's also good that they included the 6 necessary batteries in the set. Each blaster requires 3 AAA batteries.
3. SHARPER IMAGE Robo Bug Hunt
This challenging game that uses infrared technology is bound to be a hit at parties and even for family game nights. It's easy to follow and a lively way to get laughs with others or even on your own.
The recommended age for this toy is 8 years and up. It includes an infrared blaster and a "robot bug".
The robot bug has rechargeable batteries. Simply charge the robot bug using the micro USB charging cable which is also included in the set. However, the blaster requires 2 AAA batteries which are not included in the set.
The only objective of the game is to quite simply "blast the robo bug" with the infrared blaster. But it's not so easy because the bug is quite small and it's a moving target.
You'll know you've hit the target if the bug turns over. If you're playing with a group of people, the aim is to win at record time.
The light and sound effects are also good additions to intensify the experience more. It makes the challenge feel more thrilling.
4. SHARPER IMAGE Laser Target Alarm Clock
Heavy sleepers who have trouble waking up early in the morning will love this product. It's guaranteed to wake you up, help you stay up, and never oversleep again!
This set comes with one blaster with a realistic recoil effect and an alarm clock with a built-in target. The alarm clock requires 4 AA batteries and the blaster needs 2 AA batteries, which are not included in the set.
This unique alarm clock is no doubt, meant for those who have a hard time waking up from their deep sleep. These days, it's quite common for people to just turn off their alarm clock and go back to sleep.
For oversleepers
If you haven't already guessed, the only way to stop the loud alarm is to successfully shoot the target with the blaster. Laser Target Alarm Clock is not only going to wake you, but also force you to stay up.
Setting up, deactivating, and stopping the time, and the alarm is easy with the basic buttons on the alarm clock. For the step by step instructions, you can check out the manual here.
There are 2 alarm modes: normal and hard. For normal mode, you need to successfully shoot the target only once, while hard mode will need 5 shots.
If the alarm isn't stopped within 3 minutes, snooze will be activated. The alarm will activate again after 5 minutes.
Customization and games
Using the record button, you can record a message or audio as your personal custom alarm. Simply press and hold to record, and release to stop recording. You can use the play button to hear the recording.
You can also simply use this set for entertainment. You can play the 2 games indicated in the manual.
In order to use the infrared beam effectively, the distance between the blaster and the alarm clock should be 12 feet. If it's within 4 feet, the blaster will deactivate the alarm even if it is not aimed at the target.
Some feedback states that the alarm is really loud. Although some might think this to be annoying, I do think that it's really fantastic as this is a product marketed toward heavy sleepers.
Amazingly, this Sharper Image alarm clock has made it to top 8 of the "10 Best Alarm Clocks for Heavy Sleepers." For an affordable price, it's effective, and also a unique product.
Conclusion
All in all, Sharper Image has high-quality infrared-based products that are good for so many uses and so many occasions. So it truly depends on what you're looking for.
But overall, I definitely think that the SHARPER IMAGE Laser Tag Blasters and Vests Set stands out the most. It's good for 4 people, the quality is good, and it's an activity that's guaranteed to be fun for everyone.
In second place is the SHARPER IMAGE Two-Player Set Laser Tag. It's the perfect product for you to play laser tag anywhere because it's portable and so easy to use.
How to use Instructions?
Depending on the product you're getting, the ease or complexity of the set-up will vary. For instance, in comparison to the other products, the SHARPER IMAGE Laser Target Alarm Clock has more complicated instructions.
The SHARPER IMAGE Laser Tag Blasters and Vests Set are so easy to use. Make sure you have the required batteries installed.
One blaster will need 2 AA batteries and one vest needs 3 AA batteries. For the whole set, that's a total of 20 AA batteries.
In order to play fairly, you will require knowledge about the game and the rules. Moreover, it's important that players are aware of the safety rules in order to avoid mishaps.
Before you start playing, you'll need to make sure you have the vests on. Don't forget to switch on the vest before you play; otherwise, the shots will not be received.
Use the adjustable straps to make sure that they're fixed unto your chest. If they're not properly worn, the vest will move around and make it unfair for the other team who are aiming at an unfastened target.
With the blasters, aim and fire at your opponent's vest. You'll know your shot landed on them if their vest lights up.
Whenever you want to reload, all you need to do is to pull the slider back on the blaster and you've got more shots. Hit an opponent 6 consecutive times and you win!
How to mute Sharper Image laser tag guns?
For the laser tag guns, there is no mute option. Of course, that's for functional reasons in the
The game utilizes sound and light for players to find other players. Without sound and light, it's going to be a boring activity and also a bit unfair.
However, some brands have "stealth mode" wherein the light is temporarily deactivated. But this functions as a secret trick wherein the player has a few seconds to sneak up on an enemy.
It's important to remember that this special trick not applicable for the whole game. It's a feature that the player has to use at a key moment in their strategy.
Sound and light are important factors in playing laser tag. For this reason, having a mute button on a laser tag gun might feel a little unfair for other players.
How to make the Light turn on?
The lights turn on automatically. But you need to remember to switch the vest on or it won't light up in response to the blaster.
For instance, if you shoot at someone successfully, their vest will light up to indicate that they have been shot. The blaster also lights up and makes a sound every time you pull the trigger.
How does Sharper Image laser tag set work?
Just like many other laser tag sets in the market, it makes use of infrared technology. In order to understand more about how the actual laser blaster works, you can read more about it here.
The beams from the blasters are detected by infrared sensors in the vests, which act as receivers. It works well even from afar because it utilizes infrared technology.
Basically, every time you aim and shoot at the vest of your opponent, the receiver will detect if the shot was successful or not. If it was successful, the vest will light up and indicate how much life the player has.
But there are also sets wherein the blasters are also the receivers. In these cases, compatible vests can be used but they are not necessary.
Is Sharper Image laser tag game safe for eyes?
Sharper Image laser tag games are safe for the eyes as infrared isn't really an actual laser. So, even if the game is called laser tag, real lasers aren't utilized.
Infrared light emits heat but it's highly unlikely for anyone to get burned or hurt by it. It's only damaging if your eyes are exposed to extreme concentrations.
Fortunately, infrared beams from laser tag guns usually only emit less than 1mW. So it's safe even for children and no goggles are required for the game.
However, Sharper Image still reminds players not to aim for the eyes as infrared is actually invisible. There is no way for somebody to look away or close their eyes when an infrared beam is aimed at them.
Sharper Image laser tag doesn't work, how to fix it?
If the product you just purchased doesn't work, the first thing to do is to reach out to Sharper Image as soon as possible. If it's possible, ask for an exchange or a return.
If the problem is caused by the user, it will depend on the situation. It's important to always ask for adult supervision and not do it on your own if you are a child.
Blaster or vest does not turn on
First of all, you need to make sure that the batteries are put in properly or that the batteries are not drained.
For the vest, if the trick with the batteries does not work, the problem could be the power switch. It will require a replacement.
It's best to go to an expert who knows how to fix electronic toys.
The laser blaster does not fire
If the blaster does not activate or you notice that it doesn't make a sound, light up, or it isn't recognized by the receiver, you can try to check the trigger first. The trigger could be stuck or it's not going in all the way.
If this happens, try to keep pumping the trigger until it works smoothly again. If it feels loose, it could be the spring that's damaged.
Have an adult or expert open it up and check if the spring on the trigger is there. You can also replace the spring if it is no longer functioning correctly.
The laser blaster shots are not detected
If this is the case, the problem could be the sensor in the vest. This infrared sensor will also require replacement.
Otherwise, it could be faulty wiring. This might need soldering so make sure you get an adult who knows what they are doing.