It's a great idea to play fun games with friends and family. But sometimes playing Uno or Monopoly gets boring.
If you're craving for something more exciting, Laser Tag is the thing for you. If you're in Maine or the surrounding area, you can check out the places in the list below.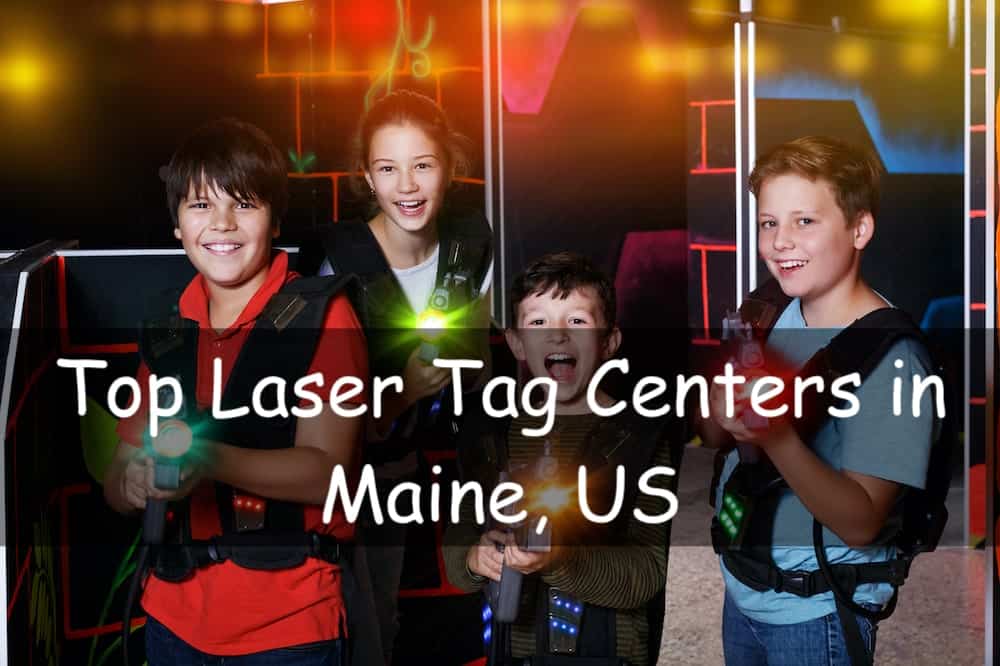 1. Spare Time Entertainment
Location: 867 Riverside Street · Portland, ME 04103
Contact: (207) 878-2695
Website: http://www.sparetimeentertainment.com/portland/
Laser Tag
You'll probably be keen on trying the arcade games and maybe even bowl, but there's no way you'll want to leave without trying out their laser tag arena.
For a small price, players of all ages can play
Each round is 15-minutes
The play area has a "Fallen City" theme
The huge arena also has LED lights, fog, special effects, lasers, and music
Other activities to try out
Game Zone with more than 58 updated arcade games!
22 bowling lanes
Food and drink
Deals!
One piece of advice we should always take is never to shy away from a great deal. So here's a few that can help you out:
Open play deals

Sunday – "2 Buck Bowling"
Monday – "Monday Play Day"
Tuesday – "SIN (Service Industry Night)"
Wednesday – you get 50% off on their event "Half Off Bowling, Games, and Laser Tag"
Thursday – "Unlimited Fun"
Friday and Saturday – Spare Time After Dary
(Find out more by clicking here.)
Food and Fun Deal
1 Game Zone card for every entrée you purchase

Only for dine-in customers

Monday to Thursday after 4:00 PM

The Best of Spare Time Bundle
From 10:00 AM Monday to 5:00 PM Friday

1 hour for bowling

1 laser tag game

1 Game Zone card

50% Off Wednesdays
Every Wednesday starting 12:00 NN up to 12:00 MN

50 % off on bowling, laser tag, and Game Zone games

Spare Time Afterparty
Fridays and Saturdays from 11:00 PM to 1:00 AM

Get unlimited bowling, shoe rental, light show, games, music, and more

Game Zone games are 50% off

Laser Tag games are cheaper

Monday Play Day
Every Monday, from 9:00 PM to their closing time, you choose from these three different promos:

Unlimited laser tag OR bowling

Unlimited laser tag AND bowling

Unlimited laser tag AND bowling PLUS unlimited arcade games
Why plan events with Spare Time Entertainment?
Spare Time can accommodate events such as birthdays, school outing activities, summer camp, corporate events, and even fundraisers. And they really make it easy!
Affordable
They'll plan everything for you. Just bring the guests!
A party host or server will be in charge. Completely stress-free.
Three party packages to choose from: bowling, arcade games, and laser tag.
It comes with Game Zone cards, soda, pizza, and more!
Party add-ons are also available.
Looking for how to build a laser tag arena at home? Here's our guide.
2. Monkey C Monkey Do
Location: 698 Bath Rd, Wiscasset, ME 04578, USA
Contact: (207) 882-6861
Website: https://www.monkeycmonkeydo.com/
Monkey C Monkey Do will be reopening in May 2020. Until then, here's what you can expect from this fun-filled park.
Outdoor Tactical Laser Tag
Full Course and Zip Lines
Twin Zips and Giant Swing Pass
Kids' Course
Seven-Zip Line Guided Tour
Season Pass
Ice Cream and Snacks
Outdoor Tactical Laser Tag
Team Building activities are always welcome in Monkey C Monkey Do. Here's a quick overview.
4 arenas in the woods

Arena 1 – Civil War
Arena 2 – Desert Storm
Arena 3 – Iwo Jima
Arena 4 – Bunker Hill

Maximum of 26 players.
For 10 years old and up.
Must wear appropriate outdoor clothing.
Use closed-toe shoes (or boots if it has rained recently)
Bug spray available

Reservations are required

Blasters:

Battle Rifle
Burst Rifle
Heavy Machine Gun
SMG
Shotgun
Sniper
Battle Canon
Assault laser
Game modes
There are also games with different objectives which will be exciting to try out. Don't worry, facilitators will be there to help everyone out.
Free for all
VIP
Team Battle
Infected
Promos and packages
You can pay per person, and prices vary depending on how many hours you want to play. Their birthday party package for 12 guests also includes 2 hours of laser tag.
Party packages are available for all sorts of occasions such as private parties, summer camps, recreation centers, company outings, and church groups.
Remote services
If you want to rent out their laser tag facilities, they'll take them to you.
Simply contact them here to make your reservation. But it won't be open until fall and spring as they're unavailable during the summer.
Looking for best laser tag guns for your home activities? Here's our round-up.
3. Hilltop Fun Center
Location: 165 Rt 108, Somersworth, NH 03878,
Contact: (603) 742-8068
Website: https://hilltopfuncenter.com/
Laser Tag
I appreciate a place that cares about updating their facilities, which is why I think Hilltop Fun Center is a great place to check out!
Their arena is 100% new and completely carpeted
They also have a new theme, all LED lights, and a new sound system.
LED vesting racks
Scoreboard monitors
Four brand new games available, and more coming!
A computer will help players score points.
Mounted wall targets will pop up for additional points
5 "sectors" for teams to take over and control
Instructional videos for briefing
Each game of laser tag lasts for 30 minutes, including three 6-minute games and a one-minute break.
C.H.I.P.S
Their laser tag is quite advanced and unique as it uses software called C.H.I.P.S which stands for Competitive Human Interactive Player Software. The modes enhance and accelerate the games.
It's easy to use and makes the game more challenging. The computer will randomly give the modes to players on both teams.
Later, all players will be given the modes during the game. Here's a list of the modes:
Spy mode
Energizer
Super Rapid-Fire
Bonus Mode
Freeze Ray
Stealth
Other activities
Just like the other entertainment centers mentioned, Hilltop Fun Center offers plenty of other activities, too!
Mini Golf
Driving Range
Batting Cages
Arcade
Four Go-Kart Tracks
Extreme Air Jumper
Rock Wall
Packages
If you want to have a party, get-together, school outing, team-building, corporate events or any occasion you can think of, they'll be happy to give you their best rates.
Just check out their promos here.
Look out for events and deals on their website. But these three deals below are the most popular:
Friday & Saturday Night Specials
Sunset Passes
All Day "Superpass"
4. Dover Bowl
Location: 887 Central Avenue, Suite B, Dover, NH 03820,
Contact: (603) 742-9632
Website: https://doverbowl.com/
Laser Tag
I love how the players aren't the only ones excited about their laser tag facility. Dover Bowl is even more excited to show us their ALL NEW Delta Strike laser tag arena!
Affordable
They use the best laser tag technology available
Up to 20 people can play (minimum of 2 people)
Different gaming modes
Players will be equipped with a vest and a blaster
Targets can be shot at for effects and rewards
Each game lasts for 30 minutes
Other activities
Bring your friends and family to have a terrific time. Even if your grandma is too old to play laser tag, you should still bring her to spend time and, of course, play bingo.
Bowling
Arcade Games
Bumper Cars
Bingo
Food and drinks
Packages
Don't fret, birthday parties and other events are their specialties. As for the pizza, party supplies, party favors, they've got it covered.
They can even take care of the cake! Just make sure you bring the guests.
You can choose from different packages depending on what activities you want to include:
Bowling Birthday
Double the Fun (pick 2 games: bowling, laser tag, bumper cars)
Ultimate Party (play all the games)
Want to book your party? Simply click here and fill out the form.
5. G-Force Adventures featuring G-Force Laser Tag
Website: 510 Wilson St, Brewer, ME 04412,
Contact: (207) 227-5562
Website: https://www.g-forceadventure.com/
If you're ready to have fun all day long, then I definitely recommend G-Force Adventures. They have so many activities and if you want to try all of them out, you might have to keep coming back!
Laser Tag
All the other activities are amazing, but let's take a closer look at their laser tag facilities. Their blasters have an amazing range of 1800ft so you can basically use it anywhere.
Best of all, if you don't want to hold the laser tag game on their site, they can bring their equipment to you! This also includes the staff and essentially, their whole laser tag services.
Laser tag games:
C.T.F.
T.D.M.
Juggernaut
Black Hawk Down
Hunger Games
And more
More details:
For ages 6-96
Everyone can play, even if you have limitations, their staff will help you out!
G-Force representative will always be on-site
To be safe, the equipment is always inspected before use
Equipment is certified and checked every year
G-Force Adventures is covered with a liability insurance
All staff members are covered by Workman's Compensation
Other games
I didn't think it's possible to have so many of these activities available in one place, but here it is:
Archery Tag
Hover ball (S.A.F.E. Archery)
Bumper Soccer
150-foot Inflatable Military Style Obstacle Course
2 Person G-Force Sumo Wrestling
G-Force Wipeout Balls Obstacle Course
6 Person G-Force Wrecking Ball
Giant Bounce House / Jousting and Boxing Combo
Giant 27-foot Inflatable Slide
22-foot Rock Climbing Inflatable Slide
Crayon Toddler Bouncer
Ultimate Twister64
GaGa Ball
Basketball Challenge
Football Challenge
Soccer Challenge
Skee Ball Game
G-Force Gyroscope
Photo Booth
And more!
Packages
They can definitely do all kinds of parties and events. Simply contact them on their website. Don't forget to grab a coupon.